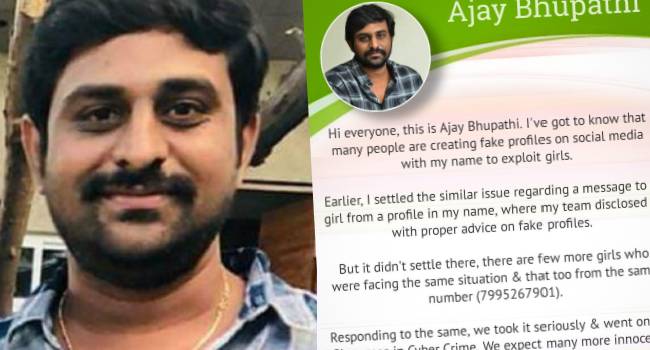 Luring women in the name of casting offers has become a menace. Several directors are facing this issue of imposters tricking innocent actresses using their name.
Upon knowing that fraudster has tried to trick innocent aspiring actresses with his name, he filed a case against the fraudster. He complained to the imposter who is using the mobile number 7995267901 and tried trapping women in the name of the casting call in his name.
However, this is not the first time that the director facing fake profile issue.
Ajay Bhupathi made his debut with 'RX100', a sensational hit two years ago. Since then he has been trying to make his second film titled 'Maha Samudram' to the sets but the project is facing many hurdles. Meanwhile, an imposter using Ajay Bhupathi's name started calling young girls. Ajay Bhupathi also took to his social media pages to warn the fraudsters and urged actors to beware of them.