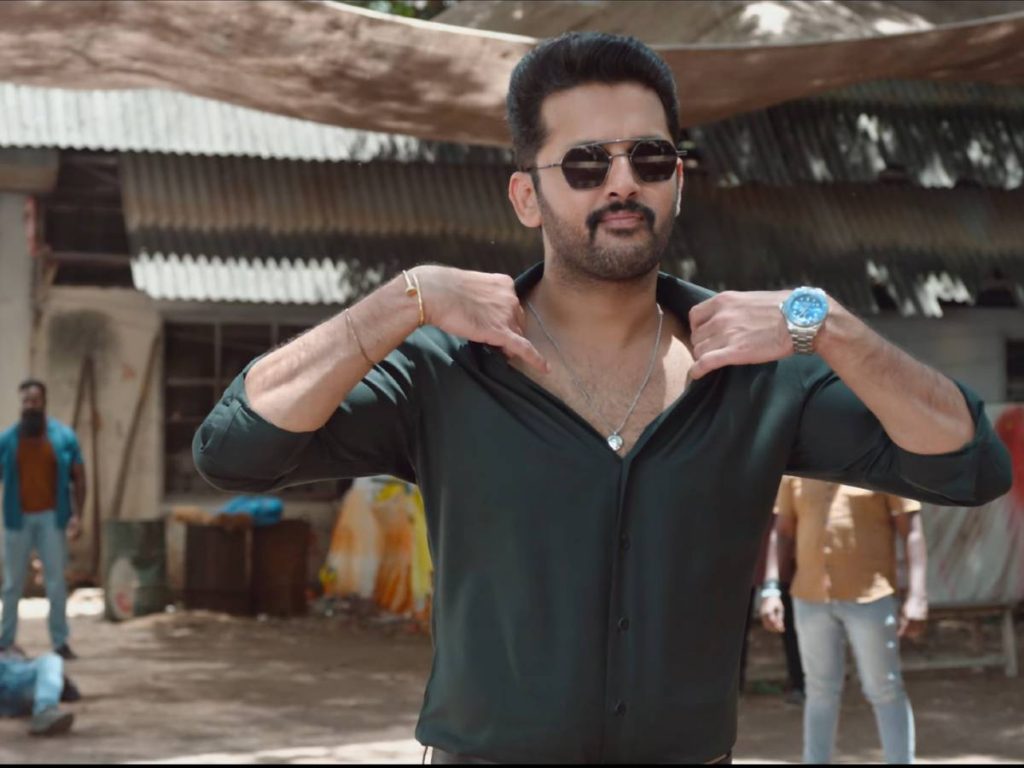 What's it about?
Macherla, a constituency in the Guntur district in Andhra Pradesh, has never seen an election in thirty years. Rajappa (Samuthirakani) gets elected unopposed every time. Fearing Rajappa, no one files a nomination against him.
Trying to find why his girlfriend (Krithi Shetty) left Vizag without letting him know, Siddharth Reddy (Nithiin) heads to Macherla. On the same day, Siddarth Reddy gets appointed as a district collector. The young collector vows to conduct fair and free elections in the Macherla constituency. Will Rajappa keep silent?
Analysis
The storyline of 'Macherla Niyojakavargam' hardly warrants a green light. Of course, mass action entertainers don't boast novelty. Still, there has to be something different within the commercial parameters for the audiences to get engaged. This film has none of such elements.
Probably Nithiin was excited about the idea of playing a district collector when he gave his nod to this story. Playing an IAS officer is new to him, but the film is filled with outdated ideas from the story to the screenplay. There is a saying in Telugu – Annam Udikindo Ledo Choodalante Oka Metuku Chaalu (One grain is enough to determine whether rice is cooked or not). Likewise, the first twenty minutes are enough to understand how this film fares. The first act itself is so predictable and boring. New director MS Rajasekhar Reddy doesn't throw any surprises at any time. 
When will our directors learn basic things about Civil service officers? An IAS officer gets deputed as a district collector only after serving as a sub-collector or joint collector or in some other equivalent posts for a couple of years.
The director runs the first half of the film with Vennela Kishore's cringe-worthy comedy sequences and some romantic scenes and songs. The other half is a showdown between the hero and the villain. So predictable! To the best of his talent, Vennela Kishore has tried to evoke some laughs despite the silly writing. But how can he save the film with such inane ideas?
Nithiin has been trying to come out of the regular family and romantic dramas. Hence, he is selecting films like 'Maestro' and 'Macherla Niyojakavargam'. But he should understand that outdated commercial dramas like these don't fetch him the desired result. As an actor, he is sincere. He shines in action sequences. Krithi Shetty is okay. Samuthirakani does the typical villain role in a regular style.
Apart from the viral "Raa Raa Reddy" song, another romantic number is impressive on screen. But neither the music director nor other technicians have come up with work that is worth mentioning.
Bottom-line: To put it simply, 'Macherla Niyojakavargam' is formulaic to the core with galore of outdated ideas.
Rating: 2/5
Review by: Jalapathy Gudelli
Film: Macherla Niyojakavargam
Cast: Nithiin, Krithi Shetty, Catherine Tresa, Anjali, Samuthirakani, Vennela Kishore, and others
Music: Mahathi Swara Sagar
Cinematography: Prasad Murella
Editor: Kotagiri Venkateswara Rao
Presents: Rajkumar Akella
Producers: Sudhakar Reddy, Nikitha Reddy
Written and Directed by: M.S Raja Shekhar Reddy
Release Date: Aug 12, 2022