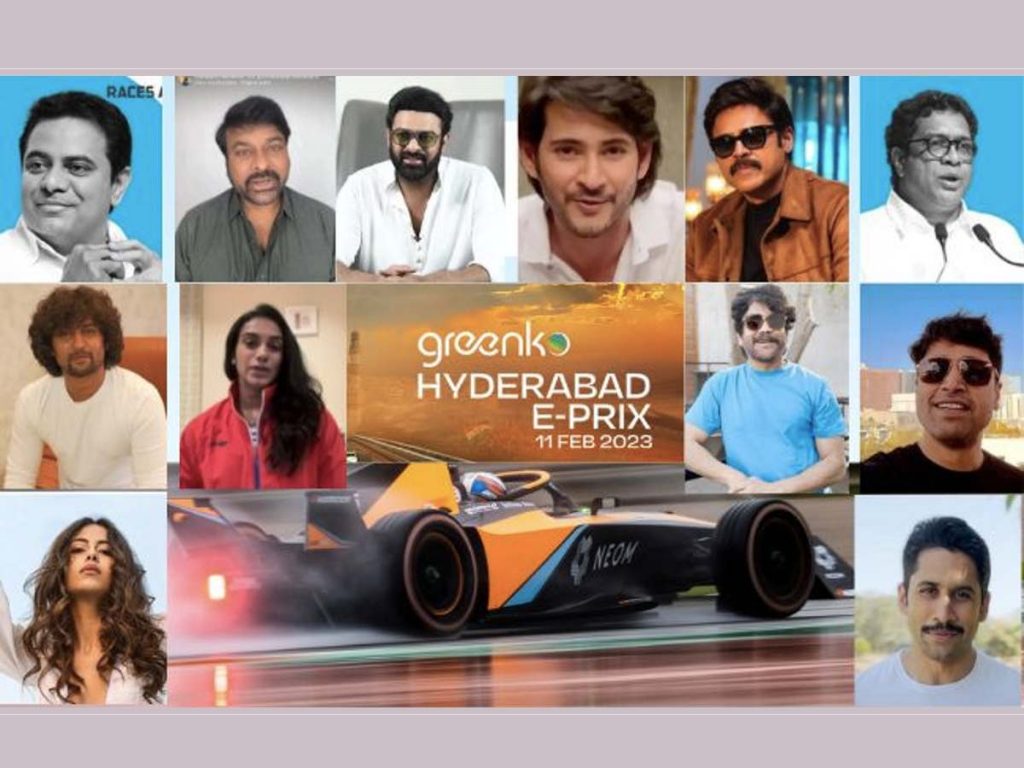 Hyderabad, 29th January 2023: FIA Formula E 2023 Greenko Hyderabad E-Prix is set to make its much-anticipated debut in India. The electric car racing series will host its first ever race in the country on February 11, 2023, in the scenic track overlooking the Hussain Sagar Lake. The news of the 2023 Greenko Hyderabad E-Prix coming to India has been met with much excitement and enthusiasm, with several stars and celebrities expressing their support and excitement for the event.
From hugely popular film actors like Prabhas, Chiranjeevi, Mahesh Babu, Nagarjuna Akkineni, Chaitanya Akkineni, Nani, Adivi Sesh, Venkatesh Daggubati to sports icons like PV Sindhu, Mohammed Azharuddin many well-known names have taken to social media to express their support for the electrifying racing series.
Sharing the excitement Actor Prabhas shared a video message and wrote on his Instagram "I am proud that India is addressing climate change by hosting its first ever formula e race. Congratulations to the Government of Telangana, Greenko significant achievement, let's make Greenko Hyderabad E-Prix one for the history book. On the 11th of February 2023, Hyderabad will make its mark on the global stage of motorsports. It's show-time for India as it hosts its first-ever FormulaE race, the all-electric Greenko Hyderabad Prix will drive India towards a #sustainable future. Prabhas added.
Actor Chiranjeevi in his message said "It is a matter of pride for India that the first ever greenest race is held in India and in the greenest city Hyderabad. Let's make history on February 11, 2023, at the #GreenkoHyderabadEprix by accelerating towards a future of #Sustainability and #Decarbonization. Mahesh Babu shares his excitement too and shares "lets race against climate change" Looking forward to #GreenkoHyderabadEPrix on Feb 11th!
Similarly, Nagarjuna Akkineni shared a video message on his Instagram and said, "I extend my heartfelt congratulations to KTR Rama Rao, The Government of Telangana and Anil Chalamalasetty for bringing the Formula E World Championship to India and more importantly to my city. And I am super excited to see you all on February 11th, at the Greenko Hyderabad E-Prix".
Chaitanya Akkineni in his message wrote: #greenkohyderabadeprix Feb 11th, 2023. Thank you @ktrtrs @telanganacmo @hmda_gov Anil Chalamalasetty @greenkohyderabadeprix @acenxtgen for making this happen!! PV Sindhu, India's star badminton player, also shared her excitement for the event, and wrote on her Instagram, the future of motorsports, #FormulaE, has come to #India for the first time ever, thanks to the vision and efforts of @ktrtrs Garu and Anil Chalamalasetty Garu. Hope to see y'all at the #GreenkoHyderabadEPrix on February 11 and electrify the way to a #Sustainable future!
Anil Chalamalasetty, Founder of Greenko Group and Ace Group said: "We are delighted to be partnering with an iconic race, India's first ever Formula E World Championship in association with the Govt of Telangana and FIA, with support from the Govt of India. We are committed to combat climate change and lead the way for global decarbonization. Greenko will be powering the entire 2023 Greenko Hyderabad E-Prix event with renewable energy, making it first of its kind Net Zero event in the world on this scale. I am excited that one of the world's greenest cities will host the greenest race, under the dynamic leadership of Hon'ble Minister K T Rama Rao. We look forward to witness history in the making, as India drives towards a sustainable future on 11 February 2023 on the streets of Hyderabad."
A total of 11 teams and 22 drivers would be competing in the all-new GEN3 race car which is a huge leap in technological development and innovation with engineers at the FIA and Formula E pushing the boundaries of EV development.
Capable of a 200mph (322kph) top speed, the GEN3 is 53kg lighter than the GEN2 with a smaller chassis optimised for street racing. An additional front powertrain adds 250kW to the 350kW at the rear, more than doubling the regenerative capacity of the previous GEN2 car to 600kW, with more than 40 percent of the energy used in-race regenerated under braking. The arrival of Formula E in India is seen as a major boost for the country's growing automotive industry and is expected to encourage more investment in the electric vehicle (EV) sector. The championship not only provides a platform for manufacturers to showcase their latest EV technology but also raises awareness about the benefits of EVs and their potential to revolutionize the transportation sector.
Formula E is committed to promoting sustainability and electrification in the automotive industry, and the arrival of the series in India is expected to drive the country's transition towards a greener and more sustainable future. The series uses fully electric racing cars that produce zero emissions, and the races will be the first ever Net Zero Event ever in India.
The ticket sales are in full swing, and the excitement is scaling to new highs every single day.
The arrival of Formula E in India is a significant moment for the country's growing automotive industry and is expected to encourage more investment in the electric vehicle sector. With the support of stars and celebrities, the event is set to be a major highlight in India's motorsport calendar and is sure to inspire the next generation of motorsport fans and engineers.
(press release)