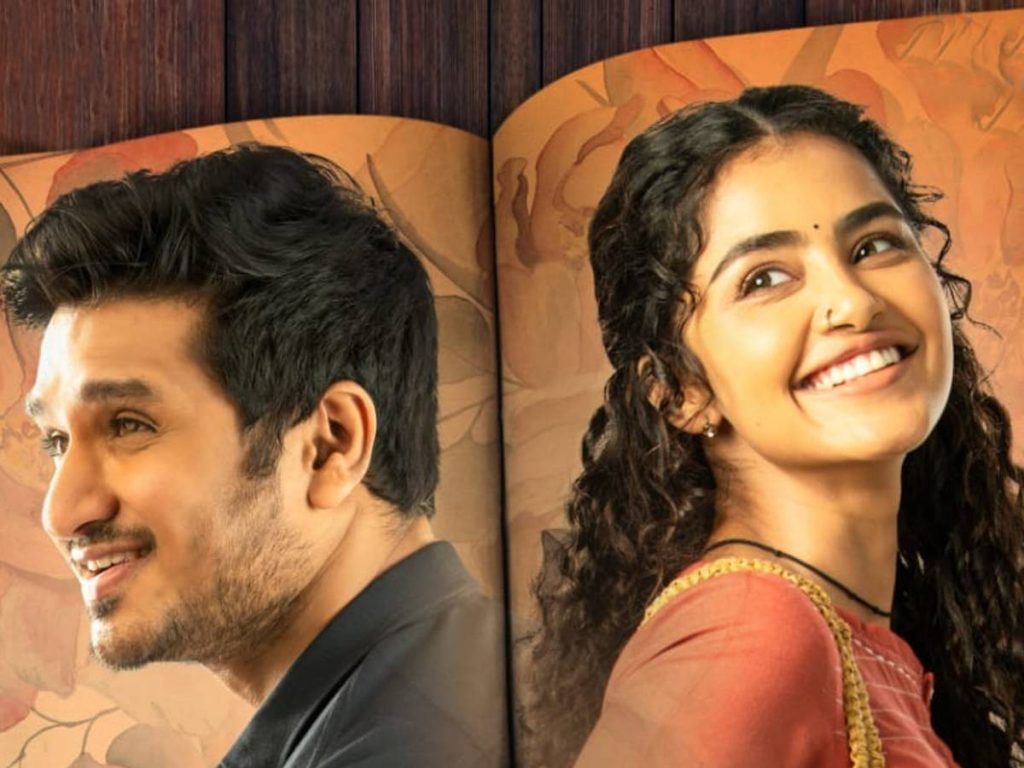 What's it about?
Siddhu (Nikhil Siddharth), an app developer, is dumped by his girlfriend. Siddhu is broken by this incident and loses interest in life, but he becomes engrossed in a dairy that he stumbles upon by accident. Nandini (Anupama Parameswaran) keeps a diary in 2019.
Nandini, who travels from Vijayanagaram to Hyderabad to deliver a letter to someone, keeps a diary of her daily activities. She does not have a smartphone or any apps. Siddhu falls in love with her while reading her diary and begins to carry on the mission where she left off.
After a few pages, there is nothing left in the dairy. What actually occurred? Can two people fall in love without seeing each other or meeting?
Analysis
Director Sukumar wrote the story of '18 Pages,' which deals with a very familiar line: two people who have never met before fell in love thanks to a diary. The romantic drama, directed by Palnati Surya Pratap of 'Kumari 21F,' begins and ends well, but the post-interval sequences are aimless.
Although there are some parallels with the 2014 Thai film "The Teacher's Diary," in "18 Pages," the hero and heroine never actually meet until a pivotal moment. This is unique in some ways.
But there is a major flaw in this film. The central theme of a guy falling in love with a girl reading a diary and searching for her without a phone is difficult to accept. It is especially inappropriate for the year 2021/22. The heroine travels to Hyderabad to meet with a man named Venkat Rao. Although the heroine does not have a mobile phone, Venkat Rao can be reached by phone. Instead of waiting for Venkat Rao, she can easily call him using another person's phone. The film is rife with logical issues and plot-convenient elements.
Anupama is the archetypal movie heroine: a pure and virtuous angel. It's hard not to laugh at Nikhil's antics after reading an old diary. The film suffers from numerous instances of illogic. The storyline involving Nikhil's grandfather also feels forced.
Nikhil is totally immersed in his character. When she performs, Anupama Parameswaran has a way of keeping the audience captivated. Sarayu, as Nikhil's friend, is given some prominence.
Gopi Sundar's music is a major highlight. All songs fit the theme, but two in particular stand out: Nannaya Raasina and Nee Valla O Pilla.
Bottom line: The first half of '18 Pages' is entertaining to watch, but then logic and other issues emerge. Gopi Sundar's songs keep us interested. The basic setting, on the other hand, lacks a contemporary feel.
Rating: 2.5/5
By Jalapathy Gudelli
Film: 18 Pages
Cast: Nikhil Siddhartha, Anupama Parameswaran, Ajay, Brahmaji, and others
Story, Screenplay: Sukumar
Music: Gopi Sundar
DOP: A Vasanth
Editor: Naveen Nooli
Producer: Bunny Vaas
Directed by: Palnati Surya Pratap
Release Date: Dec 23, 2022