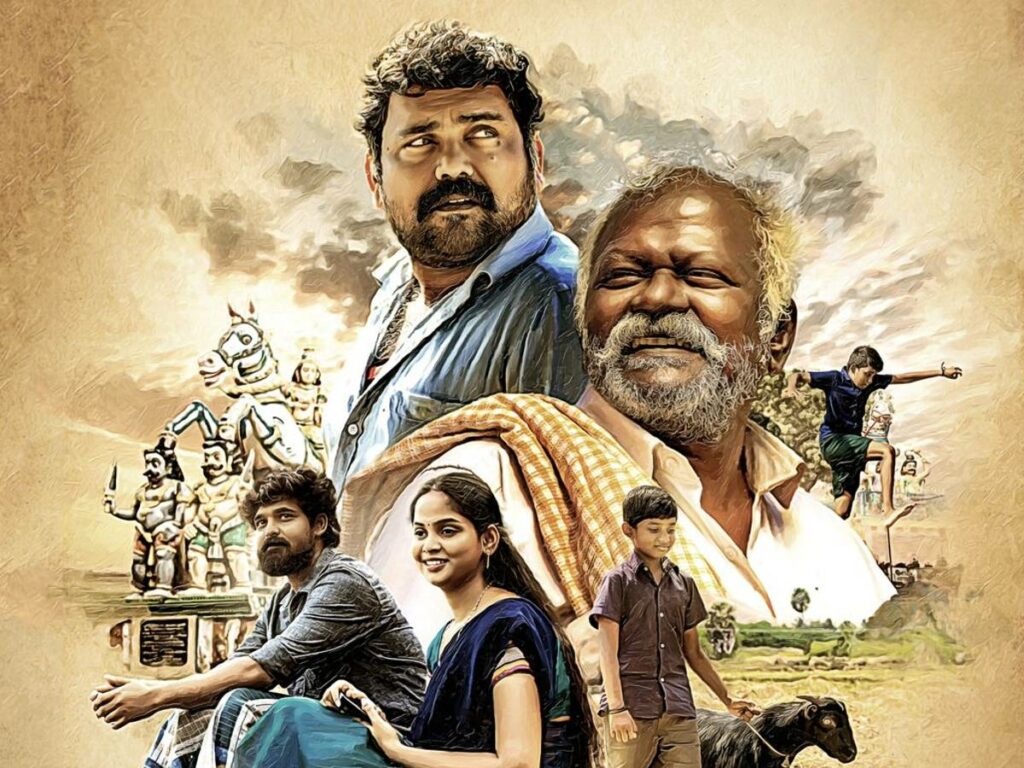 What's it about
Seenaiah (Poo Ramu) lives in a village with his wife Menamma and their grandson Ganesh (Deepan). Seenaiah was unable to obtain funds to purchase the new dress requested by his grandson. His grandson wants to dress up for the Deepavali festival.
Seenaiah decides to sell the goat Karrodu, which they keep for the offering of their family deity, after failing in all of his attempts to obtain money.
On the festival day, Veerasamy, who works in a mutton shop in the village, decides to open his own meat shop and agrees to buy Seenaiah's goat. However, the goat goes missing. Will they be able to locate the goat? Will Seenaiah fulfill his grandson's wish?
Analysis
"Deepavali," the Telugu dubbed version of the Tamil film "Kida," is directed by debutant RA Venkat and centers on three characters: a grandfather, his grandson, and a goat.
RS Venkat not only has written a story that is devoid of commercial trappings, but also has an artistic narrative style that is far removed from the styles of regular commercial filmmaking. The touching story has an honest and straightforward narrative.
Director Venkat has avoided commercial elements while weaving the story with human emotions, thanks to the capable support of producer Sravanthi Ravikishore. Much of the film gives the impression that we are sitting near the Panchayat office, watching village happenings.
Every character in the film is pleasant; none are evil. The difficulties they face are the result of circumstances, not the evil schemes of others. The simple story has a relatable conflict, and the resolution is also on the expected lines.
R Venkat's story emphasizes the notion that many villagers accept and adapt to their daily lives and routines, maintaining optimism for the future while regarding current challenges as temporary impediments. The film explores the significance of maintaining a positive attitude.
The film greatly benefits from the natural performances.
However, "Deepavali" suffers from sharp editing and a lack of tight screenplay, particularly in the first hour.
Poo Ramu, who plays the grandfather, gives an exceptional performance. He is the film's pillar. Master Deepan does a good job as the grandson. Kaali Venkat as Veeraswamy is excellent.
Theeson's masterful handling of the music stands out. The production values are neat.
Bottom-line: Sravanthi Ravikshore produced RA Venkat's "Deepavali" is an emotional rural drama about a grandfather and his grandson, with a goat playing another main character. This is not your typical commercial film. The new director has attempted to be as truthful as possible. Despite its editing flaws, it provides a satisfying emotional experience for those who prefer simple and honest narratives.
Rating: 2.75/5
By TCT
Film: Deepavali
Cast: Poo Ramu, Kali Venkat, Deepan, Pandiyamma, Vijaya, Kamli
Music: Theeson
Cinematography: M Jayaprakash
Editor: Anand Geraldin
Presented by: Krishna Chaitanya
Produced by: Sravanthi Ravikishore
Directed by: RA Venkat