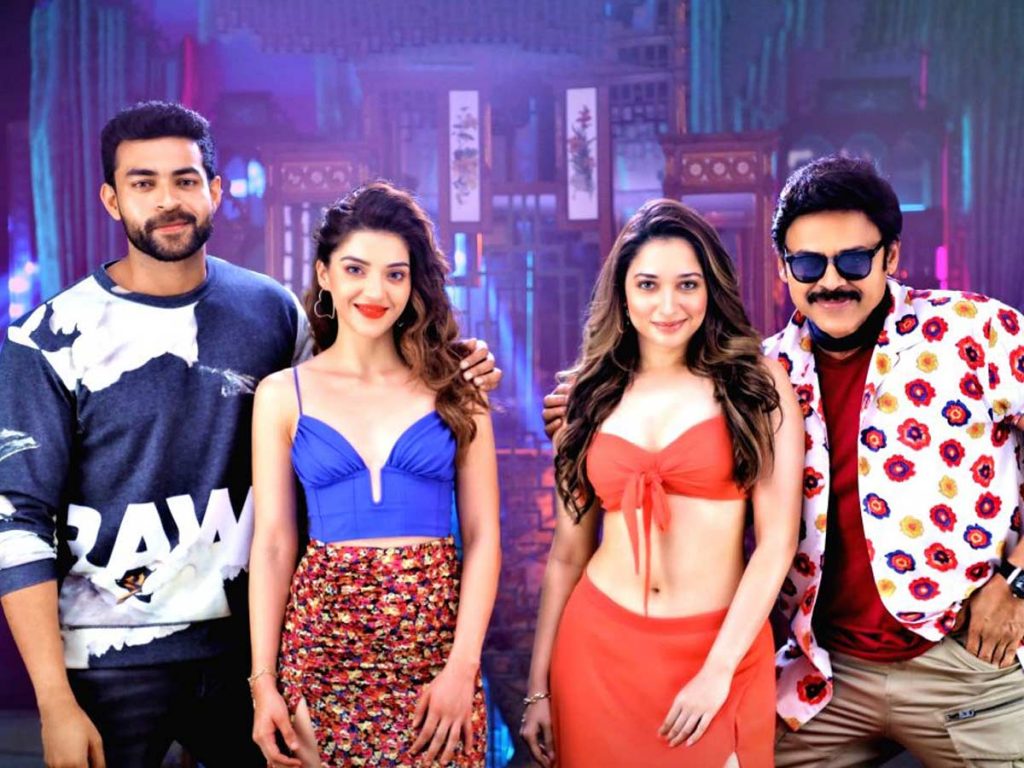 F2 was a good hit at the box office and high with its success, director Anil Ravipudi has carried forward the franchise with F3. The film produced by Dil Raju has Venkatesh and Varun Tej in lead roles and has been released worldwide today.
What's it about
Venky (Venkatesh) is a small-time broker in a RTO office who keeps getting cheated by the family of Honey(Mehreen) and Harika(Tamannah). On the other hand, Varun(Varun Tej) falls in love with Honey thinking she is a rich girl but gets cheated on. When the whole gang is fighting within themselves, news comes out that a rich businessman (Murali Sharma) is looking for his lost son. The entire gang makes a plan to go in and loot the businessman. How will they manage all this is the rest of the story.
Analysis
Firstly, F3 is not a sequel to F2 as only the lead characters are forwarded in this film. Director Anil Ravipudi takes some time to establish the story of how both the leads are crazy for money. This aspect looks dull on-screen outdated with routine family scenes.
But once the heroes get cheated by the heroines' family, hilarious comedy is generated from thereon. The scenes are rushed into the narrative but the comedy keeps the audience excited.
Venkatesh has a natural flair for comedy and he as a man with night blindness is good at his part. All his cat and mouse games with Varun Tej have been etched well by Anil Ravipudi. Tamannah looks subdued in the first half but her character gets a good twist in the second and the comedy generated through her and Sonal Chauhan is neat and not dragged.
From the trailer itself, you can understand that F3 is going to be easy on story and logic. But Anil Ravipudi has gone a step ahead and has taken things way too lightly. Though he justified each aspect of the film in the climax, the manner in which he brought out the various episodes featuring Murali Sharma looks way too forced.
Production values of the film are not that great as the film is filled with stars but does not look rich. DSP has scored the music for the film and his songs are okay. But his BGM felt a bit loud. The songs have been shot lavishly.
Having said all this, one thing that keeps us engaged is the comedy which is cleverly infused at regular intervals through various characters. Adding to this, the fun climax makes the audience leave with a smile.
Bottom Line:
F3 is a comedy caper aimed to only entertain the audience. So there is no point in looking for logic or storyline and emotions. If you forget such issues, it has decent fun for the family audience to get connected to. But when compared to F2, F3 is not that great.

Rating: 3/5
Release Date – 27th May 2022
Cast – Venkatesh, Varun Tej, Tamannaah, Mehreen, Sonal Chauhan, Rajendra Prasad, Sunil, Ali, Vennela Kishore and Others
Music Director – Devi Sri Prasad
Cinematographer – Sai Sri Ram
Editor – Tammiraju
Presenter – Dil Raju
Production Company – Sri Venkateswara Creations
Producer – Shirish
Director – Anil Ravipudi