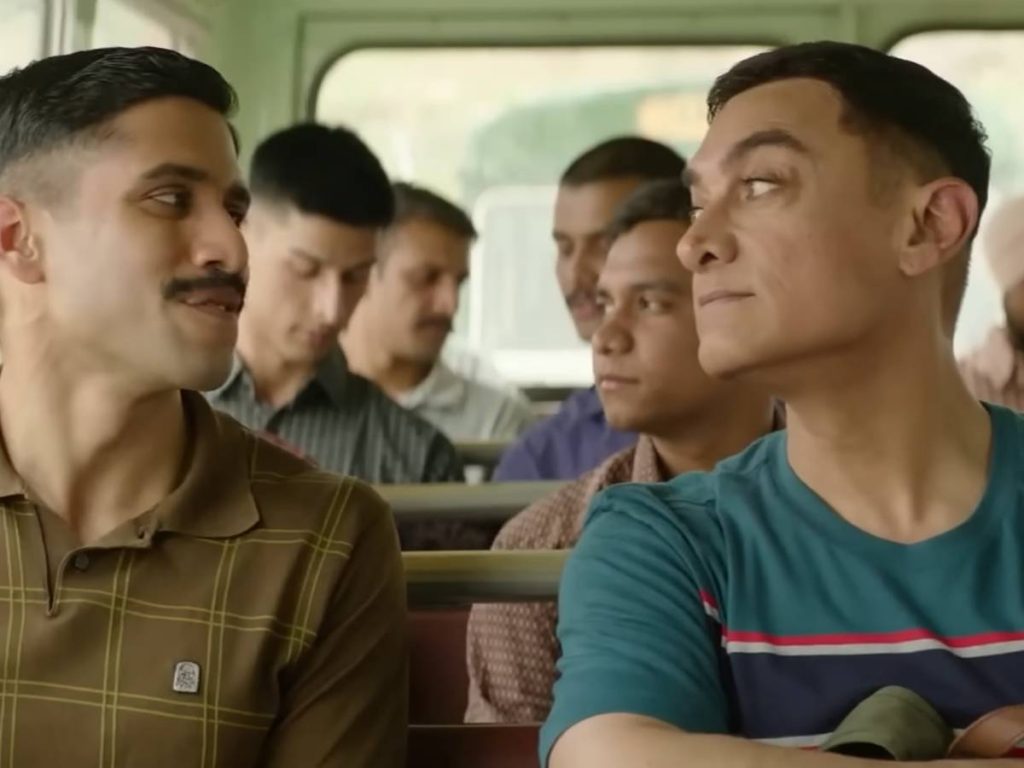 What's it about?
Laal Singh Chaddha (Aamir Khan), born in a village near Pathankot in Punjab, is a child with low intelligence and walks with leg braces. He narrates his story to fellow passengers on a train.
His story begins in the mid-1970s. In school, he befriends Rupa (Kareena Kapoor). He eventually develops a love for her as they grow up thick friends. Rupa tells him to run whenever he lands in trouble and running becomes his passion.
After graduation, he joins the army, participates in the Kargil war, and develops a friendship with Balaraju (Naga Chaitanya). He wins a medal of honor for his bravery. On the other hand, Rupa, whose sole aim in life is to become rich, leaves for Mumbai to pursue a career in the glamour world but ends up as a mistress to a producer with underworld connections.
Will Rupa ever unite with Laal Singh? What did Laal Singh do to keep the promise made to Balaraju?
Analysis
"Laal Singh Chaddha" is the official remake of "Forrest Gump" (1994), the blockbuster film that won six Oscar awards. In the Hollywood version, the protagonist Gump, played by Tom Hanks, unwittingly influences many American historical events. Tom Hanks appearing in many historical incidents was the thrill factor back then. The VFX work was a wonder then.
Today visual effects technology is developed to a stage where nobody will astonish by such sequences. People would say, "They must have created in graphics." So, the unique trait of "Forrest Gump" doesn't hold our attention now. Knowing this, director Advaith Chandan and producer Aamir Khan have not relied on that part of the original movie.
In this version, protagonist Laal is more of a spectator in defining incidents in Indian history (post-emergency period). However, the film also covers certain incidents in Indian history – the emergency, operation Blue Star, communal clashes, LK Advani Rath Yatra, Babri Masjid demolition, Kargil war, and 26/11 terrorist attacks, Anna Hazare hunger strike, PM Narendra Modi's 2014 win, etc.
Though the makers are faithful to the original movie, "Laal Singh Chaddha" is not effective as all these incidents come and go without much impact. The only part that works in the film are the sequences involving Laal Singh and his mother (played beautifully by Mona Singh), and Laal Singh and Rupa (Kareena gives a nuanced performance) story.
The Kargil war sequences have failed to create the desired result. Though Naga Chaitanya has done a neat job in the role of Balaraju, the camaraderie between Aamir Khan and him is lackluster when compared to the original sequences.
"Laal Singh Chaddha" gets some things right such as emotional elements, music, and performances. But the film lacks engaging drive. Plus, it is too slow and too lengthy.
There are some clever adaptations. From where Shah Rukh Khan learned his trademark histrionic is told convincingly. The Rupa clothing empire (in the original, it was the Shrimp business) is another clever touch. Pritham has given soothing music.
Aamir Khan's performance reminds us of his character in PK. He has put in a lot of effort and hard work for this role but he shines mainly in the climax sequences.
Bottomline: In the original "Forrest Gump", the hero carries a box of chocolates. Here, Laal Singh Chaddha holds a box filled with gol gappe (Panipuri) with a separate bottle of pani. The Panipuri is soggy. In other words, they are not tasty. Yes, the film gets some things right, but for the most part doesn't work.
Review by: Jalapathy Gudelli
Film: Laal Singh Chaddha (Telugu dub)
Cast: Aamir Khan, Naga Chaitanya, Kareena Kapoor, Mona Singh, Manav, and others
Music: Pritam
DOP: Setu
Produced by: Aamir Khan, Kiran Rao & Jyoti Deshpande, Ajit Andhare
Directed by: Advait Chandan
Release Date: Aug 11, 2022