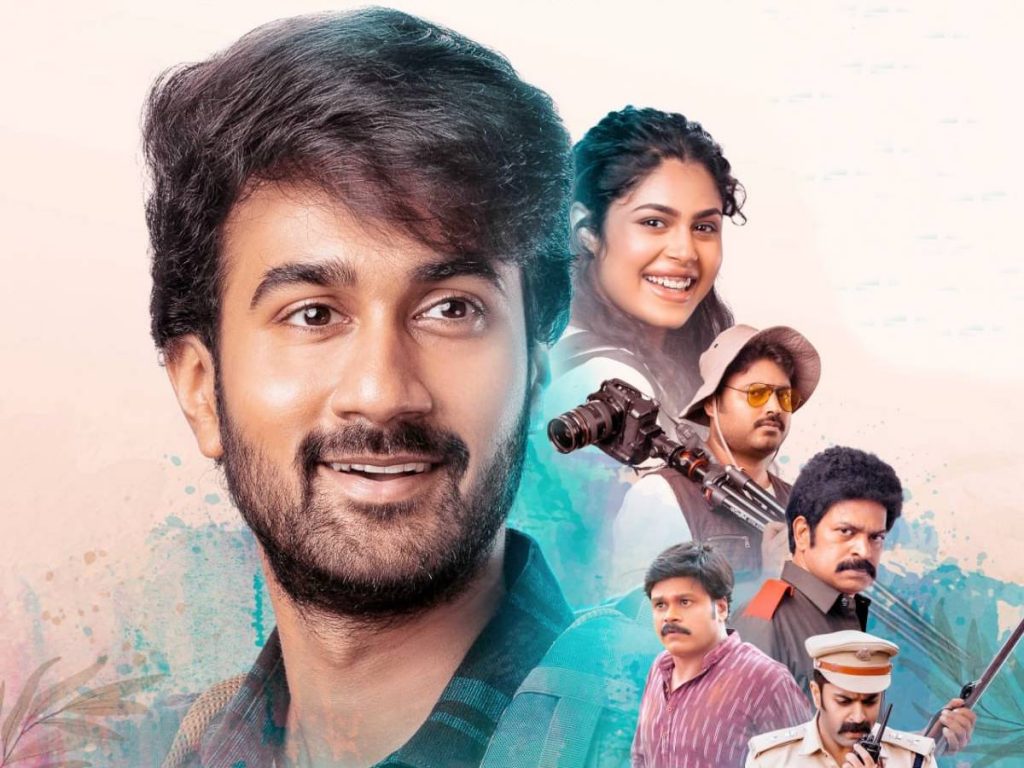 What's it about?
Viplav (Santosh Shobhan) has 331 subscribers on his YouTube travel channel. He intends to film a video about low-cost trip to Araku and has hired a cameraman named Daniels (Nellore Sudhakar). Viplav is a big fan of Vasudha, who also runs a YouTube channel with over 3 million subscribers. Vasudha, the daughter of the Andhra Pradesh DGP, lives in Delhi.
She meets Viplav in Araku while filming a video, and he follows her and expresses his love and admiration for her.
Meanwhile, an expelled Naxal leader (Brahmaji) establishes the PPF and kidnaps the three travel Vloggers, transporting them to a deep forest. How will they come out of this?
Analysis
Narrating stories with jokes that blur the line between satire and silliness has recently become fashionable. Merlapaka Gandhi's "Like, Share, & Subscribe" begins along the same lines, but quickly devolves into total absurdity.
Merlapaka Gandhi has attempted to depict the lives of people who run YouTube channels and Vloggers in a humorous manner. The first few minutes are hilarious. Nellore Sudhakar introduces himself as a cameraman who "filmed" Bollywood blockbusters such as "Dangal." He is revealed to be a piracy cameraman who recorded 'Dangal' while sitting in a theatre. Such jokes are amusing.
The scenes with Santosh Shobhan and Faria Abdullah are also funny. That's all. After that, the film becomes tedious to watch.
For, it goes too far and mixes all kinds of elements to run the story, from the fight between Naxalites and police to father-daughter sentiment. Even Brahmaji's character, an expelled Naxal leader, is reduced to the level of a buffoon or clown.
The introduction of comedian Sapthagiri as a film critic and his track exemplifies the film's aimlessness.
The film suffers from a lack of seriousness in its approach to the story and narrative. What appeared to be a light-hearted film devolves into a clumsy attempt.
Santosh Shobhan and Faria Abdullah have both performed well in their roles. Nellore Sudhakar and Brahmaji provide a few laughs here and there. Except for the title track, none of the songs get registered. The camerawork is okay.
Bottom-line: In the film, Santhosh Shobhan says a dialogue to describe the beauty of the heroine. To paraphrase, the film is 'vacuous and stupidous'. In the film, Sapathagiri plays a film critic. In his style, I give 'Like, Share, and Subscribe' one out of five stars.
Rating: 1/5
By Jalapathy Gudelli
Film: Like, Share & Subscribe
Cast: Santosh Shobhan, Faria Abdullah, Brahmaji, Sudharshan, and others
Music: Praveen Lakkaraju, Ram Miriyala
DOP: A Vasanth
Editor:  Ramu Tumu
Producer: Venkat Boyanapalli
Written and Directed by: Merlapaka Gandhi
Release Date: Nov 04, 2022