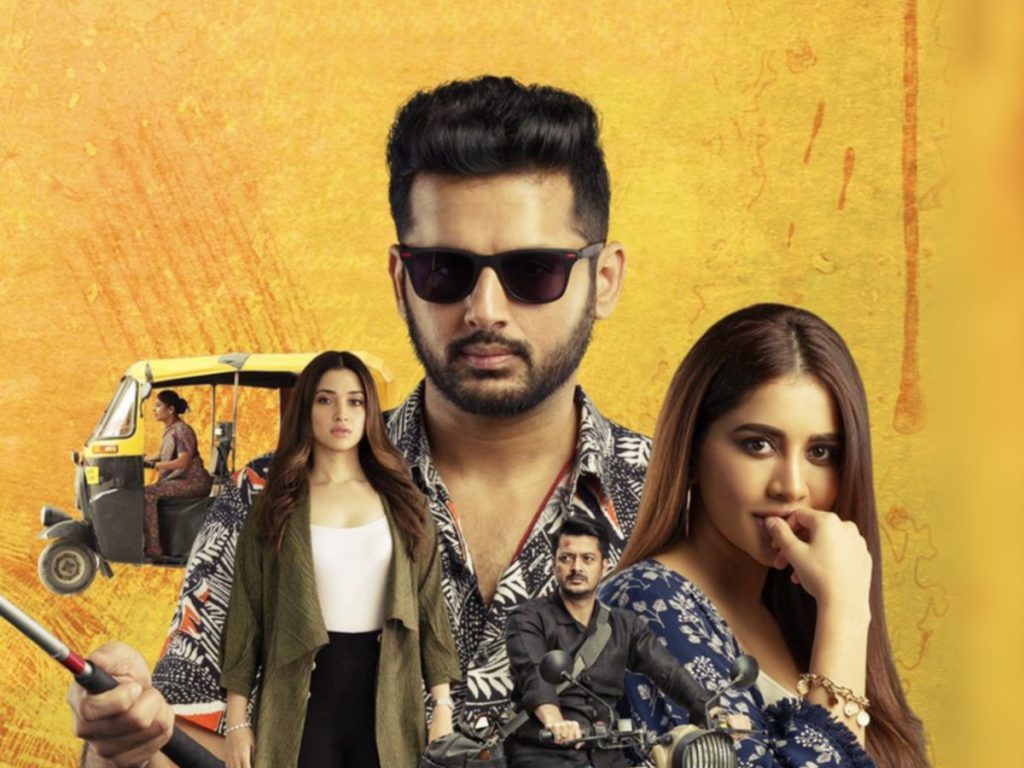 What's it about?

Arun (Nithiin) is a pianist. He pretends to be visually impaired. He has a girlfriend Sophie (Nabha Natesh) and performs piano at her father's restaurant in Goa. Noticing his talent, a former film actor Mohan (Naresh) invites him to perform for his wedding anniversary in their home.
As promised, Arun arrives at Mohan's flat, and his wife Simran (Tamannaah) opens the door and lets him play the piano. He accidentally witnesses the dead body of Mohan and Tamannaah and her lover (Jisshu Sengupta) clearing the body. Shocked, but Arun continues to play.
Arun later tries to report the murder to the police. But, Simran's lover turns out to be a police officer. Simran and the police officer suspect that Arun may not be blind.
Will the cold-blooded murderer Simran let go of Arun so easily? Why did he fake his blindness?
Analysis
Director Sriram Raghavan is a master of suspense thrillers. 'Ek Hasina Thi', 'Johnny Gaddar', 'Badlapur' and 'Andhadhun' are some of his best works that won critical acclaim. He won the national award for the screenplay for 'Andhadhun' and Nithiin starrer 'Maestro' is the official remake of Raghavan's 2018 hit that starred Ayushmann Khurrana and Tabu.
Director Merlapaka Gandhi has stayed true to the original story except for the minor climax tweak.
'Maestro' not only does follow the story, and screenplay of 'Andhadhun' as is, it also has the same setting (the Telugu version is set in Goa, while the Hindi has Pune backdrop) and similar names. Sriram Raghavan won the national award for his racy screenplay, and Merlapaka Gandhi doesn't deviate from the Hindi movie's screenplay. He has successfully been able to recreate the madness in the beginning portions.
The Telugu version gets the same quirkiness and builds tension well. But it falters in the crucial aspect. The casting of Tamannaah is a major issue. The confrontational thread between a middle-aged woman (Tabu was in her late 40s when she acted in), and a young man (played by Ayushman Khurrana) has a certain beauty in the original. But in Telugu, Tamannaah and Nithin are more or less in the same age group, and Tamannaah's characterization is also slightly changed. Thus, it drastically reduces the overall impact.
The final portion is also not executed properly. Perhaps because of the constraints of the pandemic, the final portions lack effective execution as well. Plus, there is no room for ambiguity in the ending in this version. The original that left the audience to come with their interpretation.
Coming to performances, Nithiin has done justice. Nithin suits the role. This is a role that is unlike any character he has done so far but he does it with aplomb. He is also convincing and believable.
Tamannaah has put in sincere efforts in her maiden villain role. Honestly speaking, she is the wrong choice to play this role. Had a more mature (in age) actress enacted this, it would have been better.
Nabha Natesh does her role neatly but she is also no match to Radhika Apte. Naresh playing a role of a former hero is a surreal feeling. His old hit songs from films like "Nalugu Sthambalata" are used well in the narrative. Jisshu Sengupta gets his act right. Sreemukhi in a small role and singer Mangli in her acting debut leave an impression. Harsha Vardhan is okay.
Yuvraj's cinematography and production design are apt. Background score by Mahati complements it. Editing should have been slick.
Except for the climax, director Merlapaka Gandhi has followed Sriram Raghavan's style mostly.
Bottom line: 'Maestro' is the Telugu remake of Sriram Raghavan's Bollywood suspense thriller Andhadhun. Nithiin pulls off the role quite convincingly, but the film is no match to the original, and the casting choices are not apt. It works for those who have not seen the Hindi version.
Rating: 2.75/5
By: Jalapathy Gudelli
Film: Maestro
Cast: Nithiin, Tamannaah Bhatia, Nabha Natesh, Jisshu Sengupta
Music: Sagar Mahati
Cinematography: J Yuvaraj
Editor: SR Sekhar
Producers: Sudhakar Reddy, Nikhita Reddy
Written and direction: Merlapaka Gandhi
Release Date: Sep 17, 2021
Direct-OTT release: Disney+Hotstar