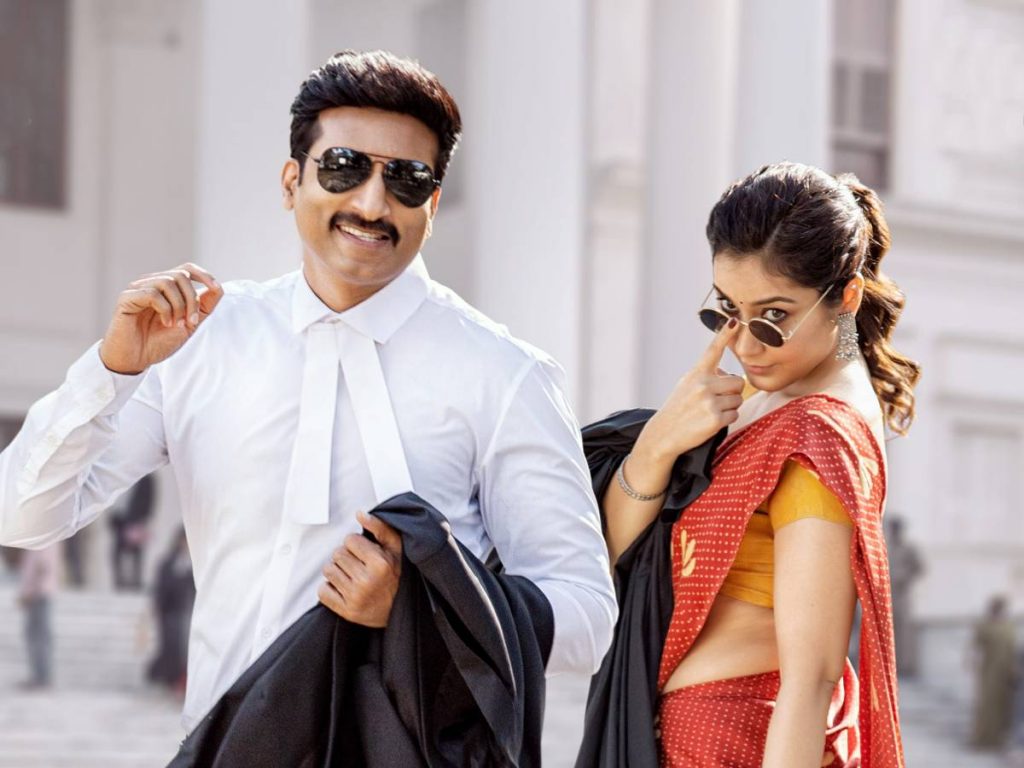 What's it about?
Lucky (Gopichand) is a lawyer and son of a former judge (Sathyaraj) who stood by values. For the money, Lucky takes up any case. Only money matters to him, which earns him the tag of 'pakka commercial'.
A businessman Vivek (Rao Ramesh) hires Lucky to deal with his legal affairs. Vivek was the reason why his father quit his legal profession. Will this commercial lawyer take up Vivek's cases or teach him a lesson for causing pain to his father?
Analysis
Be it "Bhale Bhale Magadivoy" or "Mahanubhavudu", director Maruthi proved that he is good at writing comedy and dealing with concept-oriented themes. But intending to direct top stars and move further on the career ladder, he has lately been attempting 'commercial movies'. 'Pakka Commercial' is one such attempt.
After watching this film, all I can say he should stick to his strength of weaving concept-oriented entertainers than dishing out these regular commercial dramas. The tastes of the audiences have changed in the post-pandemic era despite logic-less comedies like 'Jathi Ratnalu' and 'DJ' clicking at the box office. But 'Pakka Commercial' is way more formulaic. It ticks all boxes that we expect to see in a regular commercial entertainer.
As the title suggests, the film follows a regular template that we have seen earlier many times. The film doesn't take it seriously itself. It tries to generate comedy by spoofing commercial ways of filmmaking or TV serials, etc. Raashi Khanna's episodes are entertaining in the beginning. But her character is stretched beyond a point. Similarly, the satire on the sword fights in Rajamouli and Boyapati's movies is bang on.
Maruthi has also shown his creative streak in the sequence involving Ajay Ghosh, Siya Gautam, and Rao Ramesh by incorporating Ilayaraja's famous music bit from 'April 1 Vidudala' and naming Ajay Ghosh's character as Diwakaram. Such creative spark is missing in other parts.
These bits and pieces of good parts don't lift the film's formulaic template. A couple of court episodes are more outlandish than those of 'Jathi Ratnalu'.
Gopichand gets marks for his stylish avatar and his sincerity. An easy role for him and he pulls it off well. Raashi Khanna repeats the same what she did in 'Pratiroju Pandage'. Sathya Raj fits well in the role. So is Rao Ramesh. But Rao Ramesh's villain character lacks the depth required for a commercial entertainer.
Among the technicians, Jakes Bejoy does an okay job. The cinematography is decent. As a writer and director, Maruthi gets mixed points.
Bottom-line: 'Pakka Commercial' has a very commercial formula in its story and treatment. Few comedy sequences have worked out, but the whole film is too regular.
Film: Pakka Commercial
Cast: Gopichand, Raashii Khanna, Sathyaraj, Rao Ramesh, and others
Music: Jakes Bejoy
DoP: Karm Chawla
Editor: SB Uddhav
Production Designer: Raveendar
Co-Producer: SKN
Producer: Bunny Vass
Written and directed by: Maruthi
Release Date: July 01, 2022