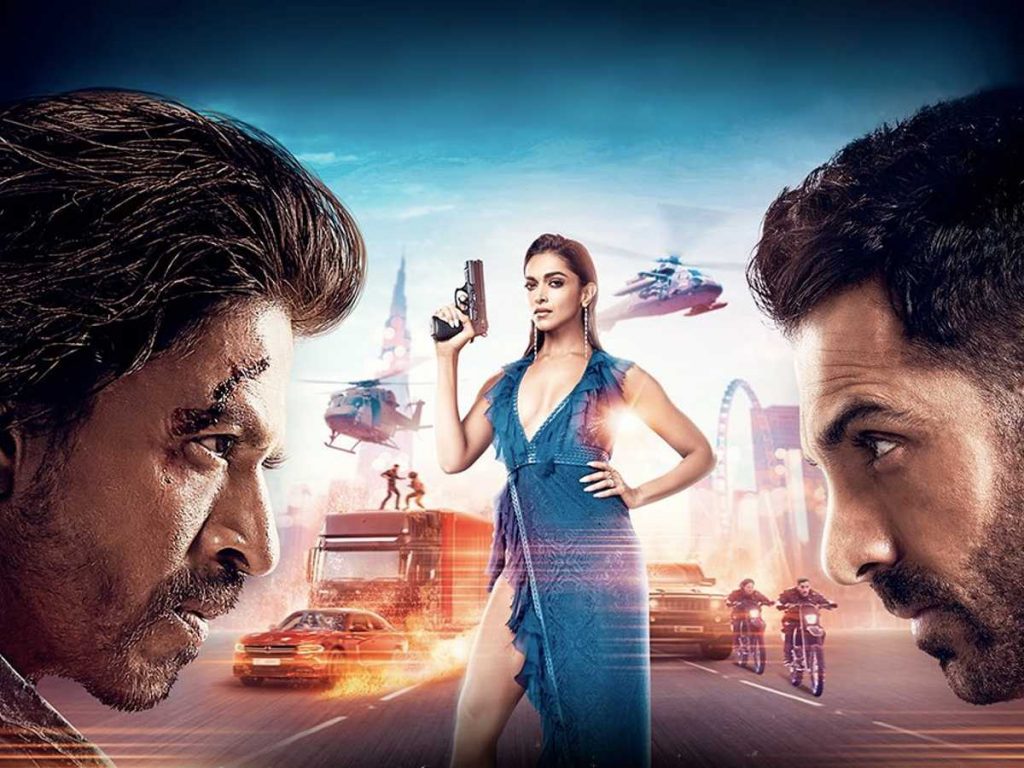 What's it about?
In response to India's rescinding of Article 370, a Pakistani general has decided to exact vengeance. Jim (John Abraham), a former Indian agent, and he enter into an agreement. Jim is motivated to exact vengeance on India for personal reasons.
Meanwhile, RAW's leader decides to send a team led by former agent Pathaan (Shah Rukh Khan) to investigate Jim's plans in light of the information they've gathered. Pathaan is able to meet Jim in Spain thanks to the help of Rubina Mohsin (Deepika Padukone), a former Pakistani agent.
When Jim plans a devastating attack on an Indian city, will Pathaan be able to stop him?
Analysis
For the past four years, Shah Rukh Khan has been absent from the film industry in an effort to start fresh. As he got too old to play a romantic lead, he shifted to more action-oriented roles. This is how the spy thriller "Pathaan" came to be.
Siddharth Anand's previous action drama "War" starring Hrithik Roshan and Tiger Shroff was a huge success. Indeed, he is an expert on the genre of action films. From this context, "Pathaan" had high stakes. And "Pathaan" lives up to the hype to some extent. The filmmakers establish early on that their film is a part of the YRF spy verse. If you're familiar with the formula of Hollywood's other spy thrillers, you'll notice similarities between "Pathaan" and those. It's not surprising that the plot is so clichéd.
The story of this film can be summed up as follows: an agent is dispatched on a mission to foil a rogue agent's plan to use a biological weapon against an Indian city. Such a storyline doesn't allow for a lot of interesting sequences. Nonetheless, the film's director, Siddharth Anand, presents it in a lively and engaging manner. The first appearance of Shah Rukh Khan is an exciting moment. The film's first big action sequence involving helicopters, shot in Dubai, establishes the scope of the action to come.
Despite the film's predictability, the plot twist involving Deepika Padukone's character and Shah Rukh and Deepika's humorous episode in Russia keep us engaged. Plus, the appearance of Salman Khan as Tiger is a major highlight of the film. Both Salman and SRK's initial encounter and the final scenes are entertaining.
While the action is terrific, they are also not new. For example, there's a fight scene in the air that's reminiscent of "Saaho," and a bike race on a frozen lake is similar of a chase scene of "Die Another Day". Even so, the second-half action sequences are impressive in scale and visual appeal.
Shah Rukh Khan looks fantastic. He's 57 years old, but he's in excellent shape and has a dapper appearance. He has a towering screen presence and exudes charisma thanks to the wit he brings to his acting. The film's unique selling point is, in fact, Shah Rukh Khan's star power.
Some of the action sequences starring Deepika Padukone look incredible. It's fair to say that she delivers the goods. Casting John Abraham as the villain is another right choice. He is terrific in the role. Even in his brief appearance, Salman Khan manages to deliver some humorous scenes.
The action director stands out among the technical crew. The action sequences in this film are spectacular. The cinematography by Satchith Paulose is equally impressive.
Bottom-line: Although it has a fairly standard plot for a spy thriller, 'Pathaan' still has its share of entertaining sequences. The sheer magnitude of the action is fantastic. The formulaic story is saved by SRK's charm and Salman Khan's epilogue, making the film worth seeing and it crackles with energy.
Rating: 2.75/5
By Jalapathy Gudelli
Film: Pathaan (Telugu)
Cast: Shah Rukh Khan, Deepika Padukone, John Abraham, Salman Khan (guest role), Dimple Kapadia, and others
Screenplay: Shridhar Raghavan
Music: Vishal and Sheykhar
Director of Photography: Satchith Paulose
Editor: Aarif Sheikh
Producer: Aditya Chopra
Director: Siddharth Anand
Release Date: January 25, 2023