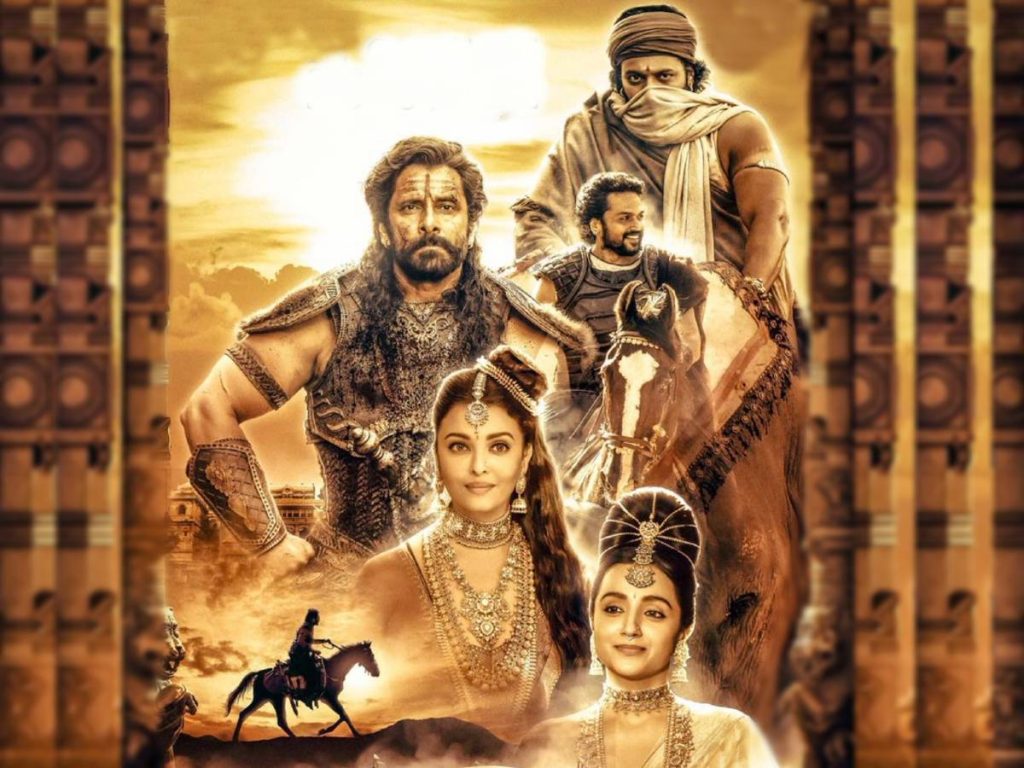 What's it about?
A messenger/spy Vanthiyadevudu (Karthi) takes a long journey to deliver the message of Aditya Karikaludu (Vikram) to his sister Kundavi (Trisha), who lives in a faraway land. Before heading to Kundavi's place, he spies on what's happening at Pallavattu and his wife Nandini's (Aishwarya Rai) palace. He meets Nandini who assigns him another job. 
When he meets Kundavi, she requests him to head to Sri Lanka and bring her younger brother Arun Mozhi aka Ponniyan Selvan (Jayam Ravi) to Tanjavur. What is the connection between Aditya and Nandini? Who is trying to kill Ponniyan Selvan? What happens when Vanthiyadevudu meets Ponniyan Selvan?
Analysis
Auteur Mani Ratnam's latest film 'PS-1' is the first part of the two-part film based on Kalki's 'Ponniyan Selvan', an epic Tamil novel. Many Tamil filmmakers and actors have tried to adapt the novel into film but could not do so due to budget and length constraints. Mani Ratnam, too, had planned to make it many years ago. Seeing the success of Rajamouli's 'Baahuabali nationwide and the way two parts were received by the audiences, Mani Ratnam gathered courage and drew inspiration from it to turn the story into two films. Thus, the first part aka PS-1 is here.
Since I have not read the Tamil novel, I critique the film as is. It took a lot of time for me to comprehend the characters and the plot. To understand their conspiracies, we need to remember the characters and their names. That is a big task in this film. Added to that, Karthi takes a long journey. In the film's first half, we see a song or dance routine every time he comes. The songs and tunes are not mellifluous or catchy either.
Even the so-called "Chola Chola" song filmed on Vikram looks odd in the film.
The film has a dense plot. The twists and turns are interesting. But to comprehend them is not an easy job. The first half of the film entirely belongs to Karthi. He also does comedy and flirts with women. Neither his comedic act nor his romantic side is attractive.
What I liked was the visual palette. Mani Ratnam is the master of visuals. The film is a visual treat thanks to the fantastic production design by Thota Tharani. Ravi Varman's camerawork is splendid as well. The trio has provided a visual delight.
But the film scores less on the gripping narrative and music. When we watch films and web series like "Baahubali" and "Game of Thrones", we get to see many narrative high moments or whistle-worthy sequences. Despite belonging to the same genre, "PS-1" fails to provide such moments.
Moving at a leisurely pace, the film hardly engages. Plus, except for Karthi, none of the characters have a defined arc. Perhaps, they may get their due in the second part.
Compared to the first half, I liked the handling of the second half. And the final twist related to Aishwarya Rai is intriguing as well.
As far as performances are concerned, all the actors have done justice to their roles. Karthi gets more space than others. But it is Aishwarya Rai who steals the show. She appears in two different roles. She gives a terrific performance. Trisha is wonderful. They create compelling moments whenever they appear on the screen. Jayaram's character lacks impact in the Telugu version.
Vikram repeats his 'Raavan' act. Jayam Ravi in his brief role as Ponniyan Selvan leaves an impression.
The Telugu dubbing is okay. Tanikella Bharani's dialogue writing is apt.
Bottom-line: 'PS-1', Mani Ratnam's latest spectacle, is a delight to look at but hard to enjoy the proceedings. The film has stunning production design and visuals, but the narrative is dull.
Rating: 2.5/5
By Jalapathy Gudelli
Film: PS-1
Cast: Vikram, Aishwarya Rai Bachchan, Jayam Ravi, Karthi, Trisha, Prabhu, R Sarathkumar, Aishwarya Lekshmi, Sobhita Dhulipala, and others
Story: Kalki's Ponniyan Selvan
Dialogues: Tanikella Bharani
Screenplay: Mani Ratnam, Jeyamohan, Kumaravel
Music: AR Rahman
Director of Photography: Ravi Varman
Editor: Sreekar Prasad
Production Designer: Thota Tharrani
Action: Kecha Khampakdee & Shyam Kaushal
Producer: Mani Ratnam and Subaskaran
Directed by: Mani Ratnam
Release Date: Sep 30, 2022