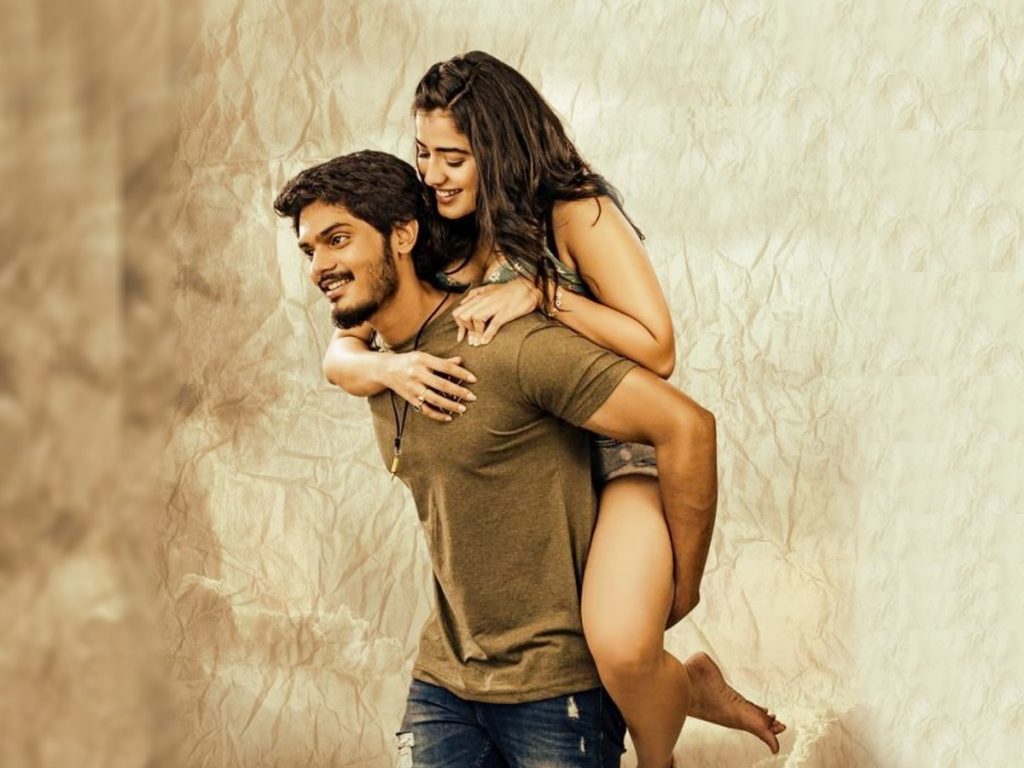 What's it about?
Vasco Da Gama (Akash Puri) lives with his grandmother Mary. His father, a police officer, and his mother were killed when he was a kid. He needs big bucks to fulfill his grandmother Mary's (Rama Prabhas) dream of building houses for all the poor people in his locality. He joins a local gang that smuggles drugs and rises quickly in his business.
His heartbeat skips when he first notices Monica (Ketika Sharma), a music student, and runs after her.
During a drug deal, Vasco Da Gama kills a police officer, and ACP Ramya Gowarikar is assigned to arrest him. Ramya Gowarikar uses Monica to nab Vasco. Then, what happens to the steamy love relationship of Monica and Vasco Da Gama?
Analysis
Ramya Krishna: Can you please explain what this 'Pattukovadam' is? Muddu Pettukovatama? Kougilinchukovatama? Cheyyi Pattukoni Lagatama?
Ketika Sharma: Ivanni Kalipite Danni Pattukovadam Antaru
This is from a crucial scene of interrogation in 'Romantic' starring Akash Puri, director Puri Jagannadh's son, and newcomer Ketika Sharma in the lead roles. The above scene and the dialogue give you a rough idea about the content of this film. Although the film is directed by debutant Anil Paduri, it is Puri Jagannadh who wrote the story, screenplay, and dialogue. No wonder that we see Puri Jagannadh's trademark style of narrative throughout the film.
Such bold conversation is intended to attract the youngsters and masses. Such individual sequences may generate claps in the theaters, but they don't add much to the overall experience of the movie.
In Puri Jagannadh's movies, the hero always talks about 'sex' and lust. In this film, the hero says 'he likes this animal (Ketika Sharma)' and asks the heroine to look her back in the mirror so that she would understand how she is driving men to go crazy.
He constantly tries grabbing her. She reluctantly likes him, perhaps due to her raging hormones. These are presented as part of 'romantic' sequences between them.
If 'Romantic' is about two youngsters who are madly in love or desire each other, it would have been fine. But the so-called 'romantic' portion comes much later part of the story and doesn't occupy the main plot. The film begins as a gangster drama, showing the rise of a young boy quickly rising in the business. We see more violence than romance.
After showcasing too many gangster episodes, the film heads for an intense romantic drama that looks unconvincing. So, the imbalance of gangster elements and romantic thread make this film neither a love story nor an action drama.
'Romantic' begins with a voiceover narrative of Ramya Krishna. By end of the film, she says she has never seen such an intense love in her life. But we hardly feel the intensity in the romance of the hero and heroine except for the 'desire or lust'.
Coming to performances, Akash Puri has shown maturity in performance compared to his previous film, Mehbooba. But the role of a gangster is a bit too heavy for his age. Ketika Sharma has good physical assets, she flaunts them to the desired effect. She will become a glamour heroine if she makes her cards well. Ramya Krishna leaves her mark as a police officer.
Puri Jagannadh's trademark dialogues are the major highlight of the film. Example: "I Love India… Roopyai Karchu Undadu.. I Love You… Sarada Teerchestadi."
Music is not an asset but the song of " Nuvvu Nenu E Kshanam" looks beautiful on the screen.
Bottom-line: 'Romantic' is another example of Puri Jagannadh's brand of filmmaking that relies more on 'podcast dialogues' (Puri musings) and glam appeal of the heroine, than a coherent narrative. It may appeal to the youth and mass audiences but this is a clichéd effort.
Rating: 2.25/5
Film: Romantic
Cast: Akash Puri, Ketika Sharma and Ramya Krishna
Story, screenplay, dialogue: Puri Jagannadh
Music: Sunil Kashyap
Editor: Junaid Siddiqui
Director of Photography: Naresh Rana
Produced by: Puri Jagannadh, Charmme Kaur
Directed by: Anil Paduri
Release Date: October 29, 2021