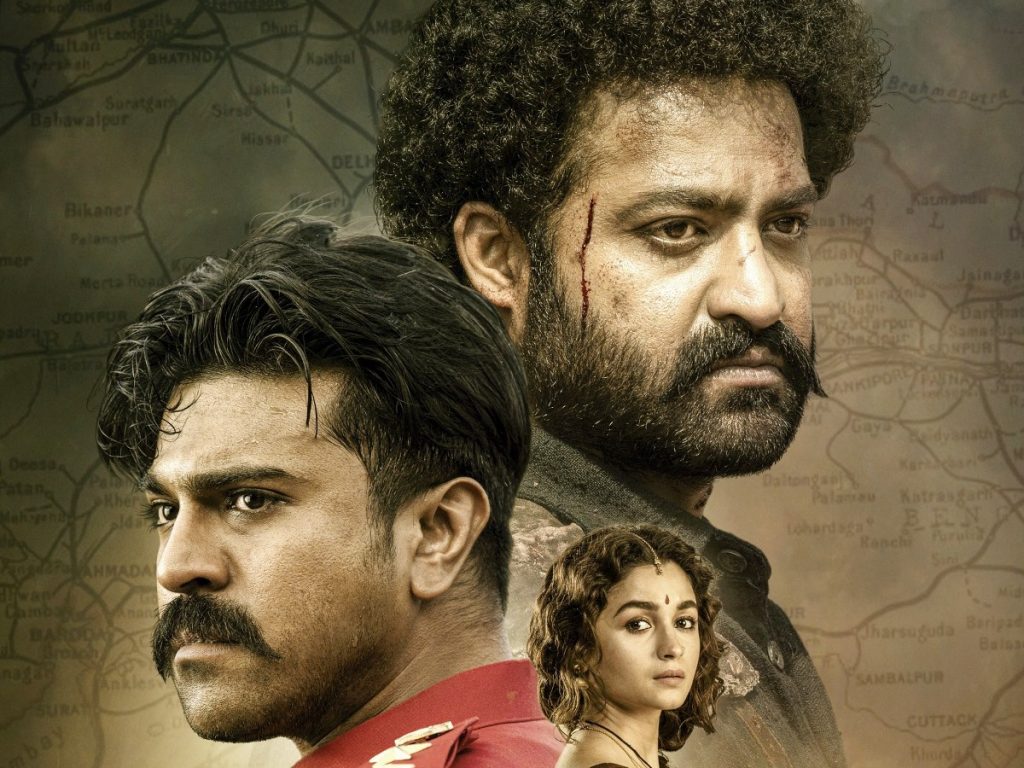 What's it about?
Impressed by her tattoo skills, a British couple take away Malli to their residency in Delhi. The tribal leader of the region Bheem (NTR) vows to bring her back. In Delhi, he becomes friends with Ramaraju (Ram Charan), a police officer working under the British. Little does Bheem know that Ram has been entrusted with the task of nabbing him.
Will Ram and Bheem turn foes or join hands to revolt against the British?
Analysis
In the very first press meeting of 'RRR', director Rajamouli revealed the genesis for the story that came from Walter Salles's Spanish drama, The Motorcycle Diaries (2004), which depicted the journey of revolutionary leader Che Guevara and his friend Alberto Granado. Drawing inspiration from that film, Rajamouli thought of narrating a fictional tale of friendship between freedom warriors Komaram Bheem and Alluri Sita Ramaraju. Thus 'RRR' was made. Similarities end there.
Komaram Bheem and Alluri Sita Ramaraju are renowned freedom warriors of the Telangana and Andhra regions, but the story of 'RRR' is entirely fiction. It is an imagined story of two real-life warriors. Set in the 1920s, the story of 'RRR' takes place in Delhi. Bheem comes to Delhi in search of the tribal girl Malli who was taken away by Scott and his wife (Ray Stevenson and Alison Doody). And in Delhi, Ramaraju is working as a police officer with a hidden agenda. Thus, Bheem and Ramaraju meet. Or so Rajamouli imagined.
Alluri Sita Ramaraju's role is characterized by fire as he always seethes with rage and carries many burdens. The element of water signifies Komaram Bheem's character, who doesn't hide his feelings and adapts himself to the situations. The film's screenplay is structured in a way that we should not miss these traits. Rajamouli introduces Ram Charan's character with a graphic note of 'Fire' and NTR's character with a note of 'Water'. By the end of these introductions, we get to see the film's title card – RRR.
Ram Charan gets introduced as he's controlling a mob and NTR with a chase sequence with a tiger. Comparatively, NTR's introduction is better. After a prolonged stretch on the mandatory hero introduction scenes and their union, the film gets in the groove. The way Ram Charan captures Rahul Ramakrishna, an aide of NTR, is rivetingly narrated. The bromance between NTR and Ram Charan is also properly established.
The real high moment comes just before the interval. Man, these scenes are mindboggling! Rajamouli mounts the episode on a huge scale and delivers it. The pre-interval episodes and interval bang is the main highlight. Oh yeah, Rajamouli also places NTR fighting with a water pipe and Ram Charan with firewood in this action episode. Is it not stretching the metaphors too much?
The film's core emotional element comes with the appearance of Ajay Devgn. The flashback story is interlinked to Ram Charan's real goal. The second half of the film runs on expected lines and ends with a bang. The pace of the film also goes down in the latter portion. However, if there is one moment that entirely stands out in the film is the "Komaram Bheemudo" song. Sung with an emotional pitch, the sequence is handled well, and NTR puts his heart into it. The cathartic experience holds the entire second half.
On the downside, the storyline is flimsy.
Many scenes are random and loosely fitted into the main thread. The film begins with Komaram Bheem's mission and ends with Alluri Sita Ramaraju taking charge entirely. Barring the sequence where Bheem makes Ramaraju realize that a song can also be used as a weapon to arouse patriotic feelings and Ramaraju agrees to educate Bheem, we don't get to see what either of them has learned to lead the revolt against the oppressive regimes in their later freedom struggles.
And the sequence of rescuing a boy (bridge scene) is not at all good, it looks more of an attempt to think big without substance.
Also, remember that the film has nothing to do with real history. And if you don't know much about the freedom struggles Komaram Bheem and Alluri Sita Ramaraju led in their lives, you don't even get it after watching this film either.
The committed and fiery performances from NTR and Ram Charan will be talked about. Both the stars have put in their best acts. NTR's performance in the song of "Komaram Bheemudo" is terrific. Expectedly, he delivers his best in emotional moments. He appears calm as a river but creates a whirlpool when required.

Ram Charan as Alluri Sita Ramaraju mesmerizes. In the beginning, he doesn't get highlighted, but as the film progresses, he comes out shining. The second part of the movie is largely devoted to his character, and he steals the show in those parts. Both Ram Charan and NTR have shared good chemistry as friends.

Alia Bhatt in her maiden Telugu debut gets the shortest role. Her running time is less, but she delivers what is required with her talent. Ajay Devgn brings gravitas in a brief role. Rahul Ramakrishna is okay. The British actors including Olivia Morris have not made much impact. The forced romantic track between Olivia and NTR is another downside of the movie.

The music maestro MM Keeravani has again scored riveting background music to elevate the mood.

There's no need to tell that Rajamouli gets extraordinary output from his technicians. His strength lies in visuals and bringing out grander. Cinematographer Senthil Kumar has once again framed the period setting richly. Sabu Cyril's production design is apt and appealing. Burra Sai Madhav makes his mark clear in dialogues here and there. Editing is not seamless, many scenes look patchy.

Rajamouli, as usual, does his best in visualizing action episodes and imagining grand visuals.

Bottom-line: Rajamouli's 'RRR' has crowd-pleasing moments laced with a couple of thrilling action set pieces and two strong performances from the lead pair. The interval bang and 'Komaram Bheemudo' sequence stand out. However, 'RRR' has a routine narrative, lacks the strong emotional element, and patriotic fervor that is needed for such stories. It's less of a story of Bheem and Ramaraju and more of a Ramaraju story. Box-office numbers may glitter, the content doesn't have many sparkles. You may watch it for the two superstars and the glitzy hungama.
Rating: 3/5
Reviewed by: Jalapathy Gudelli
Film: RRR
Cast: NTR, Ram Charan, Ajay Devgn, Alia Bhatt, Olivia Morris, Shriya, Alison Doody, Ray Stevenson
Music: MM Keeravani
Story: V Vijayendra Prasad
Dialogue: Sai Madhav Burra
DOP: KK Senthil Kumar
Editor: Sreekara Prasad
Producer: DVV Danayya
Screenplay and Direction: S.S.Rajamouli
Release Date: March 25, 2022