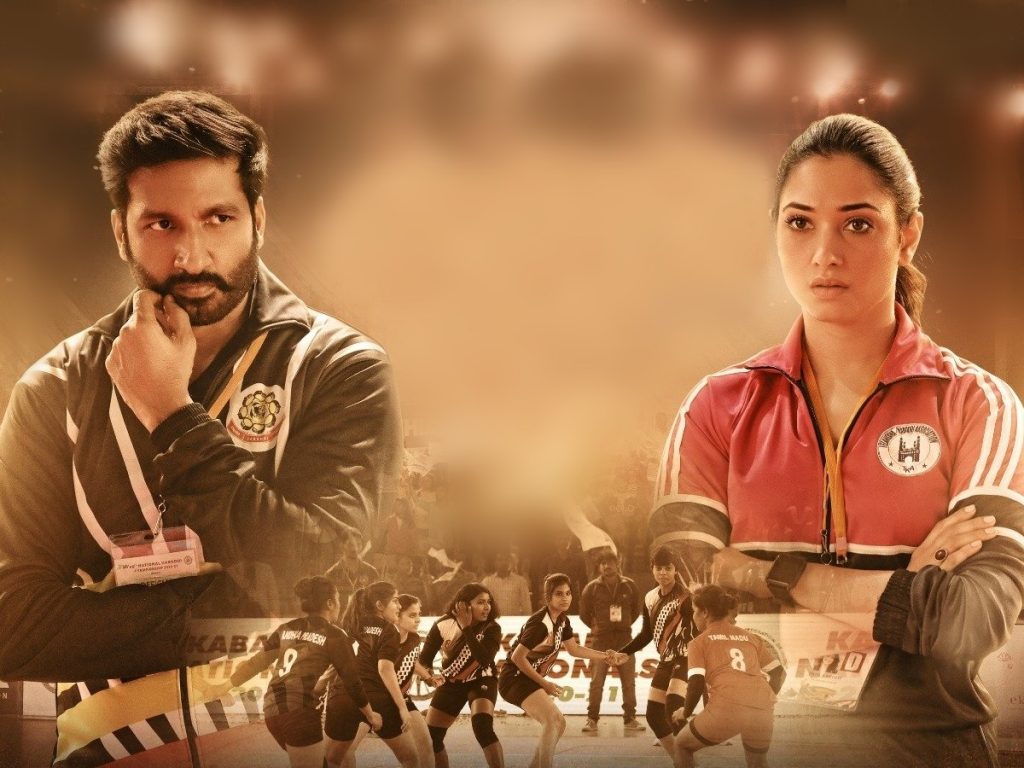 What's it about
Karthi (Gopichand) works in a bank. Like his father, who was a Kabaddi champion, Karthi is a professional player. The school in his village might be closed for good due to lack of funds. So, Karthi decides to train his village girls in Kabaddi and make them champions. If they can win the championship representing the state at the national games, his aim of running the school gets fulfilled. With much difficulty, Karthi convinces the girls' parents to send them to the national games in New Delhi.
In Delhi, he faces an expected problem from a rowdy police officer named Makkan Singh (Tarun Arora). His team and his brother-in-law face a threat from Makkan Singh. How will Karthi solve the issue?
Analysis
Can there be scope for adding heavy mass action sequences in a sports drama? Vijay starrer Atlee's 'Whistle' ('Bigil' in Tamil) showed the way. Following his path, director Sampath Nandi presents 'Seetimaarr' starring Gopichand, which has Kabaddi game as the backdrop.
Sampath Nandi has a style of narrating mass movies. And this time, he borrows Atlee's way of approach in 'Seetimaarr'. We can also see the influence of director Boyapati in packaging action sequences in a high-voltage manner.
Before reading further, let me clear one thing. 'Seetimarr' makes it clear from word go that it is an out and out commercial potboiler. From the beginning to the end, it has a formulaic approach. Within this setup, Sampath Nandi tries to balance both Kabaddi game elements and action stunts.
He gets the first 30-minutes right. In the first act, we get to know why Karthi is training the girls in Kabaddi, his aim. Luckily, it is refreshing to see the hero training the girls to fight on their own when a problem arises than waiting for a man to come to their rescue. Such an interesting episode and Rao Ramesh's scenes have generated interest. But after the first act, the film dips, and rises, dips, and rises. It runs regularly thereafter.
The second half completely turns into an action mode, and it also goes on expected lines.
Gopichand looks effective as a women's Kabaddi coach. The action elements are his forte, and he does them well. Tamannaah is okay. Bhumika plays a minor role. Rahman is decent.
The film boasts rich visuals and lavish production values. Cinematography is the major highlight. Mani Sharma's songs are a mixed bag. The film suffers inconsistency in editing.
Bottom line: 'Seetimaarr' is Boyapati meets Bigil. A sports drama told with an overdose of mass elements and high-octane action.
Rating: 2.75/5
By: Jalapathy Gudelli
Film: Seetimaarr
Cast: Gopichand, Tamannaah Bhatia, Rao Ramesh, Bhumika, Tarun Arora, Rahman and others
Music: Mani Sharma
Editor: Tammiraju
Cinematography: Soundar Rajan
Producers: Srinivasaa Chituri
Written and direction: Sampath Nandi
Release Date: Sep 10, 2021