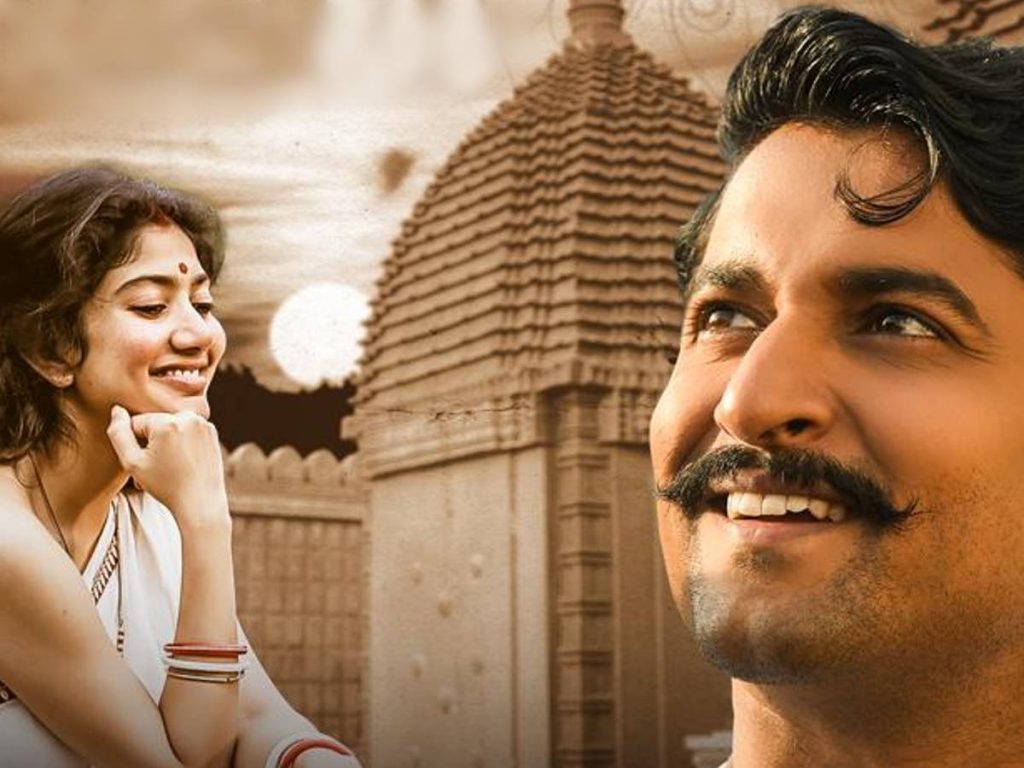 What's it about?
Vasu (Nani) is a wannabe director who ropes in Keerthi(Krithi Shetty) for a short film. Impressed by Vasu's work, a producer offers him a film, and that becomes a hit. In no time, Vasu gets a big offer to remake the film in Hindi. Just as the announcement is being made, Vasu gets arrested in a copyright infringement case. A noted publication in Kolkata files a case citing that Vasu has copied their stories written by Shyam Singha Roy in the early 1960s. Who is this Shyam Singha Roy? Why did Vasu copy his stories? and where does Sai Pallavi feature in this setup is the story?
Analysis
The re-incarnation themes are not new to Telugu cinema. We have seen many stories from the days 'Mooga Manusulu' (1964). Writer Janga Satyadev and director Rahul Sankrytan give a new twist to the time-tested theme. Every character has a meaning and the dialogues and situations used have a proper closure in the film.
The first half is more about how Nani from the present generation gets pulled back by situations from the past. This part is nicely established at the interval point. The first half of the film ends on a high note.
Nani underplays his role in the first half to unleash his royal side in the second. Once the film heads into the period backdrop, the world of Shyam Singha Roy is revealed beautifully. The second half, though a bit clichéd, is a visual spectacle. The set work, costumes, and emotions are brought out well.
Sai Pallavi plays this Devadasi who falls for Nani and she looks graceful in the film. Her dances, getup, and emotional dialogues with Nani are perfect. However, how Sai Pallavi falls in love with Shyam Singha Roy is shown musically, but it is overdone and drags a bit. This is also where the pace of the film drops. Only when the story moves to Kolkata, things catch up.
In all this, the screenplay by Rahul Sankrytan could have been a bit tighter. Shyam Singha Roy is a serious drama and there is no room for entertainment. It has some spellbinding artwork and a lot of grandeur.
The film wobbles here and there in terms of Nani's character who is shown as the reformist but forgets that angle midway. Rahul Sankrytan ends the film well with a proper and well-defined connection to the present and past.
Coming to performances, 'Shyam Singha Roy' ranks among his best performances. He shows the difference between the two roles. Sai Pallavi is spotless. Krithi Shetty is shown as Nani's love interest and does some daring scenes and has a good screen presence. Other actors have also done a good job.
Micky J Meyer's music and camerawork are beautiful and take us to a new world that looks good. The cinematography is excellent. The visuals are eye-catchy. The production design is another asset.
Bottom-line: 'Shyam Singha Roy' is about reincarnation and romance. The film works to an extent. While the performances and taking are superb, the slow pace and lengthy runtime are a drawback. Nani gives another remarkable performance, and the proceedings have decent emotions to make this neat watch.
Rating: 2.75/5
By: AMK
Film: Shyam Singha Roy
Cast: Nani, Sai Pallavi, Kriti Shetty, Madonna Sebastian and others
Music: Mickey J Meyer 
Cinematography: Sanu John Varghese
Editing: Naveen Nooli
Producer: Venkat Boyinapalli 
Director: Rahul Sankrityan 
Release Date: Dec 24, 2021