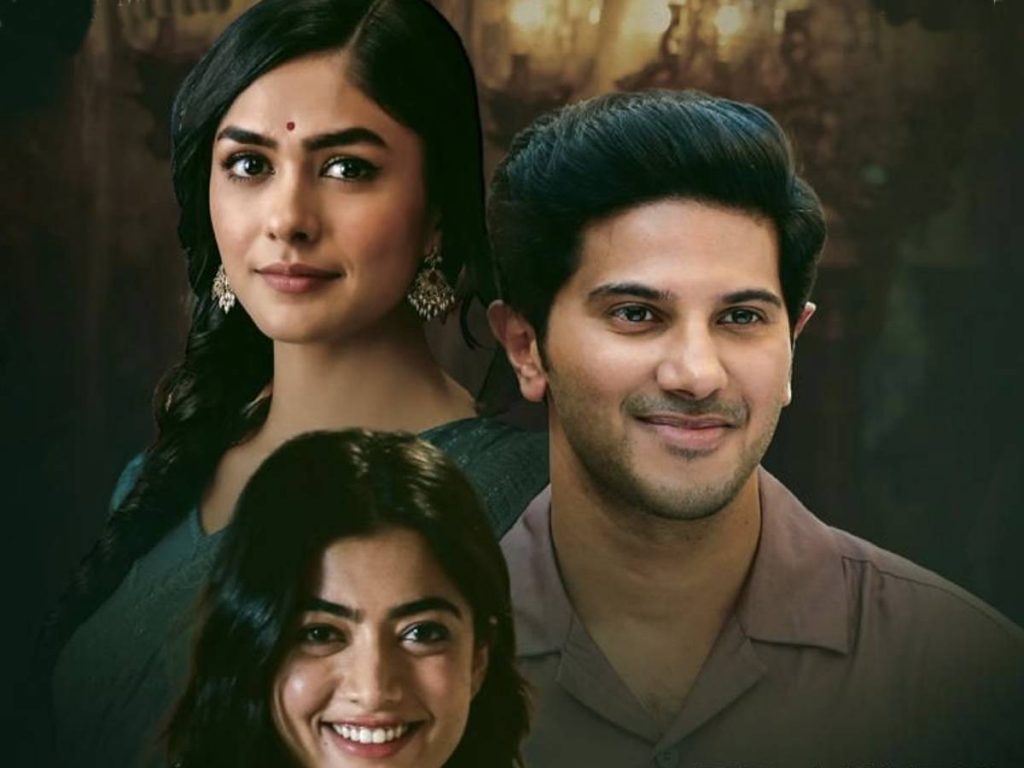 What's it about?
Before his death, Afreen's (Rashmika Mandanna) grandfather keeps her a task to do. Afreen has to find Sita and hand over a letter written by Ram. Afreen, a Pakistani woman, lands in India in search of Sita. As the story of Lieutenant Ram (Dulquer Salmaan) and Sita (Mrunal Thakur) unfolds, the timeline moves from 1985 to 1965.
Ram is a soldier deputed in Kashmir. One of his brave acts makes him a hero and he gets fan mail from all over India. One letter intrigues him. A woman named Sita Mahalakshmi writes a letter addressing him as her husband. But the letter doesn't have an address.
After many attempts, he finally meets her in Hyderabad, the two begin falling in love. But there's a twist to her real identity. When they finally move to Kashmir, Ram gets captured by the Pakistan army in a failed mission. Coming back to the present (1984), will Afreen realize why was she asked to find Sita?
Analysis
Better known for 'Andala Rakshasi' and 'Krishna Gaadi Veera Prema Gaadha', Hanu Raghavapudi presents a beautifully shot period drama in 'Sita Ramam', starring Dulquer Salman and Mrunal Thakur as Rama and Sita. For me, the major complaint with director Hanu Raghavapudi's films has been his handling of the second half of the final act. All his films do have luminous frames, and entertaining first half. But he never got the third act right. But with 'Sita Ramam', he does. Interestingly, the beginning portions are not gripping here, but the third act is perfect.
'Sita Ramam' runs in two timelines – 1985 and 1964/5. The story of Rashmika Mandanna, a Pakistani woman, coming to India in search of Sita is set in 1985, while the main love story between Sita and Rama played by Mrunal Thakur and Dulqer Salmaan takes place two decades earlier. Rashmika and Tarun Bhascker traveling to many places and meeting people to find the address of Sita has a resemblance to the similar setup of Samantha – Vijay Deverakonda in 'Mahanati'. But there is a difference – Rashmika's character has a proper link to Rama and Sita's story. Of cource, we can easily guess Rashmika's twist.
Rama and Sita's story has a graph that is quite interesting. They begin their romance like in the olden days through love letters. The twists and turns in their story make the film a compelling watch. But the initial portions and comedy track involving Vennela Kishore stick out like a sore thumb. Many sequences in the beginning make a tedious watch.
All through the proceedings, we see references to Ramayana but director Hanu Raghavapudi's message of love over war strikes a chord. The final part is emotional. The director's deft handling is visible here.
Dulquer Salmaan is not only handsome, but he also looks young and fits well in the role of a soldier. Mrunal Thakur makes a confident debut in Telugu. She is charming and gives a decent performance. Rashmika plays her part well. Tarun Bhasker plays her sidekick. Sumanth is good. Prakash Raj and Gautam Menon play their parts neatly.
Music and cinematography are the pillars. Vishal Chandrasekhar has given tracks that work for the theme. 'Entandam' stand out. PS Vinod and Shreeya Krishna's beautiful work comes through in every scene. The Kashmir scenes are the best. As a writer and director, Hanu Raghavapudi shines this time.
Bottom-line: 'Sita Ramam' is a well-told love story with mellifluous music and breathtakingly shot frames. But this is not a film with shortcomings. Still, the film makes an interesting watch and drives a message of love over war.
Rating: 3/5
Review by: Jalapathy Gudelli
Film: Sita Ramam
Cast: Dulquer Salmaan, Mrunal Thakur, Rashmika Mandanna, Tarun Bhasskcer, Vennela Kishore and others
Music: Vishal Chandrasekhar
Cinematography: PS Vinod, Shreyaas Krishna
Editor: Kotagari Venkateswara Rao
Production Designer: Sunil Babu
Producer: Swapna Dutt
Written and directed by: Hanu Raghavapudi
Release Date: Aug 05, 2022