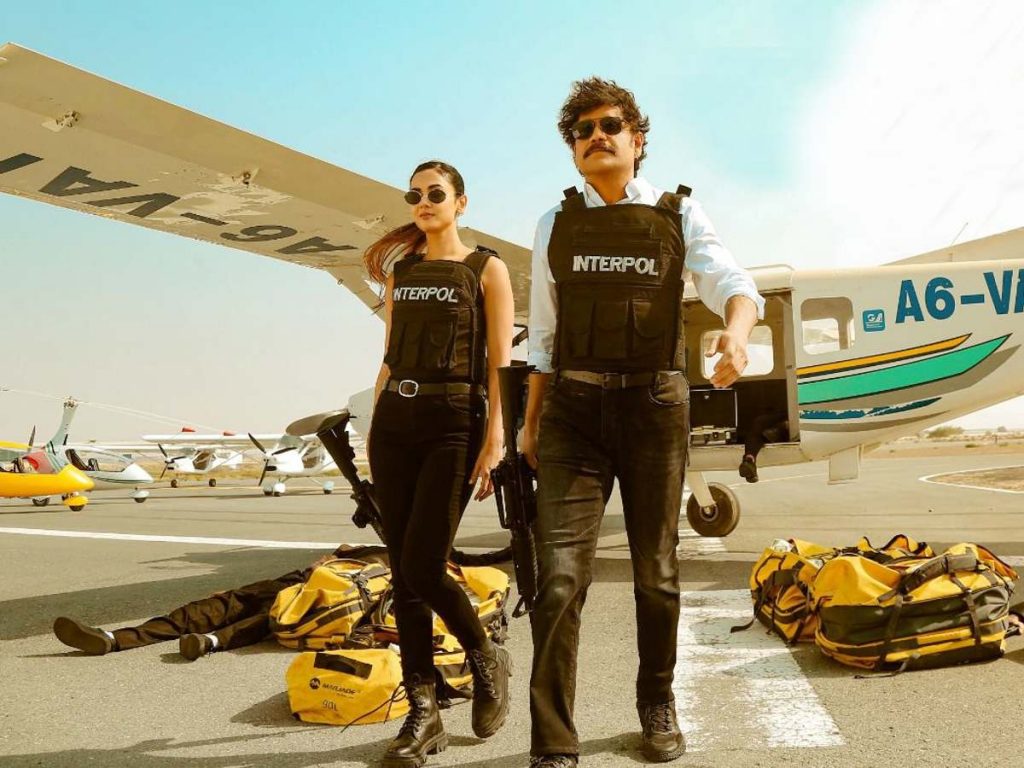 What's it about?
An Interpol officer Vikram (Nagarjuna) suffers from frequent dreams of a failed mission. He cannot control his rage and emotions. One day, he quits the job to lead a normal life and breaks up with his colleague and lover Priya (Sonal Chauhan).
He senses danger when a gets a call from his estranged sister Anu (Gul Panag) who has not been in touch with him for twenty years.
He rushes to Ooty to meet his sister and niece (Anikha Surendran). They get threatening calls from unknown persons. The rest of the drama is about how Vikram, a former Interpol officer, protects his sister and niece from enemies.
Analysis
Director Praveen Sattaru is known for delivering riveting thrillers. He won accolades with his previous film, PSV Garudavega starring Rajashekar in the lead role. So, his teaming up with a senior star like Nagarjuna has created a lot of interest and anticipation. But shockingly, we get to see a dated action film.
'The Ghost' has Nagarjuna playing an Interpol officer, and the film begins with a big action sequence in Dubai, which looks slick. We get the feeling that Sattaru is taking us for another thrill ride.
But it doesn't take much time to our excitment getting diffused. The director presents a full-blown action movie with a wafer-thin plot, with never-ending action sequences. One after the other, and the other. By the time the movie ends, it might seem like we have experienced three to four films of action stunts in one go.
Nagarjuna fights with guns as well as swords (there is no explanation why he picks the much-hyped Tamahagane sword), and also uses machine guns. In the climax, the blazing machine gun throws bullets toward the villain gang. His sister also sits in the gang, but she is unhurt while all others die. Such illogical scenes are there.
Praveen has stylishly executed the action stunts, but there is no base (a proper script or emotional angle) to hold them.
Nagarjuna does what's required – doing action stunts effortlessly. Sonal Chauhan gets the chance to do some stunning stunts. Gul Panag and Anikha Surendran are okay in their roles.
Mukesh's cinematography and production values are top-notch. The background score is terrific as well.
Bottom-line: 'The Ghost' is more like a collage of plenty of action scenes set in various locations. The weak writing and a marathon of action sequences disappoint big time.
Rating: 2.25/5
By Jalapathy Gudelli
Film: The Ghost 
Cast: Nagarjuna Akkineni, Sonal Chauhan, Gul Panag, Anikha Surendran and others
Music: Bharatt-Saurabh, Mark k Robin
Cinematographer: Mukesh G
Art director: Brahma Kadali
Editor: Dharmendra Kakarala
Produced by: Suniel Narang, Puskur Ram Mohan Rao, Sharrath Marar
Written and Directed by: Praveen Sattaru
Release Date: Oct 05, 2022