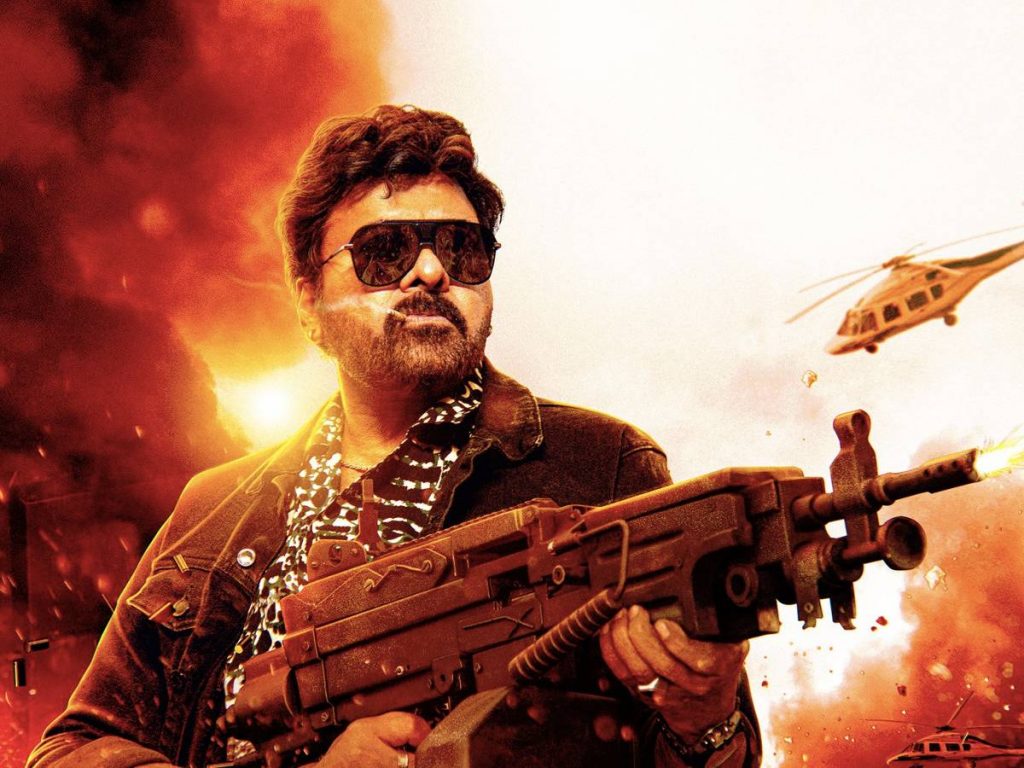 What's it about?
Waltair Veerayya (Chiranjeevi), a fisherman and leader in his community, is approached by a police officer (Rajendra Prasad) asking his assistance in extraditing a criminal named Solomon Caesar (Bobby Simha) from Malaysia to India. Supposedly adept at such tasks, Waltair Veerayya has agreed to complete the assignment for Rs 25 lakhs.
In Malaysia, Michael Solomon (Prakash Raj) and his younger brother Solomon Caser operate a drug dealing business.
After developing feelings for the hotel manager (Shruti Haasan), Veerayya is shocked to learn that she is actually an undercover cop who plans to use Veerayya in their operation. But Veerayya is not just a fisherman, and the police have no idea that he agreed to bring Solomon to India for reasons other than financial gain.
Is there some deeper motivation for Veerayya to undertake this task?
Analysis
Director Bobby has assured Chiranjeevi's fans that they will see some "vintage Chiranjeevi" scenes once again. He went as far as saying that people would lose their minds (get "poonakalu") with those scenes in "Waltair Veerayya," a film he wrote besides directing. Kona Venkat and Chakravarthy wrote the screenplay. We are reminded of scenes from Chiranjeevi's 90's films from the moment the megastar enters the screen in his trademark lungi and beedi. Immediately following the hero's introduction, we are treated to Chiranjeevi's comedic antics and array of brightly coloured clothing. They evoke feelings of nostalgia.
But Chiranjeevi's attempts at a throwback style of comedy fall flat, as these methods are now widely seen as antiquated.
Simply put, the story is about an older brother who goes to great lengths to make sure his younger sibling gets what he's always wanted in life – a befitting respect from the police force. In "Veera Simha Reddy," we witnessed the emotional tussle between a brother and his step-sister; here, we see the same dynamic play out between a brother and his step-brother. The film is presented, however, as a major action drama, complete with the appropriate set-up scenes for Chiranjeevi and Ravi Teja.
The film really begins to heat up after the intermission and provides some interesting moments with these two actors. It's easy to feel Chiranjeevi and Ravi Teja's camaraderie. The film's first half focuses on Chiranjeevi's comedic antics, while the second half emphasises the dramatic undercurrents. However, the writing in both sections is trite and boring. A refreshing sequences were needed for this story. The film's writing is weak as a whole, but both halves have interesting parts (the interval bang in the first half and Ravi Teja's sequence in the second).
The proceedings have been hampered by clichéd situations and dated comedic scenes.
The film's pace is also uninspiring.
Chiranjeevi, the megastar, always gives his all. It's obvious that he had a good time playing this role. He attempts to keep our interest by acting out his colourful character in his signature fashion. Such comedy at his age doesn't bode well, though.
Even in his brief appearance, Ravi Teja makes an impression. In the final acts, he really shines. Shruti Haasan, in contrast to her role in "Veera Simha Reddy," is given more duties and even has a fight scene. In this film, Prakash Raj portrays a stock villain. Bobby Simha is okay. A lot of popular actors, but none of them really matter.
The music by Devi Sri Prasad is the film's shining point. His songs are visually appealing as well. "Nuvvu Sridevi Nenu Chiranjeevi," is the best. The song "Don't Stop Dancing Poonakalu Loading" is impressive, too. The film's production values and camerawork of Arthur C. Wilson provide richness.
Bottom-line: 'Waltair Veerayya' offers nothing new besides giving a glimpse of some of Megastar Chiranjeevi's earlier acting style. Even with Chiranjeevi's charismatic presence and vibrant songs, the movie suffers from formulaic presentation. For devotees of "vintage" Chiranjeevi only.

Rating: 2.5/5
By Jalapathy Gudelli