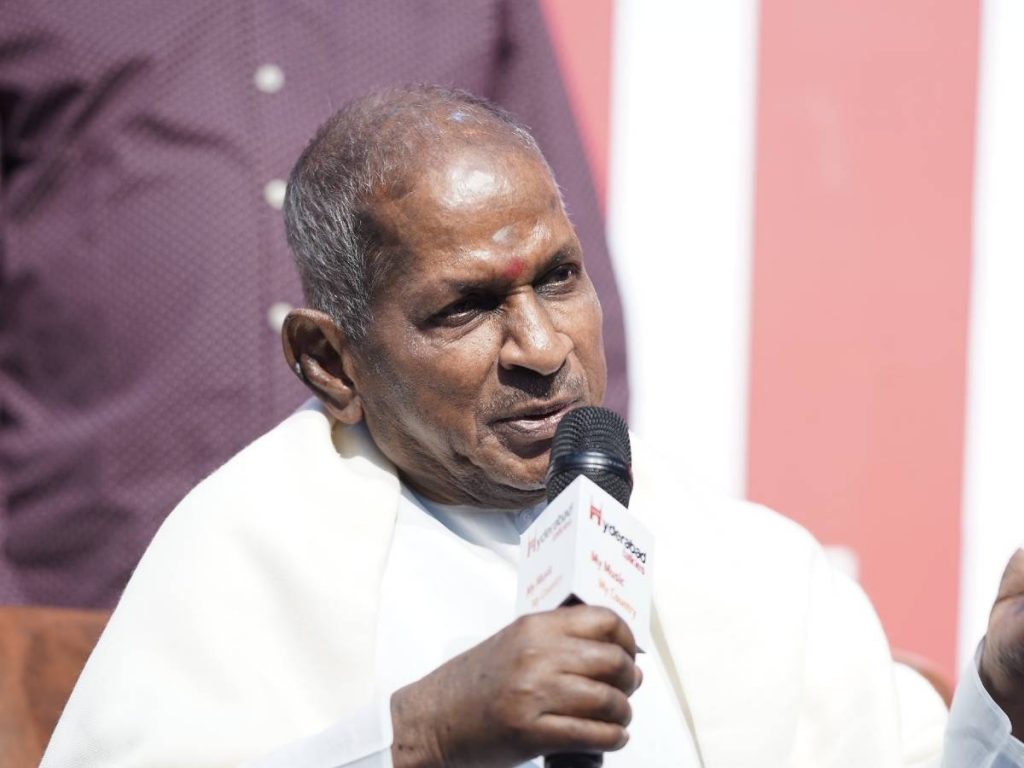 Hyderabad, 14th Feb, 2023: Music maestro Ilaiyaraaja, who has been on a five-year concert sabbatical, met with his fans today at the T-HUB- phase 2, in Hyderabad, just ahead of his live concert in the city on 26th Februray 2023.
Ilaiyaraaja, who has admirers across generations, was greeted with a short video capturing his incredible musical journey directed by noted filmmaker AL Vijay, paying tribute to the maestro. The video got admiration from the composer himself.
Followed by an interaction, the composer was asked about how technology helps music, to which he replied that it is not technology that brings life to music, but rather it is technique of musicians. "The music comes to life through technique, not technology," Ilaiyaraaja said in the presence of Jayesh Ranjan, the Principal Secretary of the Industries & Commerce (I&C) and Information Technology (IT) Departments of the Telangana government and popular playback singer Sunita. Jayesh Ranjan said he was very happy when Ilayaraaja's team confirmed their arrival to T-Hub and also looking forward to the concert in Hyderabad.
"It's an honor to be back on stage and connect with my fans through the power of music. I can't wait to share this night of unforgettable performances and memories with all of you!" added the music maestro.
"Ilaiyaraaja's music is known for its fusion of Indian classical music with traditional and western sounds. He has enthralled audiences across the world with his soul-stirring compositions and has been an inspiration to many aspiring musicians. His music has the power to evoke emotions, and fans are expecting a spellbinding performance from the maestro," said Sainath Goud Malkapuram, Founder of Hyderabad Talkies.

The fans of Ilaiyaraaja are eagerly anticipating the concert on 26th Feb 2023, which is set to be a musical extravaganza that promises to be a night to remember for a lifetime. The event offers an opportunity to bask in the brilliance of the maestro of Indian film music.

TheT-Hub head  during his speech at the event, shared his personal connection with the composer, and said "I grew up listening to your music from Gramophone to iPhone."  Singer Sunita, present at the event, was overwhelmed by the presence of the music composer and said it would be the most treasured moment in her life to share the stage with him., she added it's an experience to listen to Maestro.

Hyderabad Talkies, a company known for its legacy events, has once again raised the bar by bringing Ilaiyaraaja to the city. The company has previously hosted events for iconic musicians such as A.R. Rahman in 2017 and Arijit Singh in 2019. The concert is expected to attract film fraternity members, political leaders, celebrities, and business leaders.

The fans of Ilaiyaraaja can gear up and get ready to be transported to another world with the soul-stirring sounds of the maestro. The Dr. Ilaiyaraaja who is set to perform on Feb 26th at the Gachibowli stadium in Hyderabad promises to be a magical night filled with unforgettable performances and memories, showcasing the timeless beauty of music that comes to life through technique, not technology. So, book your tickets now to experience the brilliance of Ilaiyaraaja!
(Press Release)