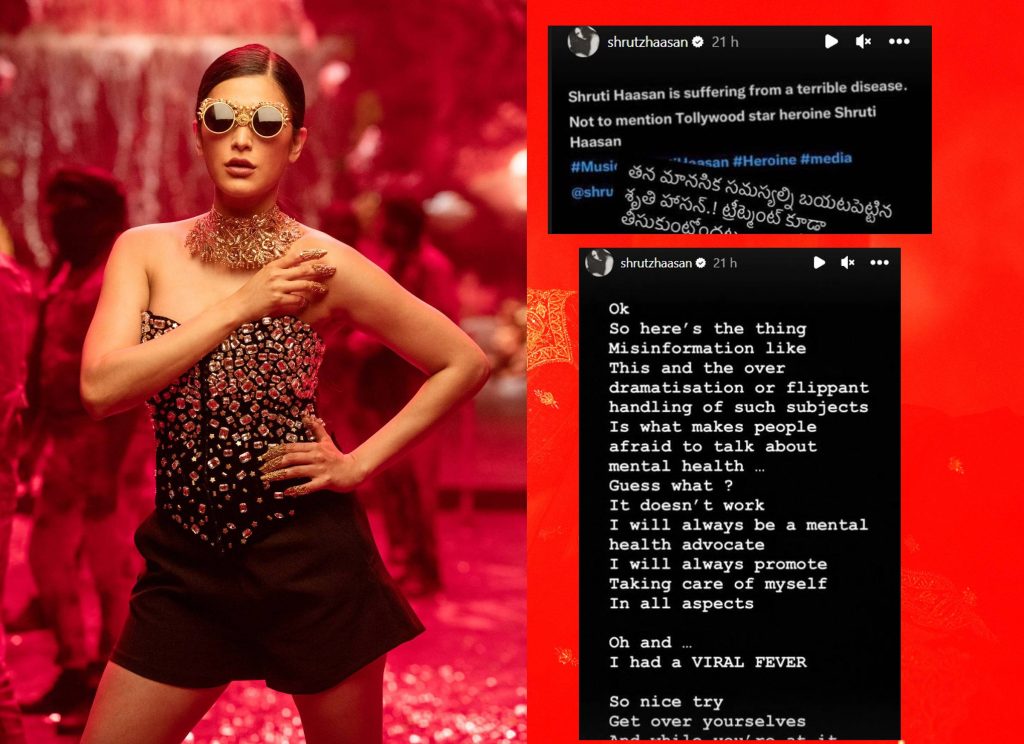 This Sankranthi season, Shruti Haasan seems to be everywhere. Both "Veera Simha Reddy" and "Waltair Veerayya," which are currently playing to packed theatres, featured her as the main heroine. She ought to be rejoicing about it. But the rumours have made her extremely angry.
Some websites, known for their click bait headlines and spreading false information, have claimed that Shruti Haasan is experiencing mental health problems. According to the reports, this is why she missed the "Waltair Veerayya" pre-release event.
She responded to the media outlets that had claimed Shruti Haasan has "mental problems" by posting screenshots of the articles to her Instagram Stories.
She wrote: "Ok so here's the thing, misinformation like this and the over dramatisation or flippant handling of such subjects is what makes people afraid to talk about mental health – Guess what? It doesn't work."
She was unable to attend the "Waltair Veerayya" pre-release event due to viral fever. "I will always be a mental health advocate I will always promote taking care of myself in all aspects. Oh and I had a viral fever so nice try get over yourselves and while you are at it please talk to a therapist. No really, please do," she added.
In 'Veera Simha Reddy', she played an NRI settled in Turkey. In 'Waltair Veerayya', she did the role of an undercover cop.