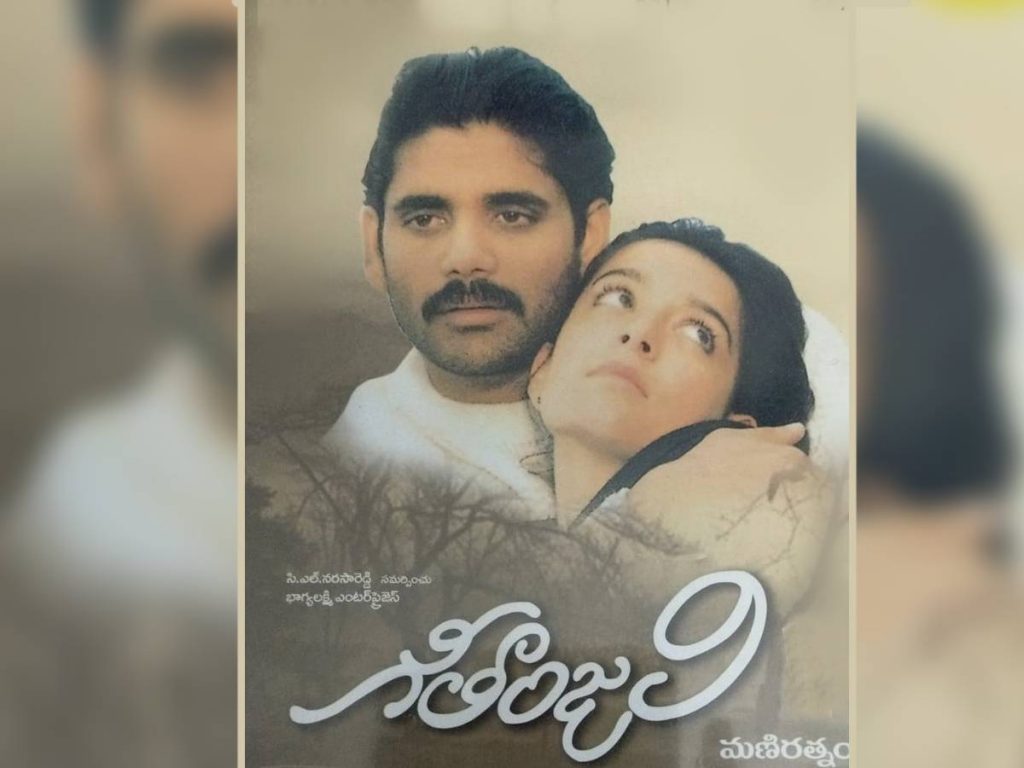 Story:
The film is a touching love story of a young couple – Prakash and Geethanjali (played by Nagarjuna and Girija) who are terminally ill and both knew that they are going to die soon. They meet unexpectedly, know of their r problems, and see that they both take them in a lighter vein and live for this moment. Eventually, they fall in love in the romantic environs of Ooty where Geethanjali is being treated by her doctor's father when Prakash visits Ooty to spend his last days in peace. The movie ends with no tragic note or heavy melodrama!
Producer C.L. Narasa Reddy is about the making of the film…
Initially, I wanted to remake Mani Ratnam's Agni Natchattiram in Telugu with Venkatesh and Nagarjuna, but it didn't work out, and we dubbed it Gharshana. At that time, Nagarjuna was ready to do a film with Mani Ratnam. And Mani had a basic storyline based on Young Die First, an English movie in which both the male and female lead know that they're going to die soon. Based on that single line, he prepared the story and screenplay. Geethanjali is the name of a Delhi-based 11-year-old girl who was suffering from cancer and wrote her emotions in a diary that got printed at that time. Mani was moved emotionally when he read those diary pages and wanted to name his film, and the heroine, after the little girl.
Girija was accompanying cricketer Srikkanth's sister when she attended the marriage of Mani Ratnam and Suhasini in Chennai. She's basically from London, born to a Kannada doctor mother and a British businessman father. We saw her at the marriage and chose her as our heroine, and she got trained by Gadiraju Keshava Rao, a senior associate director, for two months before the shooting. She used to practice dialogues with him, writing them down in English. …Girija later did one Malayalam film (Priyadarshan's Vandanam ) and a Telugu film Hrudayanjali (completed in 1992 but released in 2002), co-starring Sanjay Mithra, under the direction of A. Raghuram Reddy, music by L. Vaidyanathan, and camerawork by Madhu Ambat, which won four Nandi awards. The film has good songs by SPB and K.J. Yesudas but was a disaster at the box office. She also appeared in a song in Jo Jeetha Wohi Sikander (in a stage drama with Aamir Khan). She was initially signed for the lead role in the film but Ayesha Julka replaced her after the first schedule, for reasons unknown. Later, she went back to London.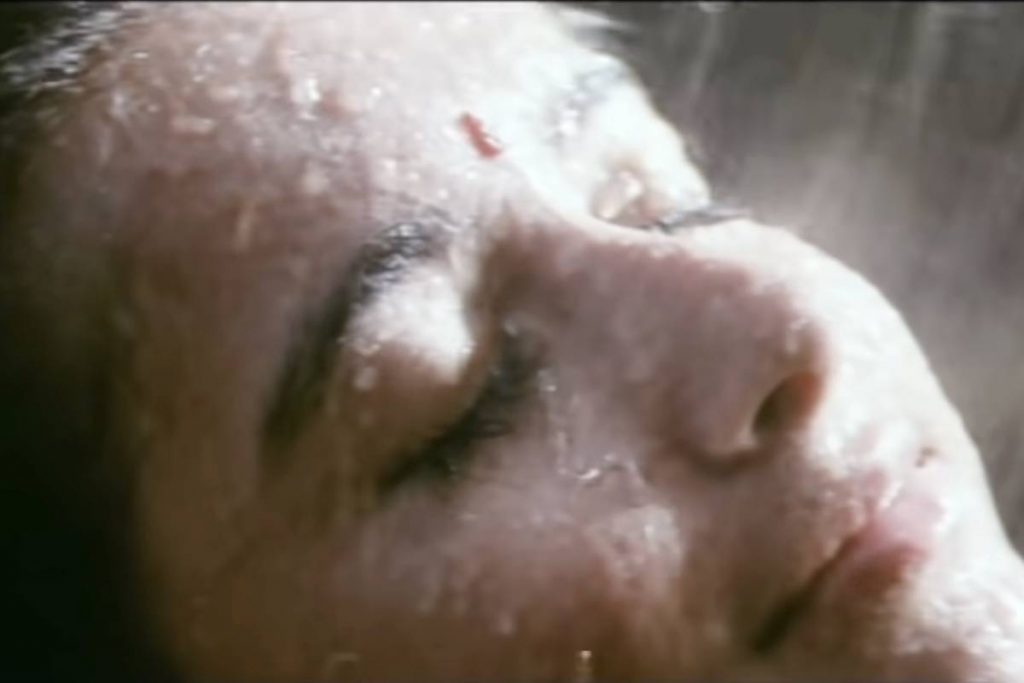 Dialogues:
Mani knows Rajasri as the Telugu dialogue-writer for his Tamil films when dubbed into Telugu. Rajasri had written for Mani's Tamil movies that were dubbed into Telugu. Thus, he went ahead and asked Rajasri to work for him for a straight Telugu film and Rajasri was glad to write for him. Mani got every dialogue translated into Tamil and suggested changes as may be required. The film has fewer dialogues compared to a regular love story.
Lyrics:
All the lyrics were penned by Veturi gaaru. Mani got them translated into English to know the word-to-word meaning of the lyric. He was very much impressed with them, and Veturi gaaru became the permanent lyricist for all his films from then on.
Music:
From the beginning, Ilayaraja was our choice for the movie. Songs are a big hit even before the film was released. Particularly, O priyaa, priyaa!… and jallanta kavvinta kaavaalilE… (Anand Miland copied O priyaa, priyaa!… in the Hindi film Dil) Not only the soundtrack but also the background music was such a great hit. People just came to theatres for some of the scenes which were highlights of the movie also due to the BGM. The film music will always linger in audiences' hearts as long as the people love the music.
Camera:
Who can beat P.C. Sriram who made wonders in Gharshana! While discussing the film itself, Mani had plans as to how to use P.C. Sriram's skills for the film. He etched every scene as celluloid poetry. At a time when there was no DI, most of the scenes were captured naturally by Sriram. He used to be on location much before everyone else, even when we used to start the film shooting in the early dawn, from 4 a.m.! How he used the wide-angle lenses to capture the serenity of Ooty & soft lenses to present lead players like a dream will be a lesson for anyone interested in cinematography. In fact, a book can be written on how fog & mist will enhance a shot so beautifully, based entirely on this film alone!
Art: Thota Tharani really elevated the movie in his unique style.
Songs Picturization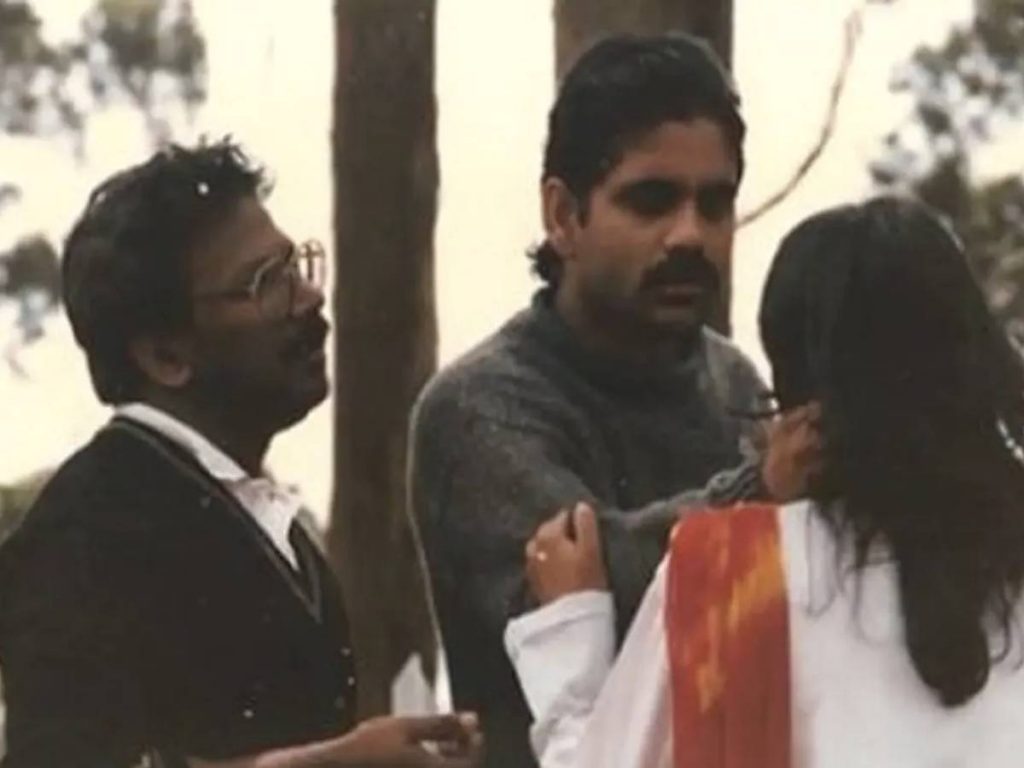 jallanta kavvinta kaavaalilE… was shot in Ooty with 40 kids and 25 horses in January in Ooty! The old man who dances in the song is the dance master Sundaram (father of Raju Sundaram and Prabhudeva)! Two fire engines were used for this song. P.C. Sriram used 48 frames for this song. Though only two fire engines were used, the song came out so nice that no one can forget it.
nandikonDa vaagullOna… was shot in Venus Studios in a specially erected cemetery set that cost us about seven lakh rupees! The song was completed in seven days.
jagaDa jagaDa jagaDam… was shot in Polavaram Race Course with 40 cars, daily from 6 p.m. to 2 a.m.
Round trolley was used for the song Om [email protected], nayana Srutulaku…. It's a single shot song completed in just one take! It is a unique record that a song was completed in a single shot.
O paapaa, laalii! was shot in the Ooty with the mist backdrop. The song was completed in five days. When the mist was not naturally present, ice was used to create the mist effect.
aamani paaDavE haayigaa… was also shot in and around locations of Ooty.
O priyaa, priyaa! was shot in Jaisalmer. Around 100 camels were used for this song and it was completed in one week.
Shooting and Post-production
The shooting was started on 12th October 1988 on Nagarjuna and Girija, as Suhasini clapped the first shot. She was in Ooty with Mani for ten days (newly-wedded bride) and then left for her own shooting for Mamathala Kovela at Hyderabad. The film's shoot was completed in sixty days. Most of the shooting was done in and around Ooty. Hero's house in Ooty is the hotel where Nagarjuna stayed, while the heroine's house is a guesthouse in Ooty. Hero's house in Madras was the Wasan House owned by S.S. Wasan of Gemini Films, which is now turned into an apartment complex. Shooting usually started early in the dawn, around 5 a.m. or so, and used to be wrapped up by about 11 a.m. Camera and crew used to be in the location one hour before the shooting started. They used to check if the necessary mist and fog is naturally present, failing which they used the ice which came from Madras, to create the necessary effects. (Remember the fog when Nagarjuna comes to Girija's house – when he opens the door, the fog follows him towards the Girija, and the scene where Girija comes to Nagarjuna's place, and the lead scene to Om namaah… song – all these were done with ice!)
150 days function of Gharshana was held on the sets of Geethanjali, with Nagarjuna presenting shields to the artists.
Girija's voice was dubbed by S.P. Sailaja and Dubbing Janaki did for Radha Bai (grandmother of Geethanjali), apart from doing the role of Lakshmi-akka (of Nagarjuna). Girija's dresses were super hit at that time with the younger generation and were popular as Geethanjali dresses in the market, while Nagarjuna's hairstyle became popular with the guys. A helicopter was used for some aerial shots to capture the beauty of the Ooty. Remember the shot where Girija says " lEchipOdaamaa?" in the middle of the mountains? The location is called Flash Point, which is around 20 miles from Ooty.
If you remember the last scene in the movie, there's a dialogue that goes " enni rOjulu bratukutaarO teliyadu kaanii bratikinannaaLLU santOshamgaa unTaaru." It was the idea of the President of Nagarjuna's Fan Association. He was not happy with a tragic climax, saying no one would be happy if their hero dies and the heroine also dies! "At least, say something like they lived happily until they die…", he added, and the last scene was changed accordingly.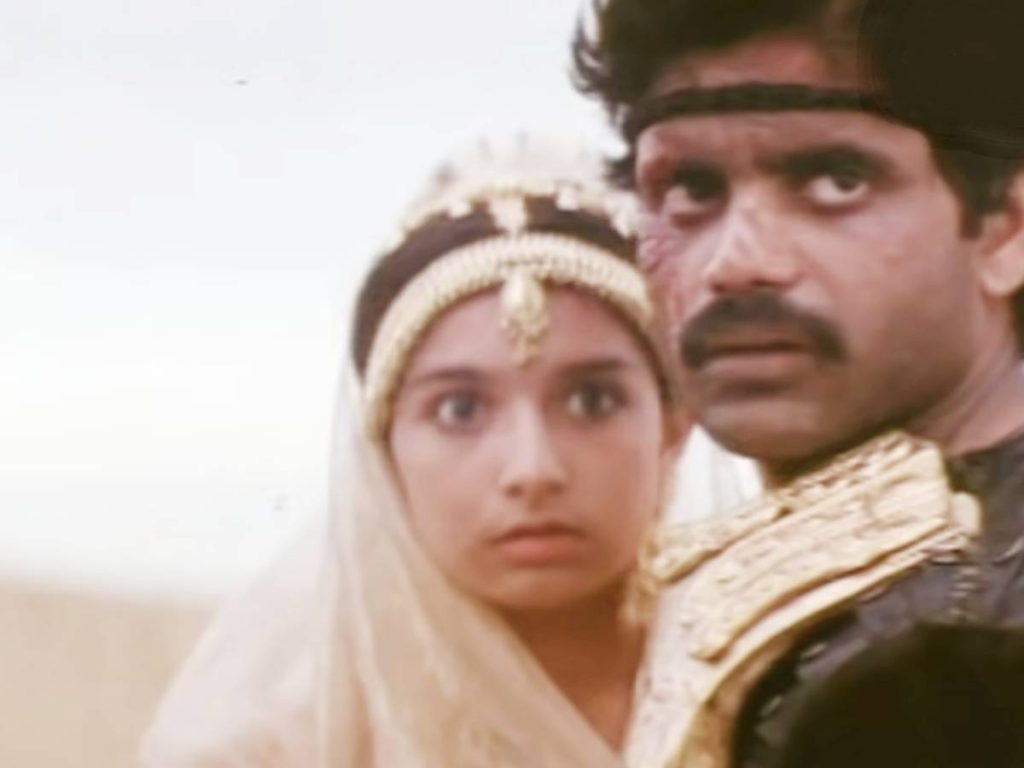 Release troubles
Once the film completed its shoot and we were gearing up to release the film, some of the distributors backed out at the last minute, as they felt that the film may not run because the hero and heroine die towards the end. In order to avoid the delay in the release of the film, Narasa Reddy himself had to release it in some areas like Vizag (where the film ran for 117 days with a full house every day). Usually, film posters will have a lot of colors and people don't allow pasting them to their walls in rural areas. (They even keep signs saying " ikkaDa poster-lu anTincharaadu", etc.), but for Geethanjali they didn't mind that because out of the 24-sheet poster, only two sheets had the faces of the hero and heroine and the rest of the sheets were in a pure white backdrop. ( O priyaa priyaa! song where Nagarjuna is chained and Girija appeared in a princess costume were shown on the posters, and some people thought it to be a period film!)
The film cost around 1.2 crore rupees. Nagarjuna was paid 7.5 lakh rupees while Mani Ratnam's remuneration was ten lakh rupees! It was released on 19th May 1989 and ran for 50 days in 15 centers and celebrated 100 days in 7 centers. The film was dubbed in Tamil as Idhayate Thirudaade (meaning " Don't steal [my] heart") and was released with 16 prints (on July 05, 1989), a record number at that time and was a bigger success than in Telugu. The Malayalam dubbed version of the film was an average fare. The film was free-made (unofficial remake) in Hindi as Yaad Rakhegii Duniya (1992) with Aditya Pancholi and Ruksar, by director Deepak Anand, and that was a complete washout.
Before the release, director K. Raghavendra Rao saw the movie and commented that the film might become a super hit or a super flop but nothing in between. If you ask Nagarjuna about his top ten movies in his career, he will definitely mention this film on his list. This movie gave him a lot of push to work with new directors rather than going with the same old directors. The film won 7 Nandi awards including the Best Film, Best Cameraman, Best Storywriter, Best Art Direction, Best Comedian, and Best Choreography. The film also won the Best Entertainer of the Year at the national level. Producer C.L. Narasa Reddy received the award from President R. Venkataraman at the 37th National Awards function.
Article by: Sri Atluri
Edited by: NaChaKi