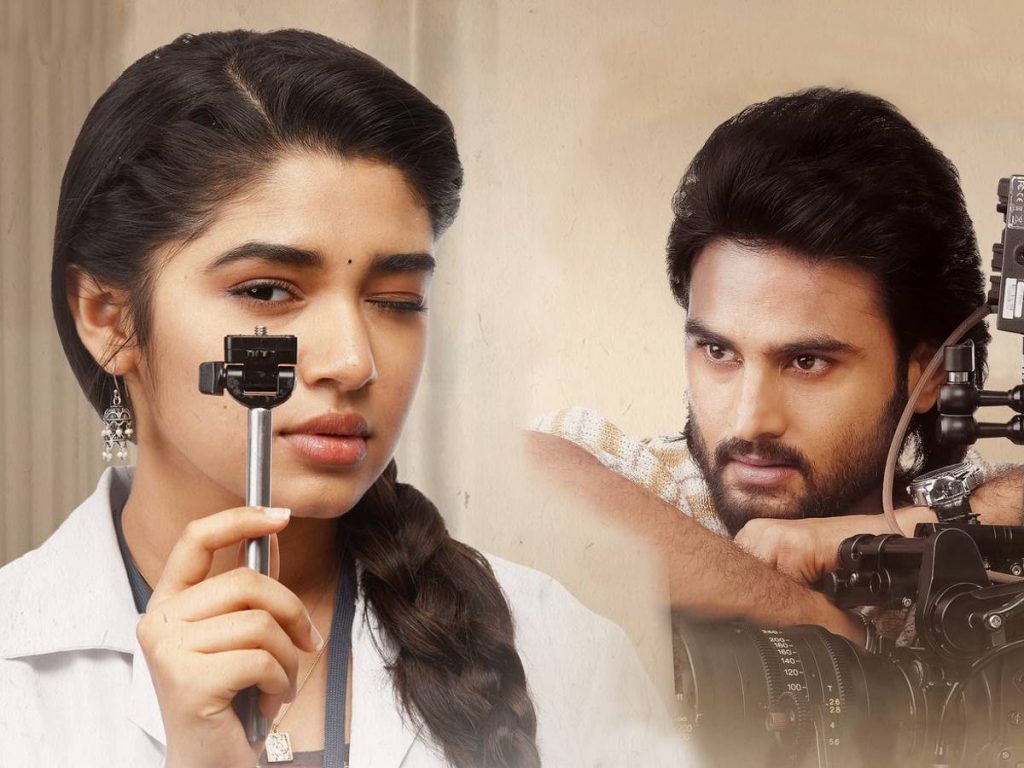 What's it about?
Naveen (Sudheer Babu) is a successful director who has delivered a series of hit films. He is a director of mass entertainers. When he accidentally comes across a showreel of a beautiful woman, he draws inspiration for his next.
The girl in the showreel is a doctor named Alekhya (Krithi Shetty), who has neither interest in acting nor does she like Naveen's hit films.
As he tries to persuade her, he comes to know the true and shocking story of Dr. Alekhya. Much to his shock, her story intertwined with his life. What is that girl's story?
Analysis
"Aa Ammayi Gurinchi Meeku Cheppali" is director Indraganti Mohana Krishna's second film in his trilogy based on the world of filmmaking. "Sammohanam" was his first. In both the movies, Sudheer Babu is the common feature playing the male lead.
Everyone craves to get a selfie with a film celebrity, but society, in general, shows scant respect for the film personalities. Why is it so? Director Indraganti Mohan Krishna has subtly addressed this point by telling a love story between a director and a doctor. While he presents the issues of society's attitude toward the film folks, he also highlights the frustrations the filmmakers face to get a film bankrolled, the casting couch, the gossip columns, etc.
As usual, Indraganti takes plenty of time to come to the main conflict point. Plagued with many issues in the narrative, the first half goes on a lethargic pace. Luckily, the final hour makes sense and the emotionally charged climax makes a lot of difference to an otherwise flat narrative.
Certain moments are genuinely impressive. Indraganti's mark of sensible narration is visible. Those are sporadic. The sum is not effective.
What I liked is the twist in the tale and the handling of the middle portion.
But again, Indraganti dealing with casting couch issues and gossip is out of sync with the current times. Plus, he seems to have stuck with certain old ideas and cast members. It is odd to accept nearly 40-year-old Avasarala as 'Pelli koduku'. Why Indraganti is not thinking beyond Avasarala?
Sudheer Babu delivers a neat performance in the role of a film director besotted with the idea of introducing a princess-like beauty. Krithi Shetty as a wannabe actress from middle-class background suits the character. She has done a pretty good job.
Vennela Kishore and Rahul Ramakrishna do justice to their supportive roles. Srikanth Iyenger goes overboard in the role of Krithi Shetty's father.
Vivek Sagar belts out just one hummable song. Indraganti's trusted cinematographer PG Vinda comes up with rich and beautiful frames once again. The editor must have slept at the table. The film needs a lot of trimming.
Bottom-line: 'Aa Ammayi Gurinchi Meeku Cheppali' has an engaging middle portion coupled with an interesting twist. But the sum of the parts doesn't add up. It turns out to be dreary to the most part though certain portions are commendable.
By: Jalapathy Gudelli
Rating: 2.5/5
Film: Aa Ammayi Gurinchi Meeku Cheppali
Cast: Sudheer Babu, Krithi Shetty, Vennela Kishore, Rahul Ramakrishna, and others
Music: Vivek Sagar
Cinematography: PG Vinda
Editor: Marthand K Venkatesh
Art: Sahi Suresh
Producers: B Mahendra Babu, Kiran Ballapalli
Written and directed by: Mohana Krishna Indraganti
Release Date: Sep 16, 2022