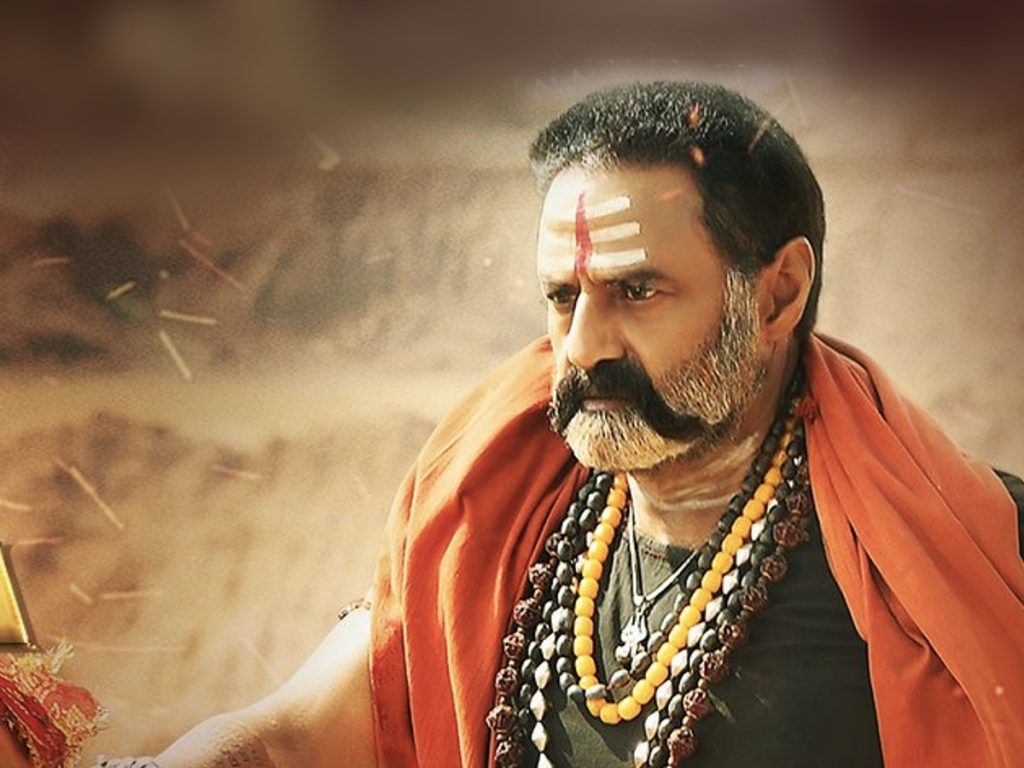 What's it about?
Twins separated at birth grow up in two different regions. One of them becomes a righteous landlord Muralikrishna (Balakrishna) in Ananthapuram. The other is raised as Akhanda (Balakrishna) by Sadhus in Benaras.
Murali Krishna builds hospitals and schools in his region. People love him. In Karnataka, an evil person kills a mathadipathi and takes over his place. He appoints Varadarajulu (Srikanth) to run a mining company in Rayalaseema.
Newly appointed collector Sarwani (Pragya Jaiswal) and the state's secretary for the environment (Poorna) suspect that Varadarajulu's company is mining Uranium on the pretext of copper. On the other hand, Sarwani quickly falls in love with Muralikrishna and gets married to him.
Meanwhile, an incident puts Muralikrishna in big trouble, and Sarwani gets suspended. When Sarwani's daughter is in danger, Akhanda (Balakrishna) appears to save her and protect the region from the mining mafia.
Analysis
'Akhanda', the third outing in the combination of Balakrishna and Boyapati, begins without much fuss and gets straight to the main point. It is a simple story. Frankly, the story is rehashed version of Boyapati's hit movies, closer to 'Legend'.
The first half is passable with the romantic track between Balakrishna and Pragya Jaiswal, and some fights. It is more of an exercise for the arrival of the titular character – Akhanda. When hope dies, when evil spreads its wings, Akhanda arrives!
Once Akhanda enters the scene, the drama seems to be heading for a joyful ride, with Balakrishna in his massy 'sadhu' avatar mouths powerful dialogues. The initial portions in the second half are riveting. The look of Akhanda and the performance steal the show. However, the novelty and grip peter down quickly as Boyapati peppers the narrative with beaten-to-death mass elements that we have already seen in his previous works.
The predictability of the narrative kills the interest.
Akhanda is a mighty force with divine powers on his side, but the villains look too weak. With no strong opposition, Akhanda's superhero character turns bland as well. Yes, there are some superbly choreographed fights. But they turn repetitive. After a point we feel, why is Akhanda still fighting, when he can easily smash them with one fist. Moreover, one scene after the other becomes an 'elevation of heroism'.
The best part of the film is the design of Akhanda's getup and Balakrishna's performance in the role. The disappointment is that beyond these two aspects, it offers nothing. The film neither has entertainment nor romance. Like always, Boyapati has not cared about the logic part. The NIA investigation and Poorna's role are examples.
Luckily to Balakrishna's die-hard fans, there are moments for them to enjoy. There are dialogues like "Oka Maata Nuvvante Shabdam, Ade Maata Nenu Ante Saashanam", "Samasya Vaste Dandam Pedutaru…Memu Aa Samasyake Pindam Pedutam…Both are not same" provide them opportunity to clap.
Coming to performances, Balakrishna excels as Akhanda. It is one of his best mass characters and he seems to have enjoyed playing it. The film is entirely his show. Balakrishna roars like a lion.
Boyapati presents his heroines as MLAs (Catherine Tresa in Sarrainodu) and IAS officers (Pragya Jaiswal is a collector and Poorna as a principal secretary) but reduces them to play regular heroine roles after a couple of scenes. Srikanth gets the look right for a villain but he is not effective as Jagapathi Babu looked in 'Legend'.
Among Thaman's numbers, 'Jai Balayya' works but it is his background score that stands out. Thaman has come up with one of his best background scores. His work has elevated many sequences in the second half. Ramprasad's camerawork is noteworthy.
Bottom-line: : Director Boyapati's 'Akhanda' is out an out mass film that is aimed at Balakrishna's hardcore fans. Balakrishna roars in the role of Akhanda which would appeal to the fans but the film runs predictably with lengthy action stunts, with unnecessary dialogues. The beaten-to-death narrative is another issue.
Rating: 2.75/5
By Jalapathy Gudelli
Film: Akhanda
Cast: Nandamuri Balakrishna, Pragya Jaiswal, Srikanth, Jagapathi Babu, Poorna and others
Dialogues: M Rathnam
Music: S Thaman
Cinematography: C Ram Prasad
Editor: Kotagiri Venkateshwara Rao
Art: AS Prakash
Action: Stun Siva
Producer: Miryala Ravinder Reddy
Written and direction: Boyapati Sreenu
Release Date: Dec 02, 2021