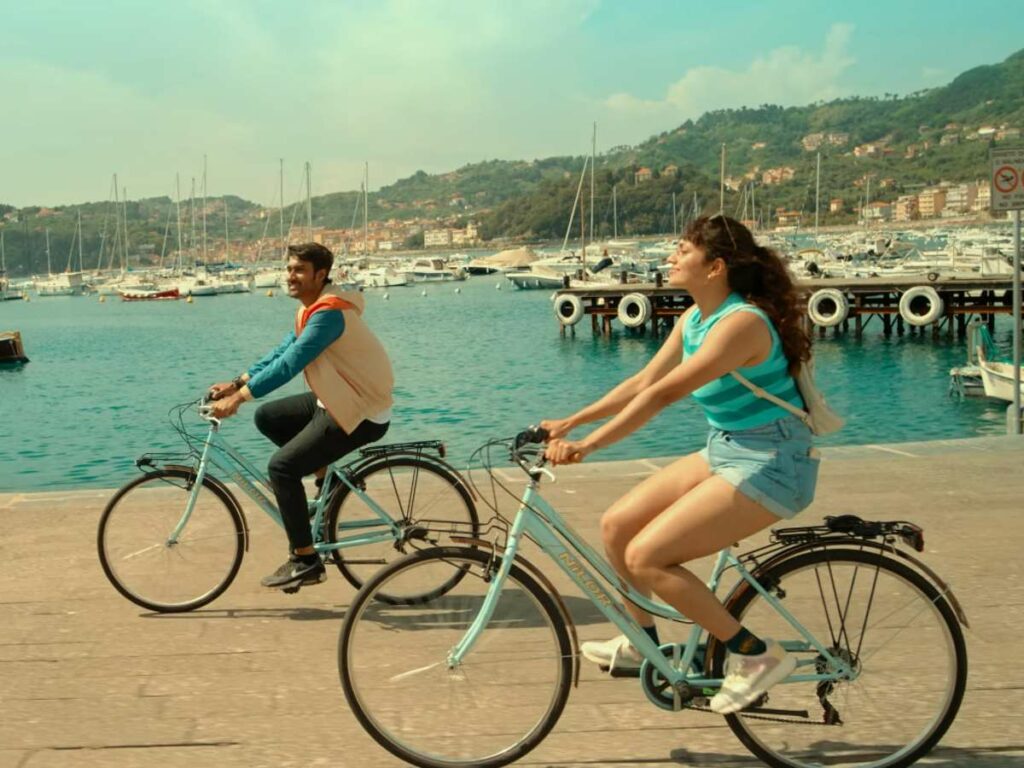 What's it about?
Sudhakar (Naresh) and his elder brother (Rao Ramesh) are involved in a legal dispute with Prasad (Rajendra Prasad) over an ancestral coffee estate. They live in Victoriapuram, a hill station.
Sudhakar's wife gives birth to a boy, while Prasad's wife gives birth to a girl, but the hospital nurses mistakenly hand over the babies to the wrong parents. The girl becomes Sudhakar's daughter, and the boy becomes Prasad's son.
The boy Rishi (Santosh Sobhan) and girl Arya (Malvika Nair) attend the same school and eventually fall in love. However, due to an incident, they split up. Will they ever reconcile? Will their parents settle their legal dispute?
Analysis
During the promotion of "Anni Manchi Sakunamule," the film's lead actor, Santosh Sobhan, refused to call the film a rom-com, instead coining the term fam-com (family comedy). However, "Anni Manchi Sakunamule," written and directed by Nandini Reddy and produced by Priyanka and Swapna, who have recently produced blockbusters like "Sita Ramam" and "Mahanati," is neither entirely rom-com nor entirely fam-com.
Director Nandini Reddy has tried hard to balance both elements of rom-com and family drama, but they do not produce the desired result. At the start, we are told about "Victoria Puram," a coffee plantation village built during the British period. A village estate becomes the focal point of a feud between two families. Their children, predictably, fall in love. This line has appeared in a plethora of films. Another twist is that the babies of these two parents were accidentally switched. It makes us wonder if another version of the blockbuster "Ala Vaikunthapurramloo" is on the way.
All of these scenes take place in the first half hour of the film. As an audience, you don't expect to see anything new after such a predictable start. However, given Nandini Reddy's track record, we anticipate an entertaining film or a good romance. But it doesn't take long to realize that Nandini Reddy appears to be unsure of what kind of film she should make. This perplexity can be seen throughout the film.
The lead couple's romance is totally clichéd. The most abused thread in Telugu cinema is the hero and heroine falling in love, then parting ways and quickly realizing they miss each other after one of them gets engaged to another person. "Anni Manchi Sakunamule" follows a similar pattern. The so-called feud between two families then turns out to be a shambles. Hence, the story lacks a strong conflict.
The only touching moments are Malvika Nair declaring at her dinner table that she will always be her parents' daughter and sister to her sister, and Santosh Sobhan avoiding his mother Gautami when the truth about his birth is revealed. Nandini Reddy handled them expertly.
The lead actors, Santosh Sobhan and Malvika Nair, do well in their roles. Other senior actors have contributed their expertise in portraying their roles. The cinematography and production design are particularly impressive. The producers have spent a lot of money to achieve the rich appearance. Music is forgettable.
Bottom line: "Anni Manchi Sakunamule" lacks strong conflict and suffers from sluggish narration. The last fifteen minutes are the best of this clichéd family drama.
Rating: 2.5/5
By Jalapathy Gudelli
Film: Anni Manchi Sakunamule
Cast: Santosh Sobhan, Malvika Nair, Rajendra Prasad, Gauthami, Sowcar Janaki, Vennela Kishore and others.
Dialogues: Lakshmi Bhupala
Music: Mickey J Meyer
DOP: Sunny Kurapati, Richard Prasad
Editor: Junaid
Producer: Priyanka Dutt
Written and directed by: Nandini Reddy
Release Date: May 18, 2023