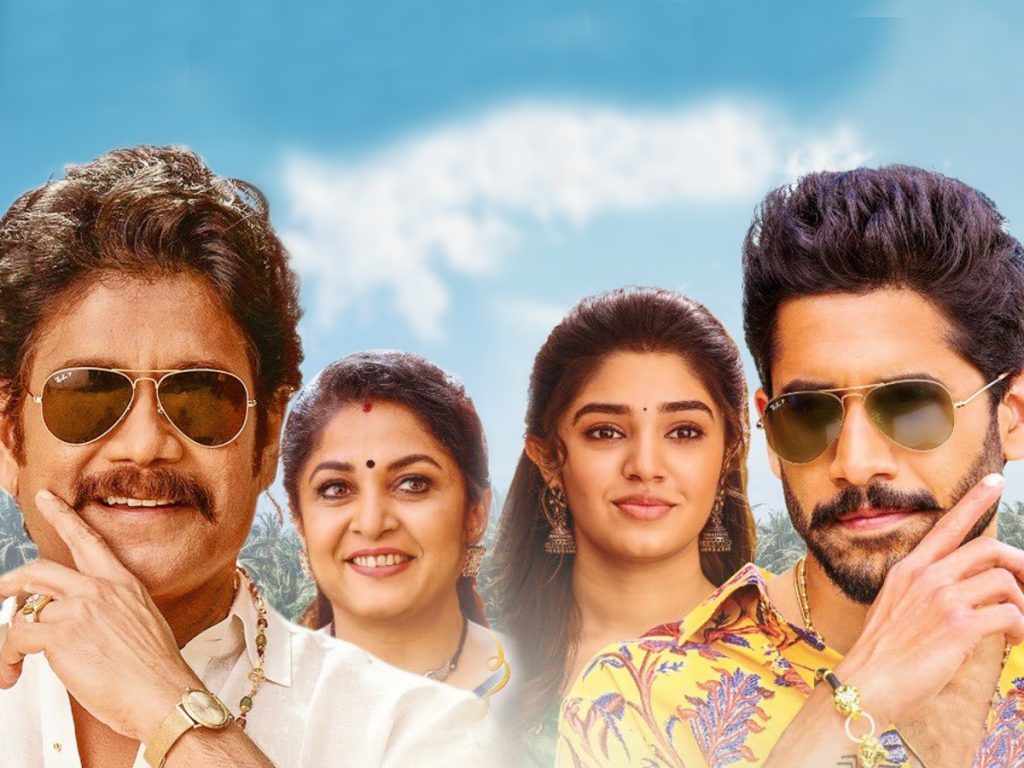 What's it about?
Chinna Bangarraju (Naga Chaitanya) is the grandson of Bangarraju (Nagarjuna). Sr Bangarraju and his wife Satyabhama (Ramya Krishna) watch from the heavens how their grandson is leading a solo life in their village. Sattamma requests her husband Sr.Bangarraju go to earth and help their grandson Chinna Bangarraju in his love story with Naga Lakshmi (Krithi Shetty).
At the same time, Lord Yama has a plan of sending Sr Bangarraju on another work. Will he set things rights by visiting as a soul?
Analysis
'Bangarraju' begins exactly where 2016 blockbuster 'Soggade Chinni Nayana' has ended. Like the original, 'Bangarraju' is set in a familiar story that we have seen in many films. More or less, this sequel follows the same structure. Frankly, family dramas never care about the story or originality, they solely depend on entertainment, and overall packaging.
The sequel does have the same colorful setup. What it doesn't have is effective entertainment. Director Kalyan Krishna came up with many fun moments in his debut film, Soggade Chinni Nayana, but in the sequel, his writing leaves much to be desired. It lacks laugh-out-loud moments.
If the director's idea is to focus on the grandson of the Bangarraju, who is also a flirt like his grandfather, he should have written a modern romantic thread between Naga Chaitanya and Krithi Shetty. The usual 'gillikajjalu' drama doesn't help much. There was fun in Bangarraju's son Ramu not showing in 'romance' (in 2016 film), but the grandson despite being a Casanova doesn't get the romance part right.
Plus, the conflict point is not strong. The film meanders directionless for the most part. The story's innate bombastic setup and the two lead actors are the saving grace of this regular drama.
Though he doesn't have much role, Nagarjuna is in his element. He recreates the Bangarraju swag well.
Naga Chaitanya follows in his father's footsteps and does a good job. He carries himself well. Krithi Shetty of 'Uppena' fame comes up with another confident portrayal. Ramya Krishna adds her charm. There is not much to talk about other actors.
Music by Anup Rubens works in the film's favor. He has given tunes that will click with its target audiences. On screen, "Vaadi Vaadi Tassadiyya" and "Laddu Unda" look well. The cinematography is also decent.
Bottom-line: 'Bangarraju' is a quite ordinary sequel to a blockbuster. Nagarjuna and Naga Chaitanya's charisma and colorful are the saving grace of this cliched drama. Though it is no match to the original, it may make an okay watch for this festival period.
By: Jalapathy Gudelli
Rating: 2.75/5

Film: Bangarraju
Cast: Nagarjuna, Ramya Krishna, Naga Chaitanya, Krithi Shetty, and others
Music: Anup Rubens
Cinematography: Yuvraj
Editor: Vijay Vardhan
Producers: Annapurna Studios and Zee Studio
Directed by: Kalyan Krishna Kurasala
Release Date: January 14, 2022