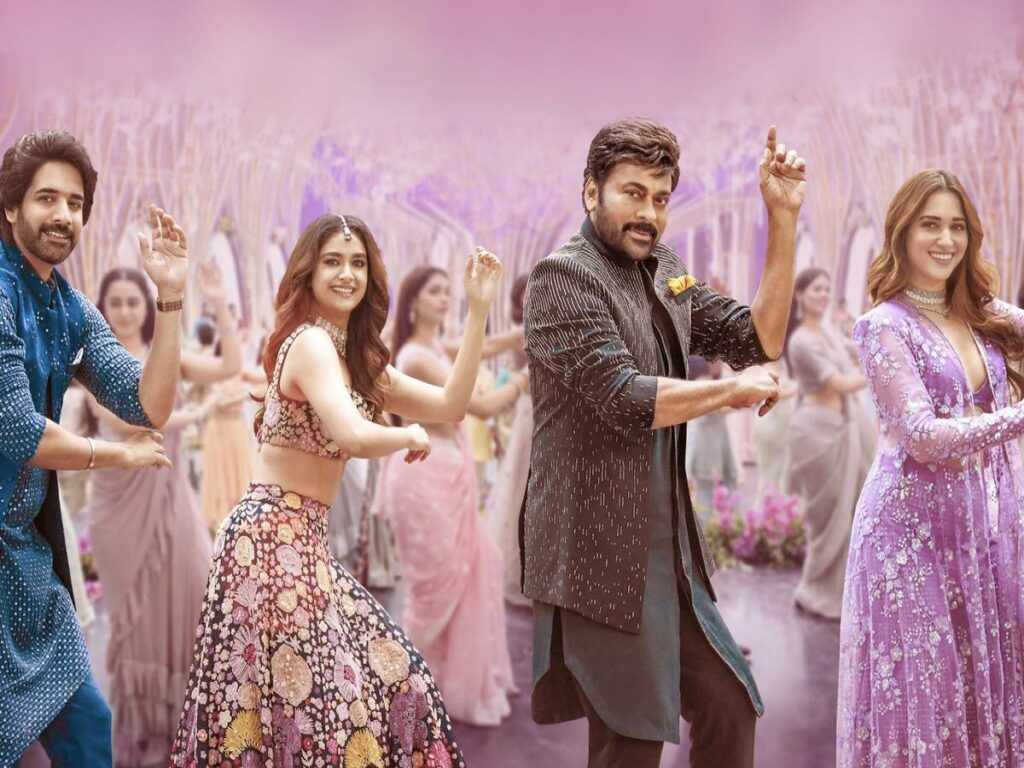 What's it about?
The film begins in Kolkata, as Shankar (Chiranjeevi) and Maha (Keerthy Suresh) arrive from Hyderabad. Maha is a painter. Shankar enrolls her at a prestigious art school in Kolkata so that she can continue her education there. Shankar becomes a taxi driver.
On the other hand, authorities in Kolkata are turning to cabbies for help in identifying the feared kidnappers of young girls.
Shankar meets a lawyer, Lasya (Tamannaah) and Lasya's brother (Sushanth) falls in love with Maha, and their wedding is set.
Shankar skips the wedding shopping and instead goes to another mall, where he kills thugs. After seeing Shankar's killing spree, Lasya confronts him and demands to know why he is acting like a killer. Shankar's past is explained, as well as why he moved from Hyderabad to Kolkata with Mahalaxmi.
Analysis
"Bholaa Shankar" is based on the Tamil blockbuster "Vedalam", which was released in theaters in 2015. I haven't seen the Tamil version, but I have seen a viral clip in which Ajith's teary visage suddenly becomes a smile. According to Google reviews, Ajith's acting is what rescued the otherwise melodramatic and cliched Tamil film.
The very idea of remaking this 8-year-old Tamil movie is foolish. We're not sure what drove the filmmakers to remake it and Chiranjeevi to agree to it.
Coming to the point, "Bholaa Shankar" is a huge disappointment, for both general audiences and fans. The film is clichéd from beginning to end. Even when the stories and scripts are formulaic, Chiranjeevi saves them with his entertaining performance. But this one is a complete failure on every level.
Be it narration, direction, music, dialogues, or fights, none of them work. Forget everything else, it's extremely embarrassing to see Chiranjeevi doing Pawan Kalyan and Bhumika's "Kushi" episode with Sreemukhi. Chiranjeevi is a legend in the film industry. It's difficult to digest, given his stature, that he's doing such sequences with Sreemukhi.
Chiranjeevi's attempts at humour fall flat. The emotional scenes with Keerthy Suresh are likewise routine. The film only works for a few moments at the end.
In terms of acting, Chiranjeevi does his usual style. Keerthy Suresh is right choice. Tamannaah is fine. Other actors simply appear and leave little mark.
The songs of Mahati Swara Sagar do not connect. Writing is totally bad.
Bottom line: "Bholaa Shankar" reeks of old sequences and cringe-worthy moments. This one was a total bore. There is no originality or entertainment to be found.
Rating: 2/5
By Jalapathy Gudelli
Film: Bholaa Shankar
Cast: Chiranjeevi, Tamannaah, Keerthy Suresh, Sushanth, and others
Dialogue: Mamidala Thirupathi
Music: Mahati Swara Sagar
DOP: Dudley
Editor: Marthand K Venkatesh
Production Designer: AS Prakash
Action: Ram-Laxman
Co-Producers: Anil Sunkara, Ajay Sunkara
Produced by: RamabrahmamSunkaraDirected by: Meher Ramesh
Release Date: Aug 11, 2023