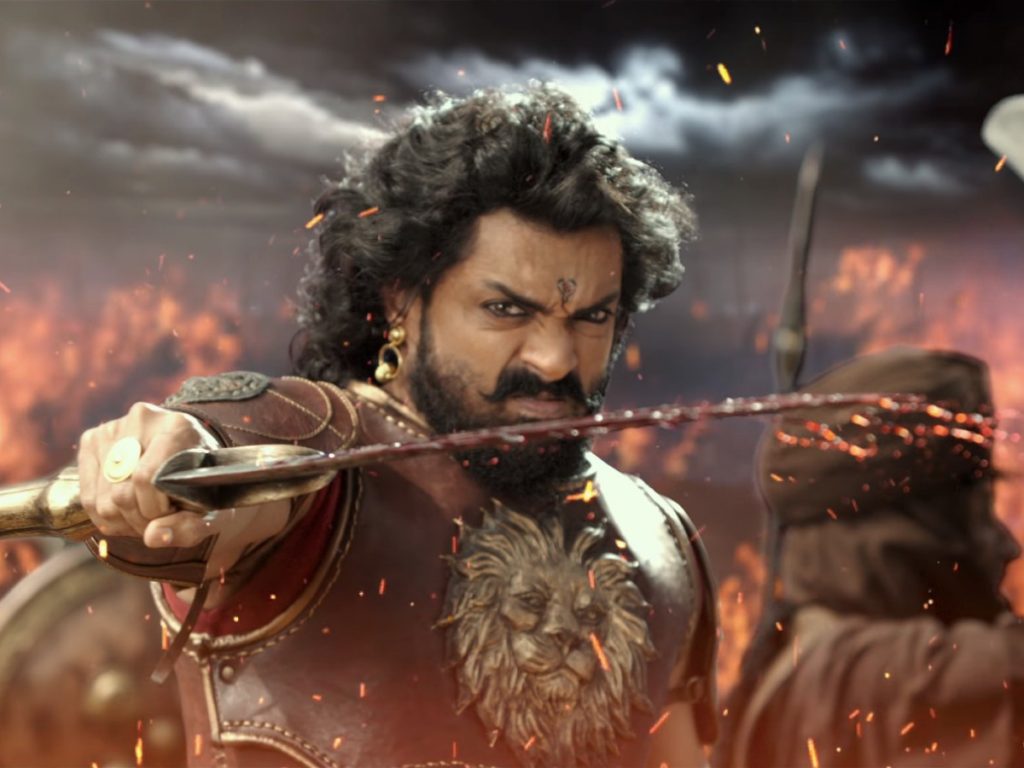 What's it about?
Bimbisara (Kalyan Ram) is the ruler of Trigartala empire. Cruel by nature and avaricious, Bimbisara goes to any length to achieve what he wants. If anyone comes in his path, he will not hesitate to eliminate them. Not realizing the powers of Mayadarpini (Magical mirror), he touches it and he time travels to 2022. How can he get back to his time? The rest of the story is about how Bimbisara gets his redemption.
Analysis
Mounted on a lavish scale, 'Bimbisara', directed by debutant Vassisht, is all about time travel. It is a fantasy drama. The tropes of the genre of time travel are all there but the new director has twisted them. The protagonist is not a good person. He is evil. Such an evil person transporting to a new era to come to a realization and get penance is a bit unique point for a commercial Telugu movie.
Vassisht has chosen a huge canvas for the story. With able support from senior cinematographer Chota K Naidu, an uncompromising producer, and the VFX team, the new director has made the film look grandeur. Instead of revealing Bimbisara's story as a flashback, the director begins the film with this episode. Hence, the beginning portions, or the first half of the film, look racy with a rich setting.
We rarely see a hero playing an out-and-out cruel person. Thus, 'Bimbisara' has chosen a different path. The concept of time travel in this film is also convincing. For this, the young director gets marks. He has shown total grip on the narrative in the sequences related to the Trigartala empire. The same command goes missing in the later part. For example: when Bimbisara time travels to 2022, we suddenly see a lady police officer (Samyuktha Menon) and her constable (Vennela Kishore) trying to catch him for no reason, and go an extra length to make friendship with him. The lady police officer's role is poorly written. The villain's mission is also not that effective.
Coming to performances, it is Kalyan Ram's show. He gives his best in the role of Bimbisara. He shines in the later part of the movie. Both female protagonists are forgettable.
The film has rich production and technical strengths. The production design is of superior quality. The visual effects are first-rate. Chota K Naidu's cinematography elevates the richness of the setting. "Eeswarude" song is the best of the lot and it is effective on the screen.
Bottom-line: 'Bimbisara' has a grander setting and a slightly different concept in commercial movie format. The time travel concept and Kalyan Ram's act as an evil king are the highlights. Despite the familiar problems in the second half, the film is a decent entertainer.
Rating: 2.75/5
Review by: Jalapathy Gudelli
Film: Bimbisara
Cast: Kalyan Ram, Catherine Tresa, Samyuktha Menon, Warina Hussain, Vennela Kishore, and others
Music: MM Keeravani
Cinematography: Chota K Naidu
Editor: Tammi Raju
Art: Kiran Kumar Manne
Stunts: Venkat & Ram Krishan
Producer: Hari Krishna K
Written and Directed by: Vassishta
Release Date: August 5, 2022