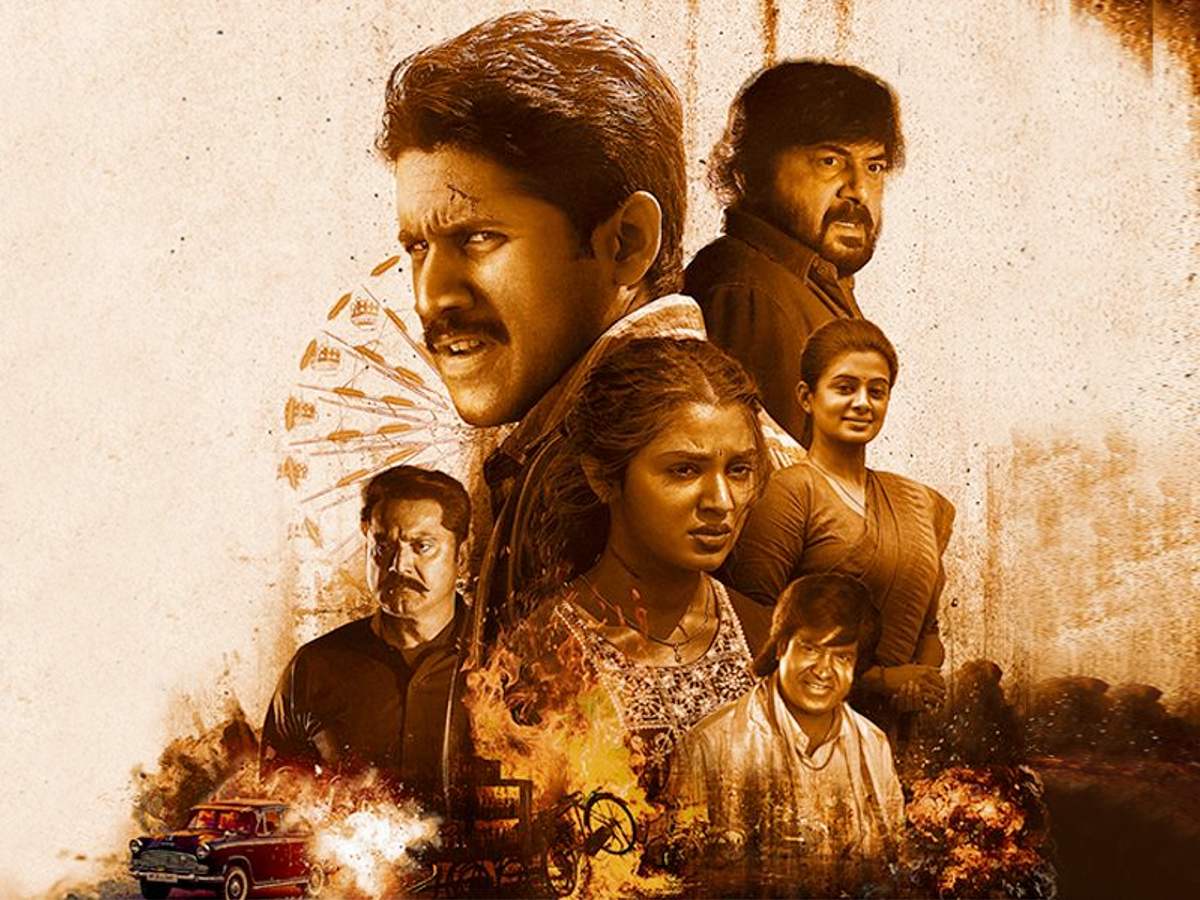 What's it about?
In 1996, Shiva (Naga Chaitanya) works as a constable in Sakhinetipalli, a coastal village in Andhra Pradesh. He has a strong sense of duty and is always fighting for the right. Shiva heads to Revathi's (Krithi Shetty) house with the intention of eloping with her after learning that her parents have arranged for her to be married to Prem (Vennela Kishore), the director of a local driving institute.
When a car crashes into his bike, he discovers that a man claiming to be a CID officer (Sampath) and a drunken Raaj (Arvind Swamy) are to blame. He locks them up in his police station.
But a superior officer tries to illegally free Raaj. Shiva understands that Raaj is a criminal who must be presented in court in Bengaluru the next day, so he interrupts his officer's shift, runs away with the CID officer, and is joined on the road by his girlfriend. For what reason are the police attempting to kidnap a riotous Raaj? Is Shiva going to be able to complete his task?
Analysis
The plot of "Custody," directed by Venkat Prabhu (of "Saroja" and "Manaadu" fame), is extremely thin. There isn't much to the plot other than a constable and a rowdy having to work together to get to court on time. A number of Hollywood movies, including "Midnight Run" and "The Hitman's Bodyguard," come to mind. However, Venkat Prabhu has stated that the critically acclaimed Malayalam film "Nayattu" (2021) served as inspiration for him to make this film because he wanted to reframe the theme in a more commercial way.
But whatever the case may be, "Custody" fails to deliver more than a few fleeting thrills. The plot's single-point drive runs out of fuel before arriving at its destination.
When Arvind Swamy's character enters the spotlight, the film truly shines. This is provided, of course, that you ignore the customary romantic track between Naga Chaitanya and Krithi Shetty at the beginning. Fantastic work in the nearly half-hour episode preceding the intermission. Action episode set in a reservoir is not only exciting but also brings a freshness to the action scenes. The interval bang raises questions about who is on which side.
But the film loses its focus and becomes tedious in the second half due to the inclusion of numerous extraneous elements. The only thing you can think of at the film's inevitable conclusion is that it could have benefited from being a little more concise.
Naga Chaitanya is a perfect fit as a police constable. He earns a perfect score for his sincere act. Krithi Shetty is fine.
Aravind Swamy's character appears to be very intriguing at first but by the end of the movie, we realize that it was poorly written. Priyamani, who plays the Chief Minister, Sarath Kumar as a rogue police officer, and Vennela Kishore as the groom, all get lot of screen time. Goparaju Ramana, in a small but important role as Naga Chaitanya's father, shines. The film also has cameo appearances from Ramky, Jeeva and Anandini.
As previously stated, two action sequences in the first half of the film stand out. The reservoir episode deserves a lot of praise. This episode's action choreography and cinematography are both excellent. Except for one song, "Love At First Sight Ante", the music is forgettable.
Venkat Prabhu, as a writer and director, shows realism and his mark of direction in the middle section, but he then goes off the rails. There is also no logic in setting the story in 1996.
Bottom line: "Custody" is an action drama that is captivating in the middle act but drags in the third act. A more condensed narrative would have made more sense.
Rating: 2.5/5
By Jalapathy Gudelli
Film: Custody
Cast: Naga Chaitanya, Krithi Shetty, Arvind Swami, Priyamani, Sarath Kumar, Sampath Raj, Vennela Kishore, and others
Dialogues: Abburi Ravi
Music: Ilaiyaraaja, Yuvan Shankar Raja
Cinematography: SR Kathir
Editor: Venkat Raajen
Action: Stun Shiva and Mahesh Mathew
Producer: Srinivasaa Chitturi
Written and Directed by: Venkat Prabhu
Release Date: May 12, 2023