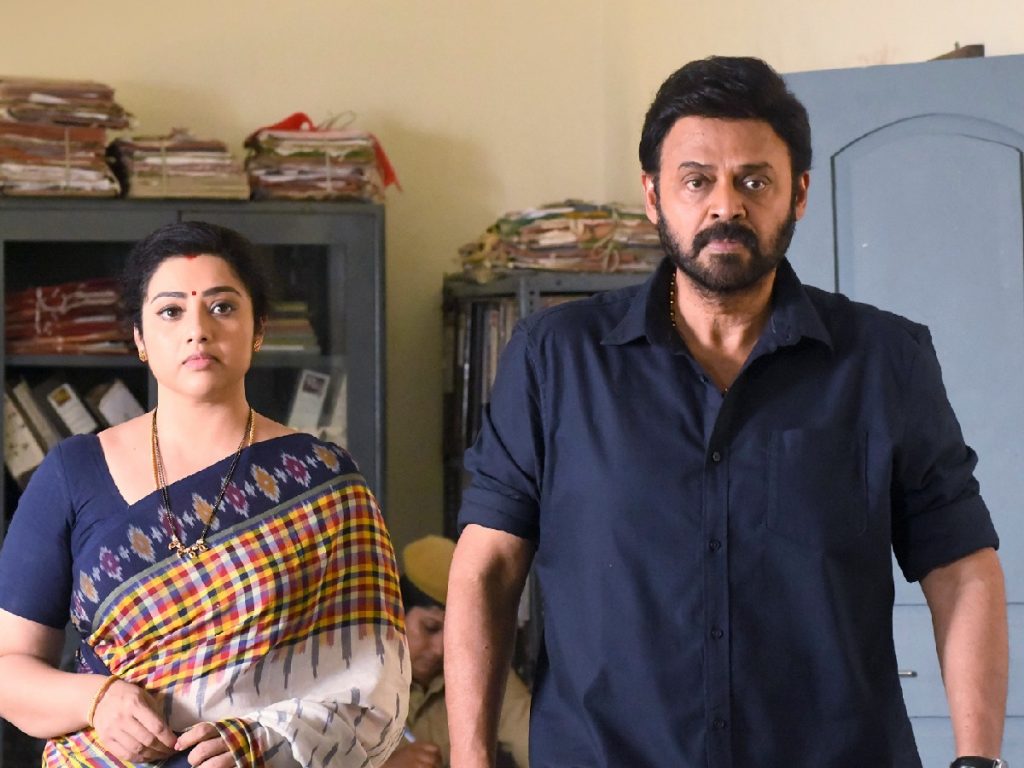 What's it about?
In Rajavaram, Rambabu (Venkatesh) is running a cinema hall equipped with all modern facilities. He and his family have moved on in their lives from the fateful night incident that happened six years ago. Still, they are constantly haunted by the fear of police reopening the case. Rambabu's wife (Meena) dreams of marrying off her elder daughter Anju, while Rambabu is always drinking with writer Vinay Chandra (Tanikella) to fulfill his dream of producing a film.
Meanwhile, SP (Sampath), who vowed to gather evidence to prove Rambabu's family is guilty of Varun's murder (Nadiya's son), finally gets a breakthrough. Will Rambabu be able to protect his family this time? What is he plotting?
Analysis
Set in Rajavaram, 'Drushyam 2', the Malayalam remake of the same name and by the same director Jeethu Joseph, begins where the first part (2014 Drushyam) had let off. We saw Rambabu (Venkatesh) burying the body in a police station under construction. The sequel begins with a witness watching Rambabu emerging out of that crime scene carrying a shovel.
Cut to Rambabu's house, who is suffering from a hangover from the script session of his film. Rambabu is on the verge of realizing his dream of producing a film. At the very beginning, the drama is set – the witness may become a problem for Rambabu now, and his film production has a link to the mystery.
Writer-director Jeethu Joseph has written a clever script for the sequel, blending past events well into the current story. The first part had a focus on Rambabu and his clever tactics with an emotional element to root for him. The second part lacks the emotional quotient. But Jeethu has abundant tricks to pull in the screenplay. He brings all the loose ends quietly to the final portion, leaving us satisfied. He has recreated the same in the Telugu version. He has followed his Malayalam version almost shot by shot.
Hence, if you are a first-time viewer and have not seen the Malayalam version, this film will engage you till the end. But if you have already watched Jeethu's Malayalam version, the excitement goes missing.
Also, there is no thrilling factor in Rambabu's tricks, for we are sure that he would pull off something incredible in the end as we have already witnessed his brilliant tricks in the first part. In a way, 'Drushyam 2', despite having some thrilling sequences, is not exactly as riveting as the first part.
Coming to performances, Venkatesh, Meena, and Nadiya have done their parts well. Venkatesh is no match to Mohanlal, but still, he carries the film on his shoulders.
Among the technicians, dialogue writer Ramesh Samala excels. His dialogues are apt for the theme and gels with the story. The cinematography is adequate.
Bottom-line: 'Drushyam 2' is a thriller with a solid screenplay and gripping later portions. But it is not as riveting as the Malayalam version. It makes a decent home viewing experience as the film premiered on Amazon Prime Video.
Rating: 2.75/5
Film: Drushyam 2
Cast: Venkatesh, Meena, Nadhiya, Naresh, Sampath Raj, Tanikella Bharani,
Dialogue: Ramesh Samala
Music: Anup Rubens
Editor: Marthand Venaktesh
Director of Photography: Satheesh Kurup
Produced by: Suresh Babu, Antony
Directed by: Jeethu Joseph
Release Date: November 25, 2021
Streaming on: Amazon Prime Video