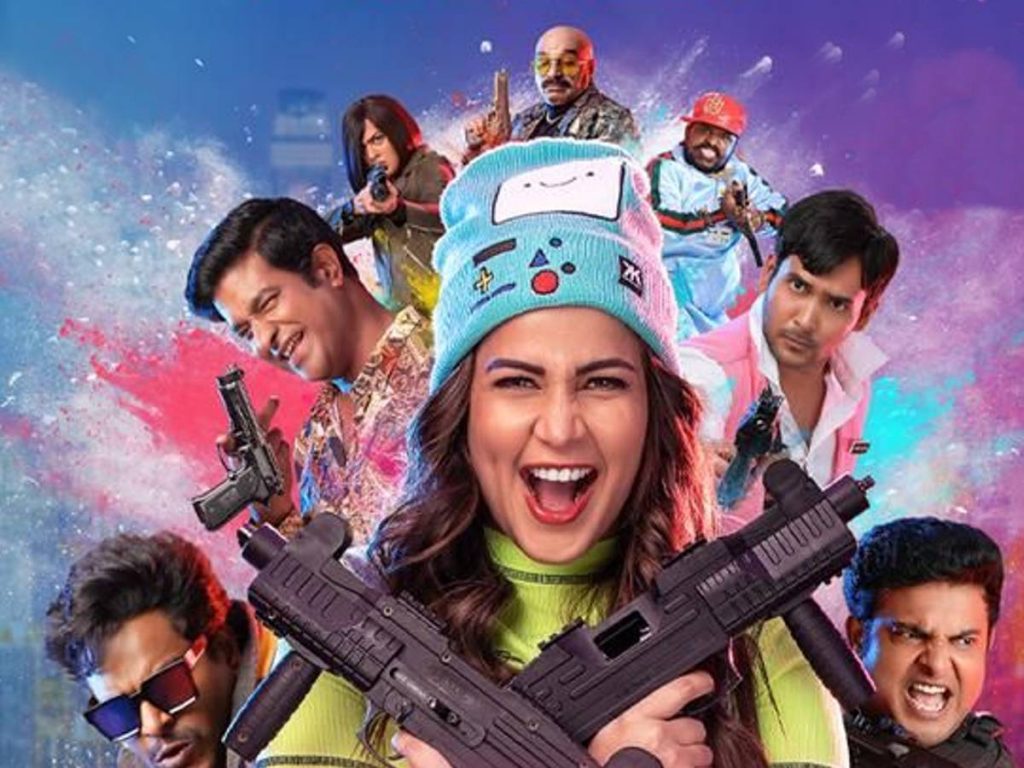 What's it about?
Home minister Rithvik Sodhi (Vennela Kishore) brings a new law that allows everyone to carry a gun in the country. Rithvik Sodhi also cheats his partner (Lavanya Tripathi) leading to many twists. When Happy (Lavanya Tripathi) enters a birthday party in a hotel, little did she expect to meet some strange people, who change the entire party. The night sees a bizarre turn of events, some are planned, some unplanned.
Analysis
I have seen many surreal comedies made in Hollywood like 'Big Lebowski' and 'Birdman', but didn't come across this genre in Telugu. Here comes 'Happy Birthday' to give a taste of this genre to the Telugu audiences.
The film is the second directorial effort of Ritesh Rana, whose maiden feature 'Mathu Vadalara', won appreciation from critics. Surreal means not real, a mix of fact and fantasy. The story of 'Happy Birthday' begins in a true surreal manner. The story is narrated chapter-wise and is linked to the main incidents that happened in the beginning. The initial portions, though not riveting, are engaging enough. Or seem to offer something new.
In surreal comedies, everything looks bizarre and outlandish. We get to see the same. Using pop culture references, the film spoofs everything and bizarrely presents them. Take, for example, naming a video conference between three sisters and a brother as 'sad chat'. Turning heroine Lavanya Tripathi as Baby and Happy in the manner of Geetha and Seetha of old movies, and using lewd words everywhere for comic effect are some examples.
A hotel housekeeper's track with his sisters initially looks okay but it turns out to be a pain when it gets stretched to the climax. Everything that seemed fun, in the beginning, exhausts us as the film reaches the third act. The film stops being a surreal comedy and becomes an example of poor writing and indulgence of the director.
Barring a couple of comedy sequences like Vennela Kishore – Sathya's translation episode, the film is more of a messy affair.
Among the actors, Lavanya Tripathi being the lead actor needs appreciation. She has put in her best efforts for the dual role she has played. She is convincing in her two parts. Vennela Kishore and Sathya are the saving grace of this movie. They provide some best lines. Gundu Sudarshan's philosophical comedy works in some places.
The cinematography and production design need special mention among the technicians.
Bottom-line: 'Happy Birthday' is a surreal comedy but the tacky second half tests our patience to the hilt. Sathya plays a character named Max Pain. His name is a symbol of our experience.
Rating: 1.75/5
By Jalapathy Gudelli
Film: Happy Birthday
Cast: Lavanya Tripathi, Vennela Kishore, Sathya, Rahul Ramakrishna, and others
Music: Kaala Bhairava
DOP: Suresh Sarangam
Production Designer: Narni Srinivas
Producers: Chiranjeevi (Cherry), Hemalatha Pedamallu
Written and directed by: Ritesh Rana
Release Date: July 08, 2022