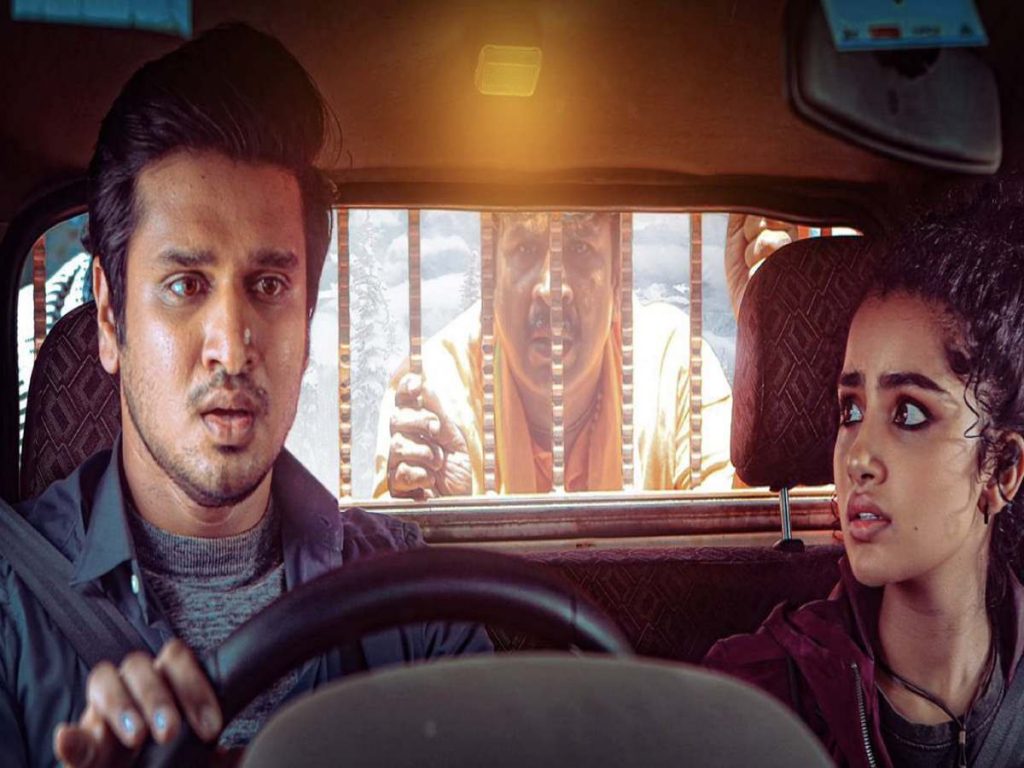 What's it about?
Dr.Karthikeya (Nikhil Siddharth) and his mother are on a pilgrimage tour in Dwaraka. An archeology professor Ranganath Rao gets killed, and the police take Karthikeya in custody as CCTV footage shows the professor was last seen with Karthikeya. The professor's granddaughter Mugdha (Anupama Parameswaran) helps him run away from the police.
The two embark on a journey to find out why the professor was killed, and to know the connection between a metal peacock they found and Lord Krishna.
Analysis
"Karthikeya 2", the second in the franchise of "Karthikeya", begins with a disclaimer: the work of fiction with a historical backdrop. The film also drives a message in the end: What many dismiss as myth is actually our history and the Hindu gods like Krishna and Rama are also our ancestors.
Director Chandoo Mondeti presented this message with the elements of a mystery thriller. If you have seen or read "The Da Vinci Code", you quickly realize that Chandoo just copied everything from it and added the Hindu mythology.
In "The Da Vinci Code", talks about secret societies and the Holy Grail. The protagonist in "The Da Vinci Code" is a symbologist and a murdered professor's granddaughter helps him find the real mystery. "Karthikeya 2" has the same – the secret societies, a clan named Adheera that kills anyone who touches the statue of Lord Krishna, a doctor and a professor's daughter digging deep to unravel the mystery. Well, Christian mythology turns into Hindu mythology.
Chandoo Mondeti liberally adds Lord Sree Krishna tattva into the story to give a local touch. There are also references from adventure thriller movies like "Indian Jones".
Forget about influences and inspirations, as the film "Karthikeya 2" holds our attention only with the final twenty or thirty minutes. The final act is riveting enough and thus makes the film a decent watch. The grandeur setup and the Hindu mythology have given the film a different look, but the narration is not that gripping in the preceding part of the movie.
Inconsistency, logical issues, lack of a strong nemesis, and editing are the film's major problems.
Adventure thrillers like these don't require actors to perform strongly but do justice to their defined characters. Nikhil Siddharth plays his part well. So is Anupama Parameswaran. All other actors do just routinely.
The film has richness in frames (cinematography and decent VFX). Kaala Bhairava shines with background music as some sequences get elevated with his BGM.
Bottom-line: 'Karthikeya 2' makes a decent watch thanks to its final 30 minutes and grand production values. But the film is essentially an Indian remix version of the Hollywood mystery thriller, The Da Vinci Code.
Rating: 2.75/5
Review by: Jalapathy Gudelli
Film: Karthikeya 2
Cast: Nikhil Siddartha, Anupama Parameswaran, Anupam Kher, and others
Dialogues: Srujanamani
DOP: Karthik Gattamneni
Music: Kaala Bhairava
Art Director: Sahi Suresh
Co-Producer: Vivek Kuchibotla
Producers: TG Vishwa Prasad, Abhishek Agarwal
Directed by: Chandoo Mondeti
Release Date: Aug 13, 2022