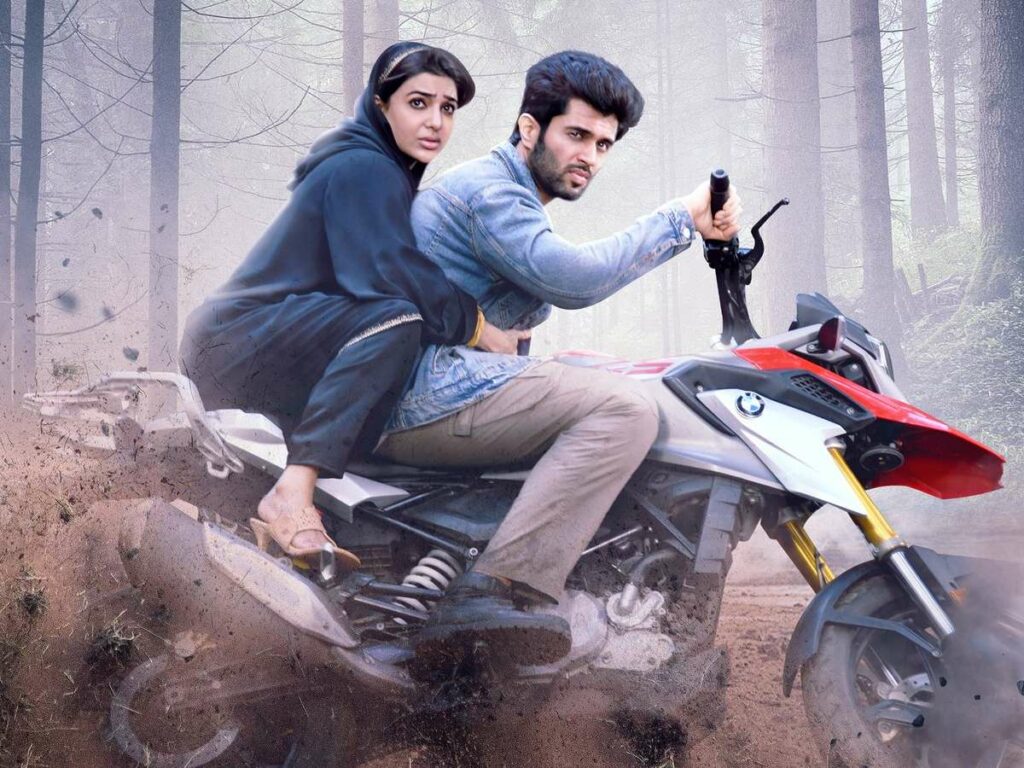 What's it about?
Viplav (Vijay Deverakonda) comes from an atheist family. His father Lenin Satyam (Sachin Khedekar) is a well-known atheist. On his first job with BSNL, he is assigned to Kashmir, where he meets a burqa-clad Muslim woman named Ara and falls in love with her. She and her colleagues came to finish an IT project in a relaxed setting.
To avoid Viplav, she disguises herself as a Muslim girl, but she eventually falls in love with him. Ara, aka Aradhya, is the daughter of a religious guru from Kakinada. When their respective fathers disagree on ideologies, Aryadhya and Viplav opt for a registered marriage.
Viplav and Aradhya start a new life in Hyderabad. What problems could arise for them when everything appears to be going well? And, how do they deal with the problems?
Analysis
Mani Rathnam's films have influenced director Shiva Nirvana's work. "Kushi" is a spin-off of Mani Ratnam's "Sakhi." However, he has added a new dimension to the basic plot of "Sakhi" by including the conflict point – atheism vs belief.
Shiva Nirvana focuses on the romance aspect rather than the main conflict. So, Vijay Deverakonda and Samantha have a decent but watchable romantic thread in the first half. Their post-marriage love life has some cute moments as well. Despite the predictable beatings and inconsistent narrative, the mellifluous songs and romance between these lead characters make for a pleasant watch.
But Shiva Nirvana appears to have made a mistake in writing perfect scenes that cause the problems between the newlywed couple. As a result, the thread of infertility issues and subsequent sequences look superficial. Aside from that, the nearly hour-long proceedings needed lot of trimming.
Vijay Devarakonda not only maintains his cool demeanor but also holds the film together with his performance. He is effortlessly good. His performance in the film's latter half stands out. Samantha compliments him. She shines when emotional beatings take center stage, but her appearance is inconsistent, most likely due to her health issues.
Aside from the chemistry of the lead couple, music and camera work are essential for any love story to work on screen. "Kushi" does well on both counts. The songs are the film's biggest asset. The songs, composed by Malayalam young music sensation Hesham, have been topping the charts for some time. In fact, the songs are the reason for the film's positive buzz. The songs look good on screen as well.
Murali G's cinematography adds a pleasant vibe to the film. While Hesham and Murali have made terrific contributions, the editor's work is unimpressive. The film's running time is inexcusably long. Unnecessary sequences that do not contribute to the flow or story could have been cut. Shiva Nirvana's writing is at best average.
Bottom line: "Kushi" is a rom-com with excellent music. A charming Vijay Deverakonda steals the show. Samantha shows her mark in some scenes. The predictable plot and lengthy running time are major flaws, but the final emotional sequence and the message it drives, and music work well. The film makes a pleasant watch for family audiences.
Rating: 2.75/5
Film: Kushi
Cast: Vijay Deverakonda, , Samantha Ruth Prabhu, Jayaram, Sachin Khedakar, Murali Sharma, Lakshmi, Ali, Rohini, Vennela Kishore, Rahul Ramakrishna, Srikanth Iyengar and Saranya Pradeep and others
Music: Hesham Abdul Wahab
DOP: G.Murali
Editing: Prawin Pudi
Production Designer: Jayashree Lakshminarayanan
Producers: Naveen Yerneni and Ravi Shankar Y
Written and Directed by: Shiva Nirvana
Release Date: Sep 01, 2023