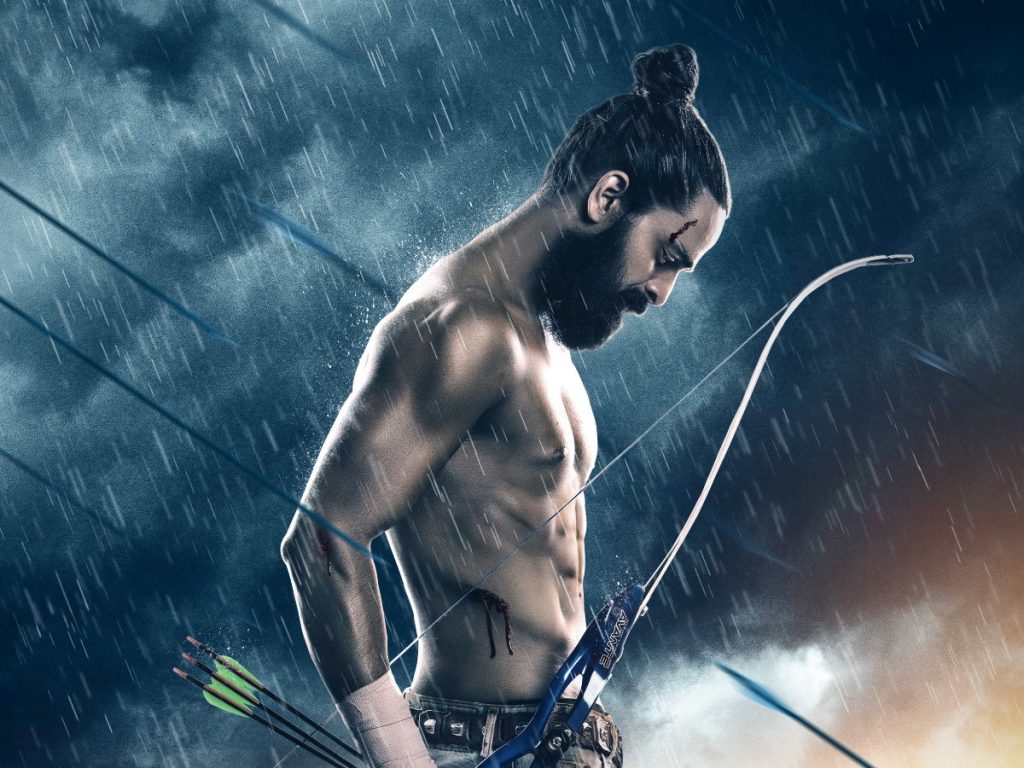 What's it about?
Pardhu (Naga Shaurya) is a gifted archer. Pardhu's grandfather (Sachin Khedekar) devotes his life to making his grandson a national champion, selling off his assets, not caring for his deteriorating health. Pardhu makes his grandfather proud by winning the state championship.
When he believes he is on the right path of reaching his target, Pardhu spirals into destruction. Unable to cope with the passing away of his grandfather, Pardhu becomes an alcoholic. His friend asks him to take a special kind of drug instead of alcohol. What is the motive of his friend? How did he injure his right hand? Will he overcome obstacles to realize his dream?
Analysis
'Lakshya' is a sports film based on archery. Though we have seen many sports films lately, a film on archery is a first. While the archery sport is a novelty factor, the same cannot be said for the narrative. From start to the finish, it is riddled with clichés of the sports genre movies.
Thirty minutes into the film, we realize that the new director Dheerendra Santhossh Jagarlapudi is handicapped with poor screenwriting skills. Scenes come and go without making an impact. Despite issues, the first half of the film, at least, has tried to tell a story of an archer's dreams being shattered with one incident. But the second half meanders aimlessly. The hero may have a 'lakshya' (target) to achieve, but the screenplay runs helter-skelter fashion. The writer-director seems to have no knowhow in writing a compelling screenplay. By bringing Jagapathi Babu's character from nowhere and running the story on him and Naga Shaurya is another misjudgment.
The track between Naga Shaurya and Jagapathi Babu doesn't elicit the required emotions. The climax part is fairly better than the rest of the drama, but by then we lose interest in it.
Even the so-called archery competition sequences are pretty bland. Only games are changing, not the drama in sports movies.
Naga Shaurya has achieved a terrific physique to portray this role. But what purpose does it serve in the story? The game doesn't require him to have a ripped body. It is alright if the transformation is to show that he's a changed person now. But beyond that, it has not added much value.
As an actor, Naga Shaurya has put in sincere efforts. He is believable in the role of an archer. Ketika Sharma has nothing much to do. Sachin Khedekar and Jagapathi Babu have played their roles in their usual style.
The film has rich production values and production design.
Bottom-line: 'Lakshya' doesn't hit the bull's eye at all. The sports drama about archery meanders aimlessly. Thus it never reaches the target. Naga Shaurya's efforts and the producer's good money have gone to waste due to the new director's amateurish skills.
Rating: 2.5/5
By Jalapathy Gudelli
Film: Lakshya
Dialogues: Srujanamani
Music: Kaala Bhairava
DoP: Raam
Editor: Junaid Siddiqui
Art: Sharmela Yalisetty
Producers: Narayan Das Narang, Puskur Ram Mohan Rao, and Sharrath Marar
Written and Directed by: Dheerendra Santhossh Jagarlapudi
Release date: December 10, 2021