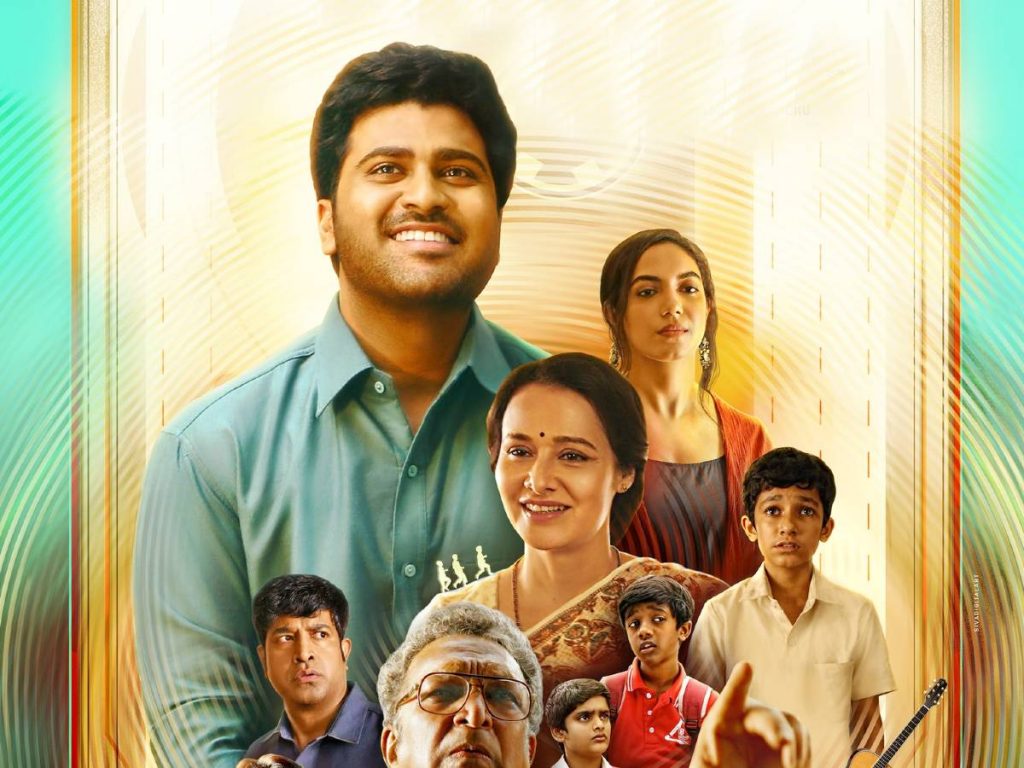 What's it about?
Adhi (Sharwanand), Seenu (Vennela Kishore), and Chaitanya (Priyadarshi) are close friends. Adhi is a guitarist. Chaitanya works in a company, while Seenu is a real estate broker.
Seenu gets introduced to a scientist Paul (Nasser) as part of his real estate brokering. The scientist has invented the time machine and is looking for people to participate in his experimentation.
These three friends agree to go back in time, precisely to 1998. Aadi wants to prevent the death of his mother. Can they manage to change the course of events and their lives by traveling back in time?
Analysis
Debutant director Shree Karthick's directorial 'Oke Oka Jeevitham' brings freshness to the time-travel concept. A mother-son sentiment in a time-travel genre is itself something to appreciate. Plus, this film also serves an interesting twist.
As mentioned above, the storyline is simple: three friends traveling back in time to change the course of their lives. Hollywood films like "Back to the Future" and Telugu films like "Aditya 369" and "24" have used the concept of time travel for thrills, but this film focuses less on the sci-fi angle and more on the mother-son sentiment.
The film leaves us smiling in certain portions and makes us feel emotional at other times. The emotional angle between Amala and Sharwanand is the main highlight. But the thread of Vennela Kishore is the best as it provides a lot of laughs.
The new director ends the film with a practical message: no one can change fate. The past is past, and you cannot alter it.
The ride is entirely smooth. Some portions give the feel of patchy execution. But these are minor issues in a film that has a feel-good factor.
Sharwanand's strength has always been bringing out emotions well. He does it again. He shines in the final portion when he needs to control his emotions and tears. The casting of Amala Akkineni is another plus point. She has brought warmth to the role. After a long time, Vennela Kishore gets a meaty role and hits the ball out of the park. Priyadarshi also shines. 
The film has one appreciable song but the music is not the main strength. The cinematography is neat. Tharun Bhascker's dialogues are simple and neat.
Bottomline: 'Oke Oka Jeevitham' has a relatively fresh storyline. It is not a regular commercial film but holds our interest. The film makes a decent watch with strong performances and feel-good emotions. 
Rating: 3/5
Review by: Jalapathy Gudelli
Film: Oke Oka Jeevitham
Cast: Sharwanand, Ritu Varma, Amala Akkineni, Vennela Kishore, Priyadarshi
Dialogue: Tarun Bhascker
Music: Jakes Bejoy
DOP: Sujith Sarang
Editor: Sreejith Sarang
Art Director: N. Satheesh Kumar
Stunts: Sudesh Kumar
Producers: S R Prakash Babu, S R Prabhu
Written and directed by: Shree Karthick
Release Date: Sep 09, 2022