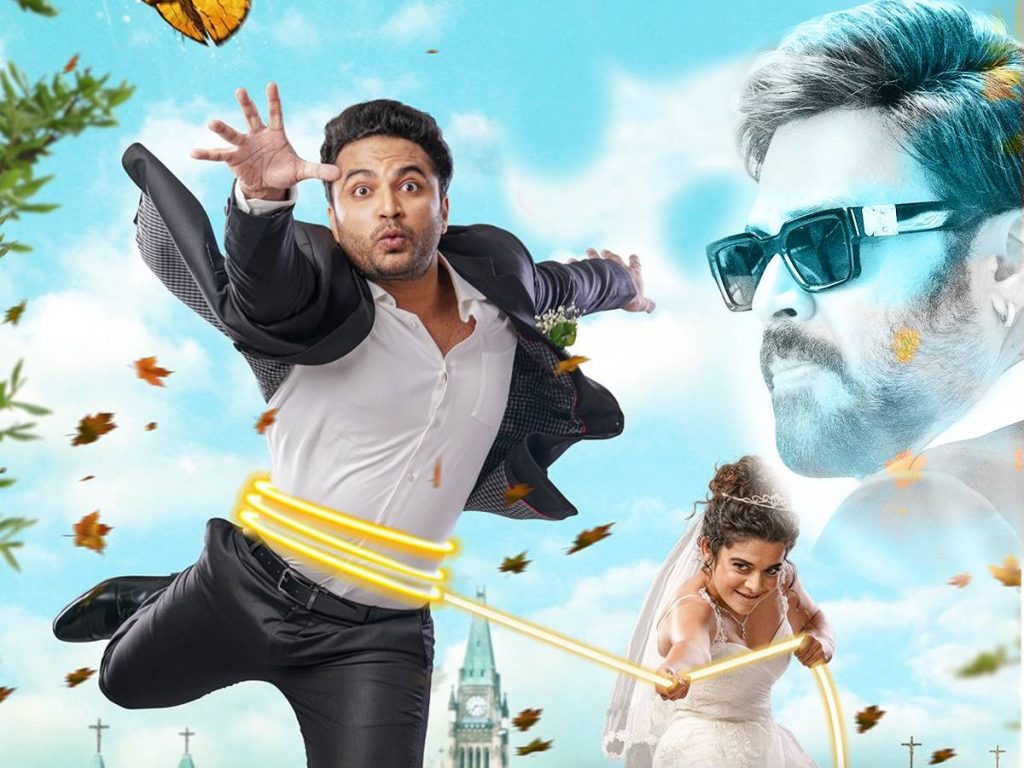 What's it about?
Arjun (Vishwak Sen) and Anu (Mithila Palkar) have been friends since elementary school. Anu unexpectedly asks Arjun to marry her when her father brings an alliance. He doesn't have romantic feelings for her, but he also doesn't have any reason to reject her.
As a result, they marry. But a year later, he finds himself in a family court, requesting a divorce from her.
At the court, Arjun meets someone who claims his boss knows how to grant him a divorce. The boss (Venkatesh) turns out to be God, and he grants Arjun the ability to restart his life.
What will Arjun do if he is given a second chance?
Analysis
'Ori Devuda' is a romantic comedy with a fantasy twist. It is about being given second chances. What happens if two friends get married? The film begins with this concept and ends with a new twist. The story has both freshness and predictability. The film's freshness is evident in the first half. The situation of two friends getting married and the hero having difficulty consummating the marriage has provided some fun.
There are also some amusing sequences in which the protagonist tests the quality of toilet commodes. The first half of the film moves quickly, with marriage, the introduction of the third person, and divorce. The interval bang also adds a new dimension to the proceedings.
The first half of the film works largely because of the lighthearted tone. The second half of the film is all about the hero resetting his life and love and this is where the movie loses its grip.
The second half of the film does have its moments, though. But they suffer from predictability. The sequence of the hero and heroine going on a Kerala trip in the later portion is not convincing at all.
Coming to performances, Vishwak Sen holds the movie with his sincere efforts. He is at home in fun sequences. He also shows maturity in emotional sequences. Mithila Palker, who played roles in web series, suits well to her role. She does a neat job. Newcomer Asha Bhat is miscast. A better actress is needed for this role.
Venkatesh brings gravitas to the role of God. A cameo appearance but he does the role with a lot of fun. Murali Sharma, Venkatesh Kakamanu, and Rahul Ramakrishna do their parts well.
The technicians have put in decent work. The film is the remake of the Tamil film, Oh My Kaduvale and the same director has made this Telugu film. I have not seen the original but he seems to have followed his original movie.
Bottom-line: 'Ori Devuda' is a rom-com with a fantasy spin. It does have some fun moments and a fresh narrative in the first half. The second half has some issues. Overall, an okay rom-com.
Rating: 2.75/5
By Jalapathy Gudelli
Film: Ori Devuda
Cast: Vishwak Sen, Venkatesh Daggubati, Mithila Palkar, Asha Bhat, and others
Music: Leon James
Dialogues: Tharun Bhascker
Cinematographer: Vidhu Ayyana
Editor: Vijay Mukthavarapu
Produced by: Prasad V Potluri
Written and Directed by: Ashwath Marimuthu
Release Date: Oct 21, 2022