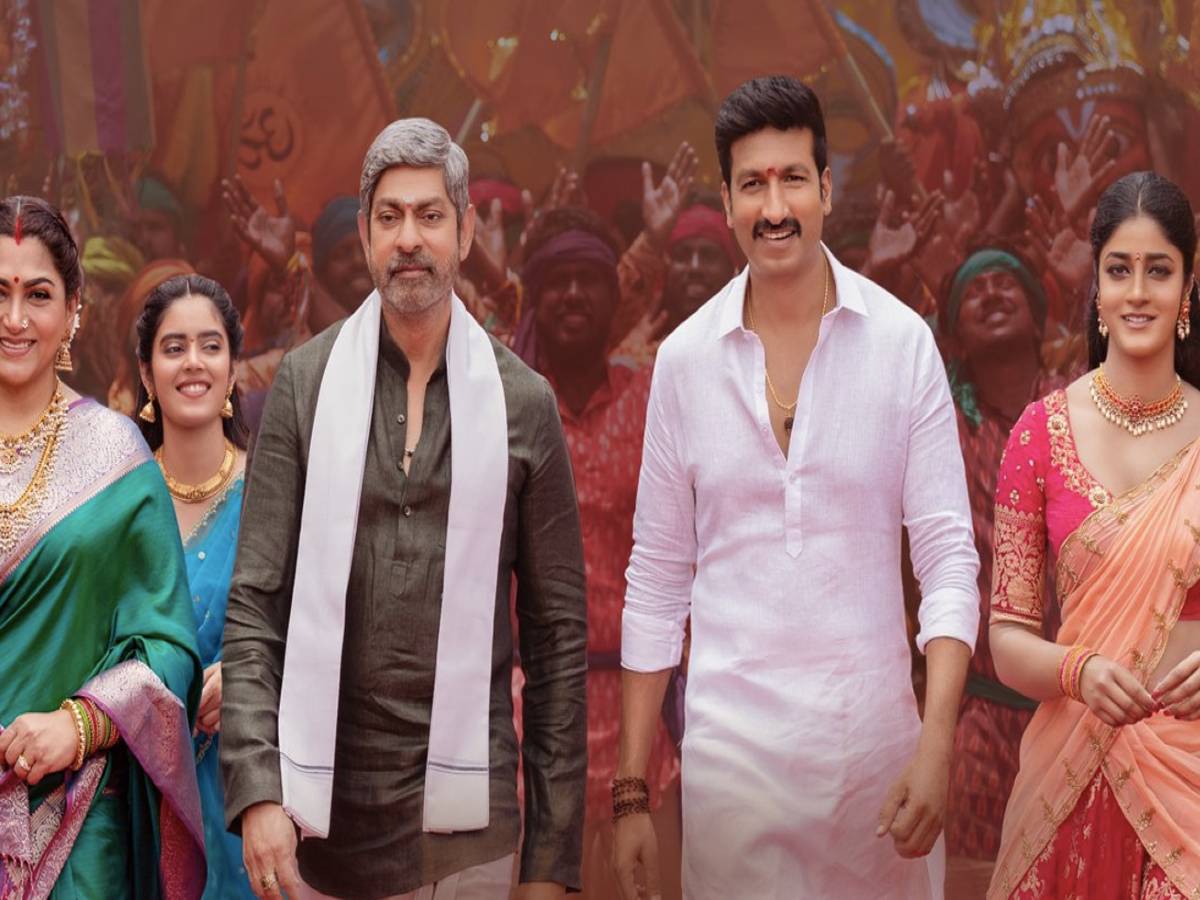 What's it about?
Rajaram (Jagapathi Babu) runs a hotel in his village. He believes in ethical business practices. Vicky (Gopichand), his teenage brother, believes that Rajaram's values have no meaning in today's world, and as a result of one incident, Vicky runs away from home, catching a running train that leads him to Kolkata city, where he finds shelter at a don's place. He quickly becomes the don's right hand man.
Years later, a situation arises as a result of his girlfriend Bhairavi (Dimple Hayathi) that forces him to visit his family. So Vicky returns to Hyderabad to meet his brother Rajaram's family, only to discover that his brother is in trouble from a businessman named GK (Tarun Arora). What comes next? You can easily guess what it is.
Analysis
After two successful films, "Loukyam" and "Lakshyam," Gopichand and director Sriwass have teamed up again for Ramabanam, their third collaboration. The film is primarily about the relationship between two brothers, but it also conveys the message that food can and should be used as medicine and that the food industry should be run in an ethical manner.
The message is good, but the basic story, written by Bhupathi Raja, is as old as the writer. And the way it is handled is riddled with clichés. The writing team included Bhupathi Raja, Sriwass, Veligonda Srinivas, and Madhusudhan, but the writing remains the film's weakest link. That reveals a lot about the writers' talent while also painting a picture of the film's main problem.
I dread watching Bhupathi Raja's stories (Prematho Raa, Eduruleni Manishi, Daddy, Katamarayudu, and so on). For he has been telling old-fashioned stories since the start of his career. "Ramabanam" is no exception.
However, People Media Factory, the production company, has provided director Sriwass with the best resources to present this film in a rich and presentable manner. However, Sriwass has not made use of them. Only one or two episodes in the film are watchable, especially after the interval bang.
Gopichand looks fashionable in designer attire. He is also in good shape. In terms of performance, he does neatly because this is a routine role for him. Dimple Hayathi plays a typical song-and-dance heroine.
JagapathiBabu as Gopichand's elder brother and Kushbu as Jagapathi Babu's wife are right choices for these roles. Tarun Arora plays a stereotypical villain.
Rich production values and production design make this film appear grand, but important technicians such as music director Mickey J Meyer serve up subpar fare.
Bottom line: Despite having a good message, "Ramabanam" is a subpar film that suffers from a clichéd story and an outdated screenplay. The only thing worth mentioning is the high production values.
Rating: 2.25/5
By Jalapathy Gudelli
Film: Ramabanam
Cast: Gopichand, Dimple Hayathi, JagapathiBabu, Khusbhu, Tarun Raj Arora, and others
Story: Bhupathi Raja
Dialogues: Madhusudan Padamati
Music: Mickey J Meyer
DOP: VetriPalanisamy
Editor: PrawinPudi
Art: Kiran Kumar Manne
Action: Kanal Kannan, Ram Laxman, Venkat, Ravi Varma
Co-Producer: VivekKuchibhotla
Producer: T G Vishwa Prasad
Director: Sriwass
Release Date: May 05, 2023