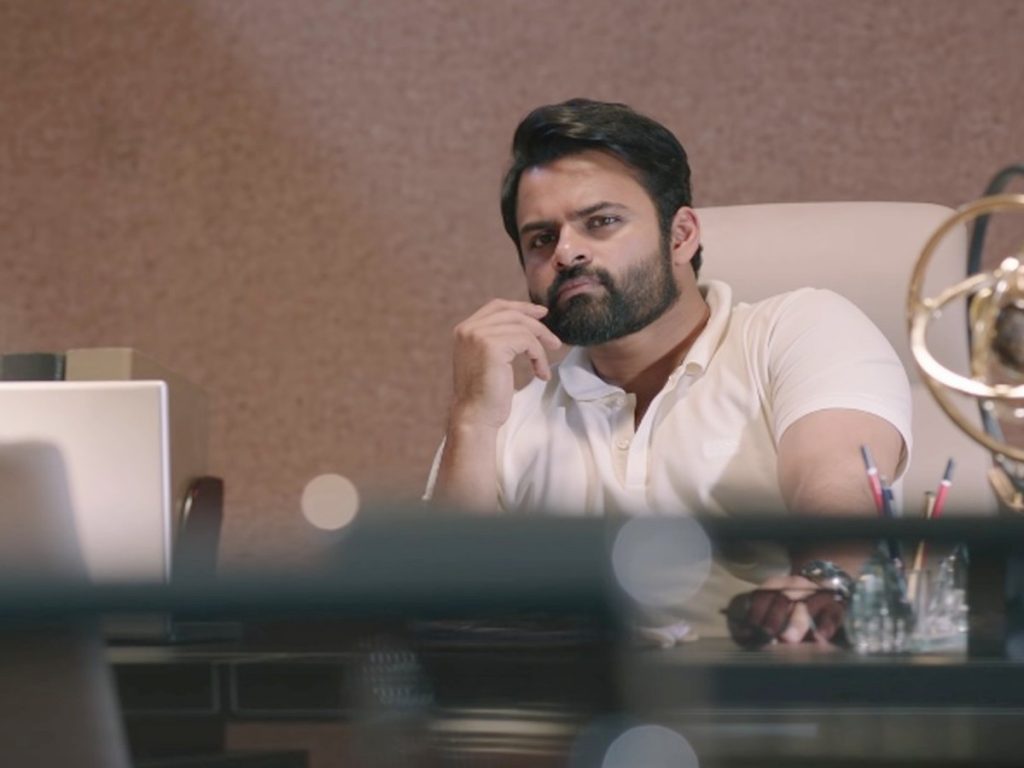 What's it about?
Abhiram (Sai Tej) is an intelligent person with idealistic nature. He scores top in all exams. Expectedly, he stands top in the civil service officer's exam and becomes a district collector. The district is known for its famous lake that provides livelihood to lakhs of farmers and fishermen.

However, the largest freshwater body has now turned into a polluted lake as Matsyagandha company, owned by Vishakavani (Ramya Krishna), is killing it with pollutants. The officers are controlled by the politician.

Will Abhiram take on the powerful politician and bring the lake to its pristine glory?
Analysis
Director Dev Katta who won accolades for 'Prasthanam', which is regarded as his best work, has attempted a serious theme in 'Republic'. At the outset, it seems the film is about a hero bringing change in the system like in Murugadoss or Shankar's old movies. But the film is not about the hero's journey; it paints a broad picture of the current Indian political system that is rotten.
Deva Katta begins the film by narrating a story of three types of fishes that exist in a lake. The devilfish that eats other fish and pollutes the entire environment is the problem. He draws parallels to the three pillars of democracy – legislative, judiciary, and executive. We need not to mention which is the devilfish in the democracy. He also stresses out the fact that the current 'system' is Indian democracy is weak, that is not strong as other robust western democracies. That is so rotten that the agents of change also fail.
Dev Katta has a noble idea or thought to talk about in this film. But such 'niche' points need strong conviction, sincerity, and engrossing narrative to make the audiences involved in it. No doubt, Katta has conviction and sincerity.

Perhaps, to appeal to the larger audience, he has taken many cinematic liberties. At the same time, he has also tried to remain close to reality. This imbalance has diluted the impact.
Katta has shown his mark in the interview scene of Sai Tej and the UPSC board. The episode of Ramya Krishna revealing her father's story is also equally good. However, he should have written certain dialogues which can be easily understood by the common audience. The pessimistic or pragmatic ending attracts divided opinion.
Shedding his regular antics, Sai Dharam Tej has realistically portrayed this role. There is a marked difference in his performance. Ramya Krishna is not a typical villain, but she shows her mark. Jagapathi Babu's role in the final portion is effective. Aishwarya Rajesh appears briefly. Ravi Varma as a Bengali corrupt corporate leader is neat.
Of the technicians, cinematographer Sukumar's work stands out. He has captured the Kolleru episodes terrific way. Mani Sharma's songs could have been better. Editing is sharp.
Dev Katta's strength has always been writing. His dialogues are powerful.
Bottom line: 'Republic' is an honest political drama. Dev Katta has written powerful dialogues. Sai Tej also delivers good performance. But it needed a more engaging narrative.
Rating: 2.5/5
By: Jalapathy Gudelli
Film: Republic
Cast: Sai Dharam Tej, Aishwarya Rajesh, Ramya Krishna, Jagapathi Babu
Music: Mani Sharma
Cinematography: M Sukumar
Editing: Prawin KL
Producers: J Bhagawan and J Pulla Rao
Written and directed by: Dev Katta
Release Date: Oct 1, 2021