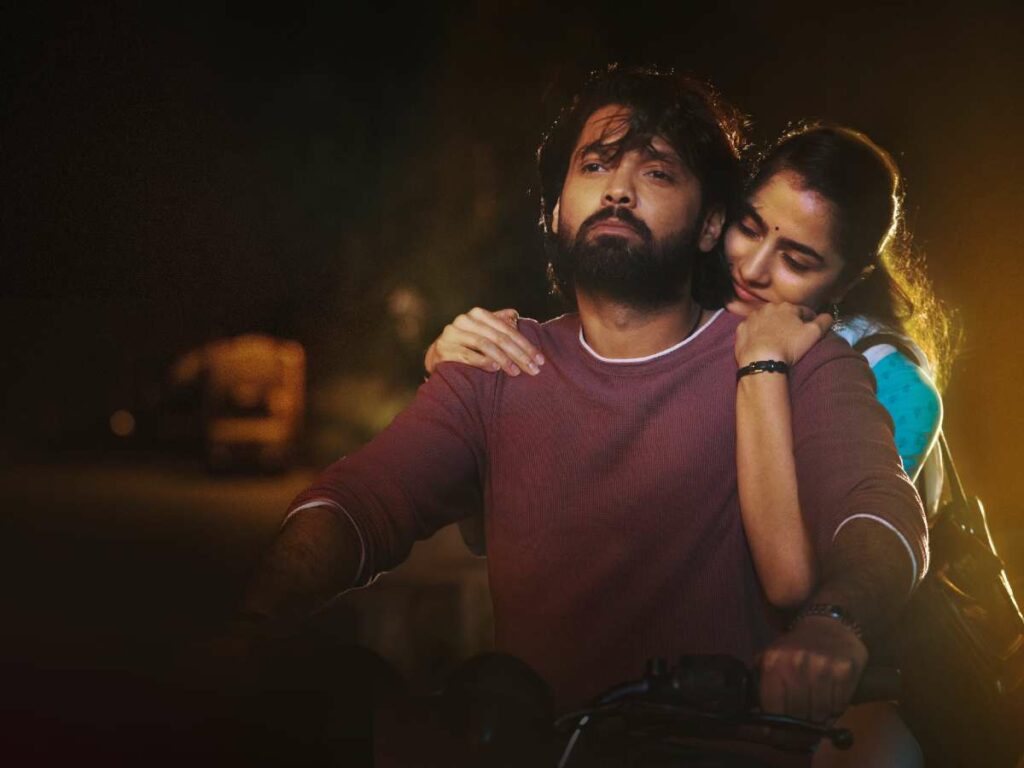 The recent Kannada film "Sapta Sagaradaache Ello" received critical acclaim and had a successful run in theaters across Karnataka. Part one of this two-parter, "Side A" got dubbed into Telugu with the title "Sapta Sagaralu Dhaati". Beyond the Seven Oceans is the literal translation of the Kannada title. The Telugu title means something slightly different – crossing across all seven oceans.
Everything in "Sapta Sagaradaache Ello" revolves around Manu and Priya and their relationship: their love, the sacrifices they've made or will make, and the battles they've to wage to keep their love float.
The setting is Bengaluru and the time period is 2010. Manu (Rakshit Shetty) works as a taxi driver. Priya (Rukhmini Vasanth) is a music-obsessed college student. They have a passionate love. He enjoys her singing. Her smile and expressive eyes provide him with energy.
Priya wants to settle down with him and have their own home. She is from the coastal region of Karnataka and enjoys being near the sea. In Bengaluru, he is her sea. Priya and Manu look for rental homes despite the fact that they have yet to marry. Her mother (Pavitra Lokesh) is very supportive.
When an unexpected event causes Manu to spend time in jail, their lives take a dramatic turn. What length will Priya go to save her lover?
Sapta Sagaralu Dhaati's the first act reminded me of Turkish director Nuri Bilge Ceylan's "Three Monkeys." In both "Three Monkeys" and "Sapta Sagaralu Dhaati," an accident and a driver accepting responsibility for a crime he did not commit set the stage for the drama. However, filmmaker Hemanth Rao's film, which is the first half of a two-part drama, is primarily on the hero and heroine's love relationship and how their dreams are ruined by one incident.
This love story is told poetically, with touches of realism, indulgence, melancholy, and metaphors. Director Hemanth Rao presents the story at a leisurely pace. In addition, this is only "Side A" of the story; in "Side B," we'll see the rest of Manu and Priya's journey unfold. So this film serves as a preparation for the second part.
At times, the film feels predictable and overtly focussing on mundane things. The lengthy time period of the story made the director stretch jail epsiodes. Or perhaps to stress the point of Priya's endless wait for Manu.
I must agree that the love story is very compelling. The film only feels divorced from the main idea when it turns to jail scenes. Nonetheless, it stands out from the crowd of current love stories. It's more than just a love story. It also has philosophical undertones. The title "Side A" refers to the story's connection to a cassette player.
Rakshit Shetty's performance is spot-on, but Rukhmini Vasanth steals the show with her incredible range of expressions, from joy to sorrow. She effectively portrays the mannerisms of a middle-class woman. All of the actors contribute greatly. Among the other actors, Pavitra Lokesh as Rukhmini's mother is superb.
Although the ocean plays a significant role in the plot, it is depicted on screen for only once. But the frames are a muted blue color. Advaitha Gurumurthy, the film's cinematographer, and Charan Raj, the composer, both succeed in conveying the story's underlying feelings through their respective work.
Some dialogues are good.
Bottom line:"Sapta Sagaralu Dhaati" tells the story of two lovers whose lives are turned upside down due to a misstep. It's a slow-burner. This poetic love story, told at a leisurely pace, requires patience but rewards well.
Rating: 2.75/5
Film: Sapta Sagaralu Dhaati (Side A)
Cast: Rakshit Shetty, Rukmini Vasanth, Avinash, Sharath Lohitashwa, Achyutha Kumar, Pavitra Lokesh, and others.
Music: Charan Raj
DOP: Advaitha Gurumurthy
Producer: Rakshit Shetty
Written and directed by: Hemanth M Rao
Release Date: Sep 22, 2023