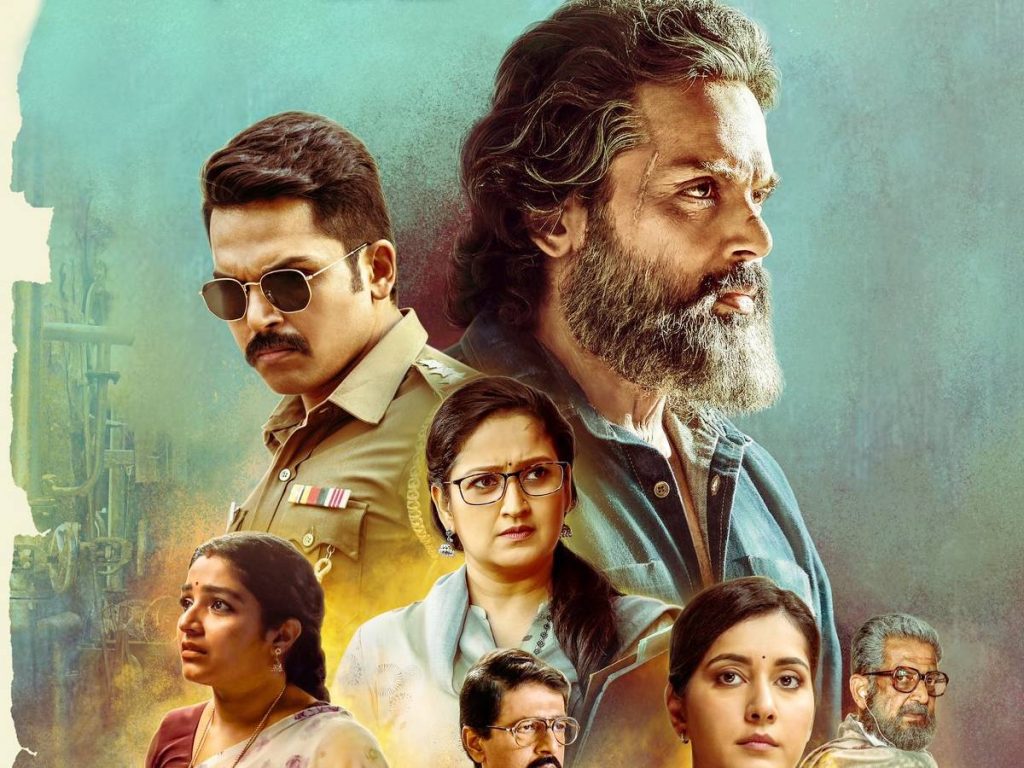 What's it about?
Vijay (Karthi) is a sincere police officer who carries personal baggage from his past. On the other hand, a massive water project is being launched in India, and a few 'RAW' agents have discovered flaws in it and plan to derail it at any cost. To deal with this powerful water mafia, they call in the mighty Sardaar. Vijay becomes involved in this case as well, and he has a close relationship with Sardaar. Who exactly is Sardaar? What is his relationship with Vijay? All of these questions will be addressed in the rest of the movie.
Analysis
Mithran, the director of films such as Abhimanyudu, has directed 'Sardaar.' This time, he chooses the water mafia as the setting for a story about a father-and-son relationship with an action backdrop. While his father plays a spy, his son plays a cop. The way this aspect is established is quite interesting. Mithran has conducted extensive research on RAW agents and spies in general.
The film is packed with stylized action, and Mithran nails it. The director has done an excellent job in executing a few scenes in which Sardaar's true identity is revealed and how he escapes. The action shown appears to be intense and of a high standard for the south. Sardaar also has father-son drama, but it appears jaded because the scenes are routine and disrupt the flow of the film.
'Sardaar' has an interesting premise, but it starts slowly and gets boring in the middle where the family drama comes in. In places, the narration is formulaic, as things happen too easily for the hero.
Karthi gets a tailor-made role in this film in terms of performance. He excels at playing multiple roles. However, it is the role of Sardaar in which he lives and provides many high moments for his fans and audience.
Raashi Khanna plays a lawyer and does well in the part. Laila, a former actress, is seen in a key role, and Rajisha is also impressive in her mature role. The bad guy is played by Chunkey Pandey, who is quite impressive and adds depth to this action drama.
Sardaar is technically sound. George Williams' camerawork is fantastic. The music was composed by GV Prakash, and his songs are terrible. In Telugu, they sound even worse. His BGM is also adequate but not spectacular. The editing is the film's biggest villain because the runtime is painfully long and there is a lag in both halves that should have been cut.
Bottom-line: Overall, 'Sardar' has an intriguing premise and Karthi steals the show with his excellent performance. The audience is captivated by the action sequences and thrills. The drama and pace, however, slow down in key areas. Except for the lengthy runtime and a few routine moments, 'Sardar' is a thrilling ride for action movie lovers.
Rating: 2.75/5
By KA
Film: Sardar
Cast: Karthi, Raashii Khanna, Laila, Rajisha Vijayan, and others
Music: GV Prakash Kumar
DOP: George C Williams
Editor: Ruben
Stunt: Dhilip Subbarayan
Directed by: P.S Mithran
Release Date: Oct 21, 2022