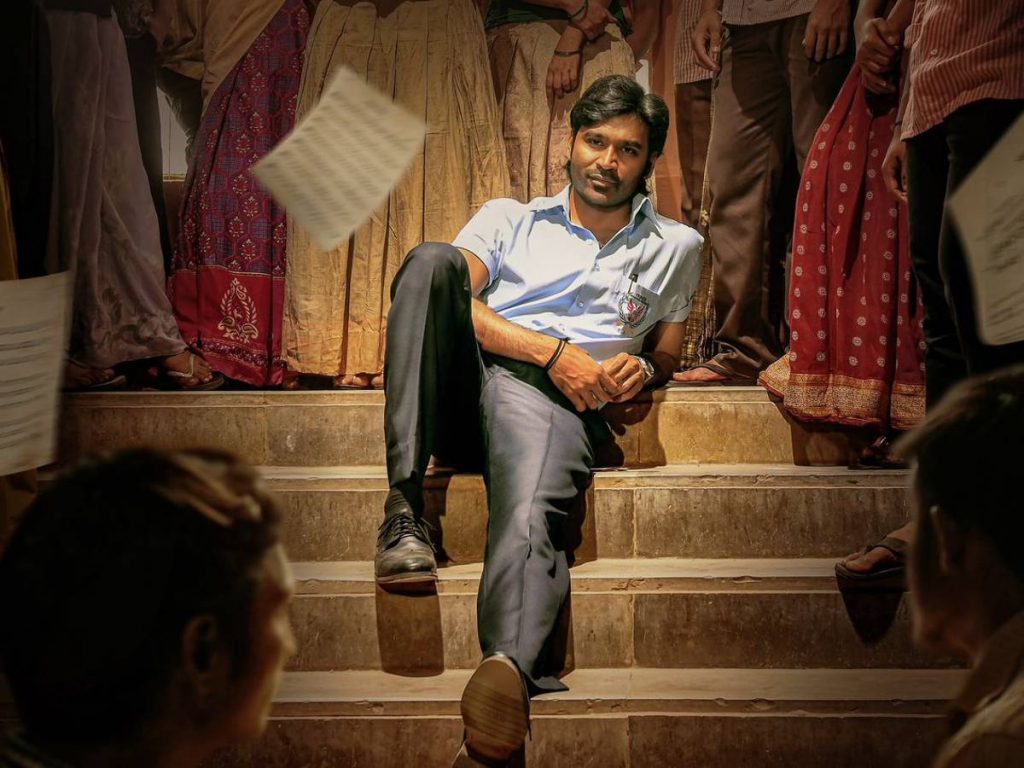 What's it about?
1990s. Son of a driver, Balu aka Bala Gangadhara Tilak (Dhanush) becomes a lecturer at one of Tripathi's private colleges. Tripathi (Samuthirakani) adopts government colleges and sends some sub-standard lecturers from his group there as part of a plot to destroy the government college system. He is convinced that the teachers in question aren't going to give the underprivileged students the kind of instruction that would help them succeed academically. Thus, private like the ones he runs will attract the children of all middle-class parents.
But Balu not only enthusiastically alters a government college in a village called Siripuram, but also teaches mathematics, physics, and chemistry himself to the 45 students, and all of them pass with good marks in the first year of intermediate (plus 2), ruining his evil plan. At the same time, he meets and falls for another idealistic college lecturer Meenakshi (Samyuktha Menon).
Balu takes on the challenge of preparing these low-income students for EAMCET after learning Tripathi's true motives. What obstacles does he have to overcome, and will he succeed?
Analysis
Dhanush, who has made a name for himself in Bollywood and Hollywood, makes his Telugu debut in director Venky Atluri's social drama Sir. Venky Atluri, known for rom-coms such as "Tholi Prema" and "Rang De," took a detour to tell a story with a strong social message. It is his first time handling such a serious drama, and the results are mixed; some parts are effective, while others are not.
We've all seen advertisements for "1,1,2,2,3,3,3,3….Maa College Prabhanajanam" programmes offered by private junior colleges. All of these universities rose to prominence in the late 1990s and early 2000s. "Sir" draws on this trend to tell the story of how private intermediate colleges disseminated in Andhra Pradesh and Telangana, enticing middle-class parents to enrol their children.
Venky Atluri has written a story that is deeply rooted in our region and education system. While the theme he chose is real, the narrative has many influences, particularly from a couple of films.
This film immediately reminded me of two films: an old classic, K Raghavendra Rao's "Trisulam" (1982), and the critically acclaimed Bollywood film "Super 30" (2019). Parts of "Sir" are directly inspired by these films, though they are not copied. The protagonist in "Super 30," a biopic of Anand Kumar, a mathematics educator in Bihar, leaves the coaching centre where he works and creates the Super30 programme, which selects underprivileged students and trains them for the IIT-JEE. In "Sir," Dhanush also has a falling out with his boss and vows to teach the 46 poor students of a village how to get EAMCET seats.
Aside from the similarities, "Sir" reflects the realities of Andhra Pradesh and Telangana, where these colleges can be found around every corner.
Two sequences stand out: 1) The Speed and Velocity sequence, which emphasises the importance of eliminating caste discrimination. 2) The 'Veli' sequence. The rest are fairly standard.
Dhanush, a multiple award winner, excels in emotional sequences, demonstrating why he is lauded and recognised for his performances. The film works in many places because of his convincing performance. Samyuktha is fine as an idealistic lecturer who adores the hero. Samuthirakani is cast in a standard villain role and performs in okay manner. The technicians' work is satisfactory. The soundtrack is adequate.
Bottom line: "Sir" is a message-driven drama that works to a degree. In a film with mixed results, two emotional sequences stand out, and Dhanush delivers another strong performance, making it an okay watch.
Rating: 2.75/5
By Jalapathy Gudelli
Film: Sir
Cast: Dhanush, Samyuktha Menon, Samuthirakani, Tanikella Bharani, Hypder Aadhi, and others
Music: GV Prakash
DOP: J Yuvraj
Editor: Navin Nooli
Art Director: Avinash Kolla
Producers: Naga Vamsi, Sai Soujanya
Written and directed by: Venky Atluri
Release Date: Feb 17, 2023