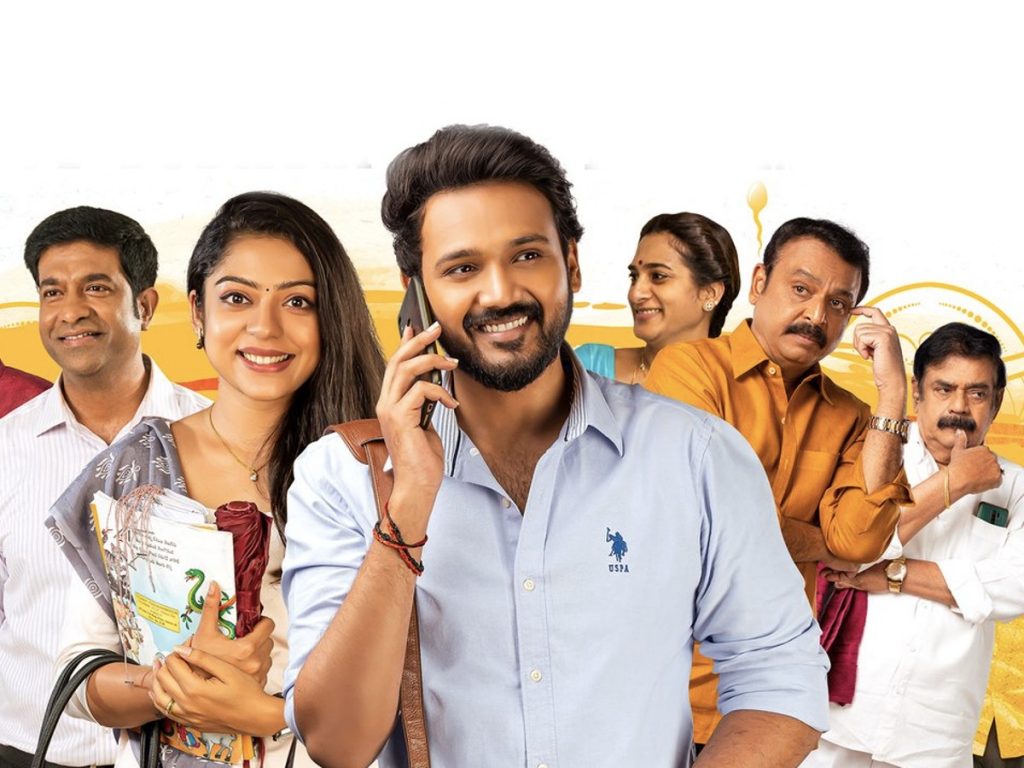 What's it about?
Bala (Ganesh), a junior engineer in the electricity department, and a private school teacher Bhagyalaxmi (Varsha Bollamma) meet as part of their match-fixing. Even before their wedding muhurtham is fixed, they fall in love.
On their wedding day, everything comes crashing down because of Bala's past mistakes.
To help his friend, he donated his sperm many months ago. A woman with a toddler now comes to his wedding venue, asking him to take the baby boy. Why did he donate his sperm? Will Bhagyalaxmi cancel her wedding with him?
Analysis
Bollywood films like 'Vicky Donor' (which was also remade in Telugu as 'Naruda Donaruda') have dealt with the subject of sperm donation in the mainstream Indian film world. 'Swathimuthyam' takes the same subject and gives a completely new twist. It also talks about surrogacy.
"Swathimuthyam" is essentially a rom-com. The subject of sperm donation is not the main focus but the conflict in the story arises due to this. It's an interesting idea and is convincingly told.
The novel conflict and the entertainment value in the second half score over other issues. The crisp runtime is another saver.
On the other hand, the beginning portions are quite dull. Until the core issues come to the fore, the hero's portions don't excite. The songs are another sore point.
Ganesh in his debut is okay. He doesn't get much scope to do heavy-duty performance or romance. Varsha Bollamma is cute. The romantic sequence between them should have been more effective and contemporary feel. Vennela Kishore as the hero's friend does his role well.
As the hero's father, Rao Ramesh steals the show. Along with him, Goparaju Ramana dominates the proceedings in the second half. The makers have added a lot of padding actors for the hero to lessen the burden on him. This plan has worked to its advantage.
The songs are not catchy. Sagar Mahati has given dull songs, and the background score is not worthy of talking about. The cinematography is neat. Dialogues are good.
Bottom-line: 'Swathimuthyam' is a light-hearted take on the subject of sperm donation, wrapped with comedy and family drama. While the film makes a shaky start, it gets its groove in the second half and ends as a decent entertainer. The final hour works to its advantage.
Rating: 2.75/5
By Jalapathy Gudelli
Film: Swathimuthyam
Cast: Ganesh, Varsha Bollamma, Vennela Kishore, Rao Ramesh, and others
Music: Mahati Sagar
DoP: Suryaa
Editor: Naveen Nooli 
Producers: Naga Vamsi
Written and Directed by: Lakshman K Krishna
Release Date: Oct 05, 2022