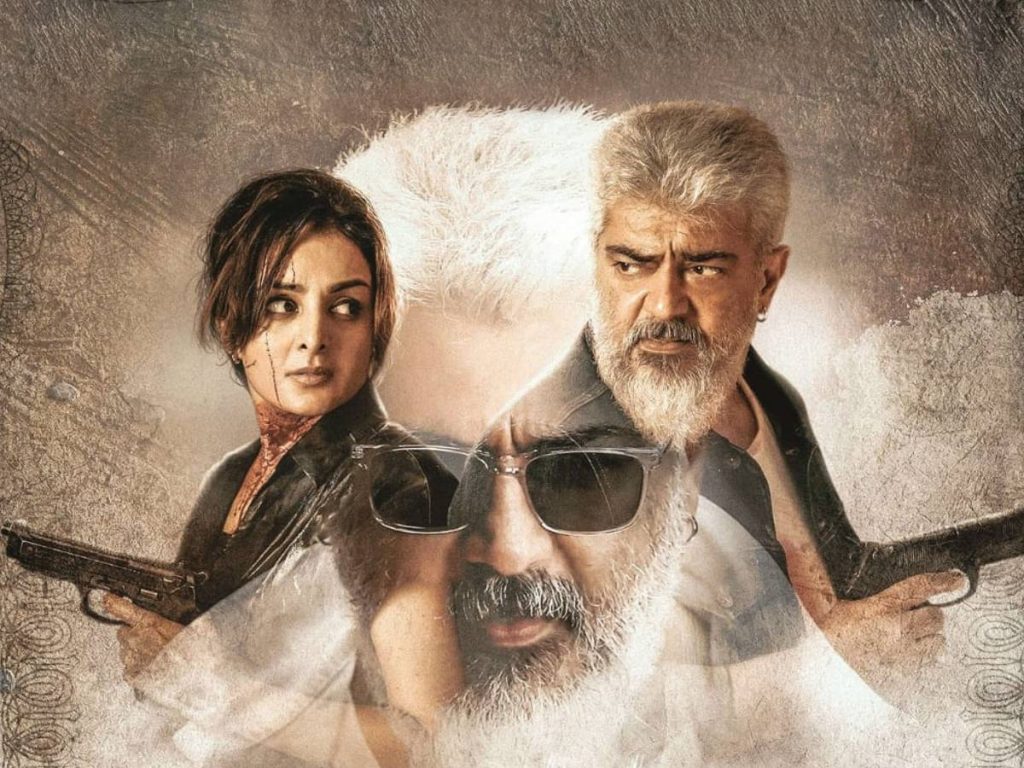 What's it about!
In Vizag, a group is planning to rob a bank. The group finds out something unexpected. Darkdevil (Ajith) is already inside the bank, devising a plan for a daring heist. Ramani (Manju Warrior), his friend, is helping him from the outside.
Samuthirakani, the city's police commissioner, hatches a plot to capture Darkdevil. However, he comes to the conclusion that the thief is not after any cash. He is planning something even more ambitious now. Just what is that, exactly?
Analysis
"Tegimp", the dubbed version of "Thunivu," is a heist thriller with a vigilante main character. Perhaps just this one line will bring to mind one of Shankar's films. Or the works of Murugadoss. It's like a cross between "The Money Heist" (popular web series on Netflix) and "The Gentleman" by Shankar.
Director H Vinoth has always had a knack for capturing exciting action scenes in films and telling his stories at a breakneck pace. The same is true in the opening of "Tegimpu."
It appears that he planned the film's first half specifically for Ajith fans and the second half for a broader audience. For this reason, the first act is where we are treated to Ajith's signature swagger and anti-hero performances and dialogue lines. To further deceive the authorities, he performs a moonwalk at one point while assuming the identity of Michael Jackson.
While these interludes add some welcome comic relief, they also contribute to the film's overall sense of meandering. By the time director Vinoth gets to the film's central premise, however, things start to come together.
An intriguing account of the methods banks use to entice customers, make them sign up for credit cards, and get them to invest in mutual funds is supplied. An interesting explanation of how banks steal taxpayer money is also provided. That's a fantastically efficient stretch overall. After that, however, it becomes clear that this is just another action film.
The flashback episode of Ajith creates a sense of déjà vu. Due to the lack of clarity surrounding his and Manju Warrier's back story, we feel no chemistry between them. The film never actually identifies Ajith by name. How Manju Warrier is connected to Ajith is also left unclear.
Ajith Kumar's only real role is to flaunt his charismatic screen presence and swagger. He is terrific in certain scenes. Manju Warrier's character is poorly written, but at least she gets to do action stunts. Samuthirakani is very efficient.
The film features high-end cinematography and elaborate action sequences. The music in Ghibran works well, but the songs are terrible. The running time of the film is too long.
Bottom-line: Conclusively, "Tegimpu" is a heist thriller that exposes the fraudulent practises of financial institutions. There are some intriguing sequences, but the film as a whole suffers from too much information, insufficient emotional depth, and a formulaic action plot that fails to fully engage. After a certain point, it's just tiresome.
Rating: 2/5
By Jalapathy Gudelli
Film: Tegimpu
Cast: Ajith Kumar, Manju Warrier, Samuthirakani, John Kokken, Pavani Reddy, Ajay, and others
Music: Ghibran
Director of Photography: Nirav Shah
Editor: Vijay Velukutty
Producer: Boney Kapoor
Written and directed by: H Vinoth
Release Date: Jan 11, 2023