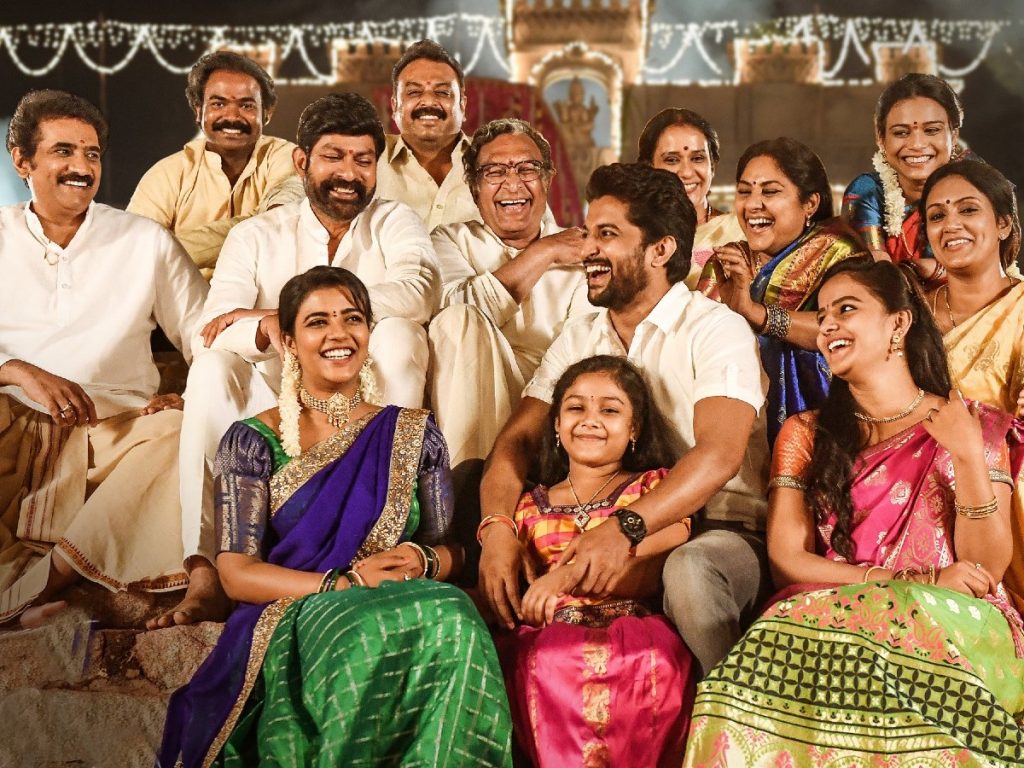 What's it about
Set in a fictitious village named Bhudevipuram, the last wish of Adiseshulu Naidu (Nasser) is to see his village without strife. Before breathing his last, he asks his elder son Bose (Jagapathi Babu) to get elected as the president of Zilla Parishad and put an end to the atrocities of Veerendra Naidu (Daniel Balaji).
After his father's death, Bose throws his stepmother and stepsisters from his home and keeps all properties with him. His younger brother Jagadish (Nani) doesn't like his brother's behavior and vows to bring a change in his brother.
Why does Bose not like his stepmother and sisters who raised him since he was a toddler? What plan does Jagadish have? The rest of the dream is all about this.
Analysis
To put it simply, the title of the popular web series "The Family Man" suits apt for 'Tuck Jagadish'. Describing the hero's character, his friend says in one scene: "We have seen people obsessed with caste and money, but he (Jagadish) is obsessed with his family." The film is all about Jagadish, played by Nani, reforming his brother, and uniting his family.
There is also a story behind the title of Tuck Jagadish. The protagonist tucks his shirt for a reason. In his childhood, he sees a government officer commanding respect from everyone for his good deeds. Jagadish decides to emulate him after he grows up. But the title and the hero's characterization are part of driving the narration. The core theme, of course, is family sentiment.
To make it different from regular family dramas, director Shiva Nirvana has written a different characterization of the protagonist. He has entrusted many responsibilities to his protagonist – unite family, protect his niece who is married off to a rowdy, bring peace in the villages, be a good officer like his childhood hero. The hero sets out for these missions, but they are all linked to his real purpose – bringing back his brother, sisters, and stepmother under one roof.
This characterization of the protagonist is the best part of the film. Shiva Nirvana has shown his strength here.
The film also tries to drive the point that women should not be ill-treated or disrespected.
Director Shiva Nirvana has one only weapon to convince the audience with this story. That is Nani. He has written the characterization of Jagadish with a strong conviction. Nani also brings his experience to the board in playing this role. But other characters lack the same depth. Even though the film has better writing in the later portions, the scenes are also formulaic.
For example, Nani arranges a bulb on the top of Aishwarya Rajesh's house and gives her a remote control to press it if she feels unsafe in her husband's house. In the age of mobiles, this is an outdated technique. She can call him on the phone.
Also, the process of the hero bringing change in the village as a government officer reminds us of many super hit movies. The scenes of Jagapathi Babu turning evil and getting a change of heart quickly, and Nani's family members misunderstanding him remind us of 90's movies. A strong influence of Kamal Haasan starrer 'Kshatriya Putrudu' can be seen in the first half. While the sentiment scenes are effective, they also don't escape looking old-fashioned.
But Nani carries the film on his shoulders. Barring some action episodes and 'dramatic moments', he underplays and gives a subdued performance. The film doesn't provide him a chance to generate laughs, but he tries to bring verve to the proceedings with his acting. He is the soul.
Jagapathi Babu exhibits two variations in his performance. Malayalam actress Malaa Parvathi impresses in the mother's role. Ritu Varma is okay. Aishwarya Rajesh does justice to her role.
Among the technicians, Gopi Sundar's background score and cinematography are the best. As a dialogue writer, Shiva Nirvana shows his mark. The film also needs to be trimmed a lot.
Bottom line: 'Tuck Jagadish' is an old-fashioned family drama that relies on sentiment scenes. Aided by strong characterization, Nani shoulders the film. But, the narrative lacks freshness and suffers from flab.
Rating: 2.75/5
By: Jalapathy Gudelli

Film: Tuck Jagadish
Cast: Nani, Jagapathi Babu, Ritu Varma, Rao Ramesh, Aishwarya Rajesh, Vaishnavi Chaitanya
Music: Thaman, Gopi Sundar
Editor: Prawin Pudi
Cinematography: Prasad Murella
Producers: Sahu Garapati, Harish Peddi
Written and direction: Shiva Nirvana
Release Date: Sep 10, 2021
Streaming on: Amazon Prime