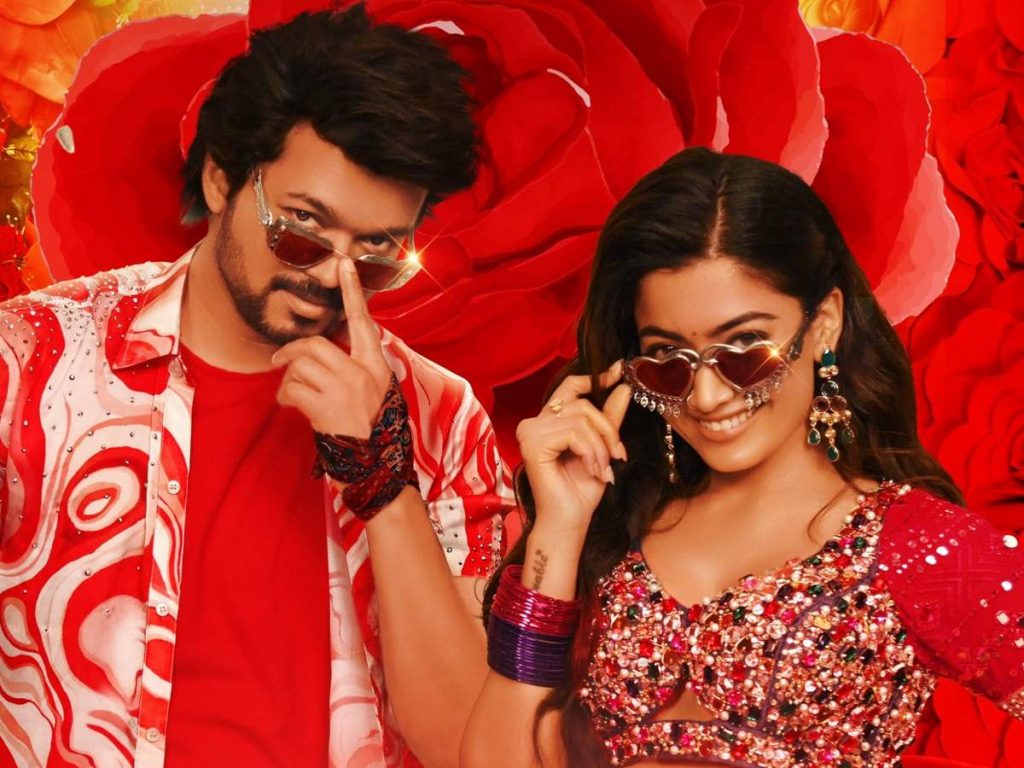 What's it about?
Business magnet Rajendra (Sarath Kumar) is told he has pancreatic cancer. His prognosis from doctors is that he has no more than 10 months to live. Up until that point, he had dealt with complete brutality, thinking that only his two eldest sons (Srikanth and Shaam), could take over his business empire. Vijay, Rajednra's youngest son, moved out seven years ago after they had a disagreement.
Because of his terminal illness and the dawning realisation that his older sons are not as perfect as he had once thought them to be, he has declared his younger son Vijay to be the true Vaarasudu (heir).
But the transition is difficult; the other two sons rebel, and the family appears to be on the verge of breaking apart.
Analysis
Two recent Telugu Sankranthi films, "Waltair Veerayya" and "Veera Simha Reddy," are focused on the bond between siblings. Similarly, "Vaarasudu" explores the sentiment among brothers. The dubbed version of the Tamil film "Varisu", titled "Vaarasudu," arrived in theatres three days after the original version.
It doesn't take long for us to figure out that Vamshi Paidipally and the other screenwriters just recycled a bunch of old Telugu movies and strung them together. Paidipally tells a story about family values and the significance of a united family, entering the territory of director Trivikram, who is master at such family dramas.
Familiar setting aside, many sequences also remind movies like Trivikram's "Attarintiki Daaredi" and "Ala Vaikuntapurramlo".
The patriarch of the family in 'Attarintiki Daaredi,' a multimillionaire business magnet, has a epiphany about the importance of living peacefully before his death and asks his grandson (Pawan Kalyan) to bring his estranged daughter to him so that they can be reunited.
Similarly, in "Vaarasudu," the business magnate patriarch of the family asks his son (played by Vijay) to mend the family's rifts so that he can pass away in peace.
In a hilarious scene from "Vaarasudu," Vijay tries to win over the company's board of directors. This whole thing feels lifted right out of "Ala Vaikunthapurramloo."
There is a sense of having "been there, seen that" in both the story and the narration. Although it has some flaws, "Vaarausudu" has some advantages. This typical family drama is given a new spin by director Vamshi Paidipally and the script's authors. There are couple of moving moments in the film. He has an uncanny ability to make us feel all fuzzy inside. As he also did in "Oopiri," he does at couple of places in this work.
The first half of the film, however, features TV-serial-like sequences and a romantic subplot that falls flat. The second act of the film is where everything clicks. Some major heroic moments occur in the second half. The climactic sequence is also very well done.
However, at nearly three hours in length, the film never manages to justify its lengthy running time. Many unnecessary scenes and slower parts can be cut out easily.
Vijay is in his element. He's the film's main strength and delivers a terrific performance. Sarath Kumar is ideal for the part. Both Srikanth and Shaam are fine. Prakash Raj's characterisation is not strong enough. Rashmika is mostly seen in songs.
Thaman's songs and background score are both excellent. The sets and camerawork are reek of richness.
Bottom-line: 'Vaarasudu,' is director Vamshi Paidipally's attempt at a Trivikram-style family drama. However, the results are not rosy. Some funny and emotional scenes in the second half really worked, and Vijay's performance is another plus. However, it mostly gives 'see there' feel, and excruciatingly long runtime mar the proceedings.
Rating: 2.25/5
By Jalapathy Gudelli
Film: Vaarasudu
Cast: Vijay, Rashmika Mandanna, Sarath Kumar, Srikanth, Shaam, Prakash Raj, and others
Story, Screenplay: Vamshi Paidipally, Hari and Ahishor Solomon
Dialogues: Srinivas Chakravarthy
Music: Thaman S
DOP: Karthik Palani
Editing: Praveen KL
Production Design: Sunil Babu and Vaishnavi Reddy
Fights: Ram-Laxman, Peter Hein, Dilip Subbarayan
Producers: Raju, Sirish
Direction: Vamshi Paidipally
Release Date: Jan 14, 2023