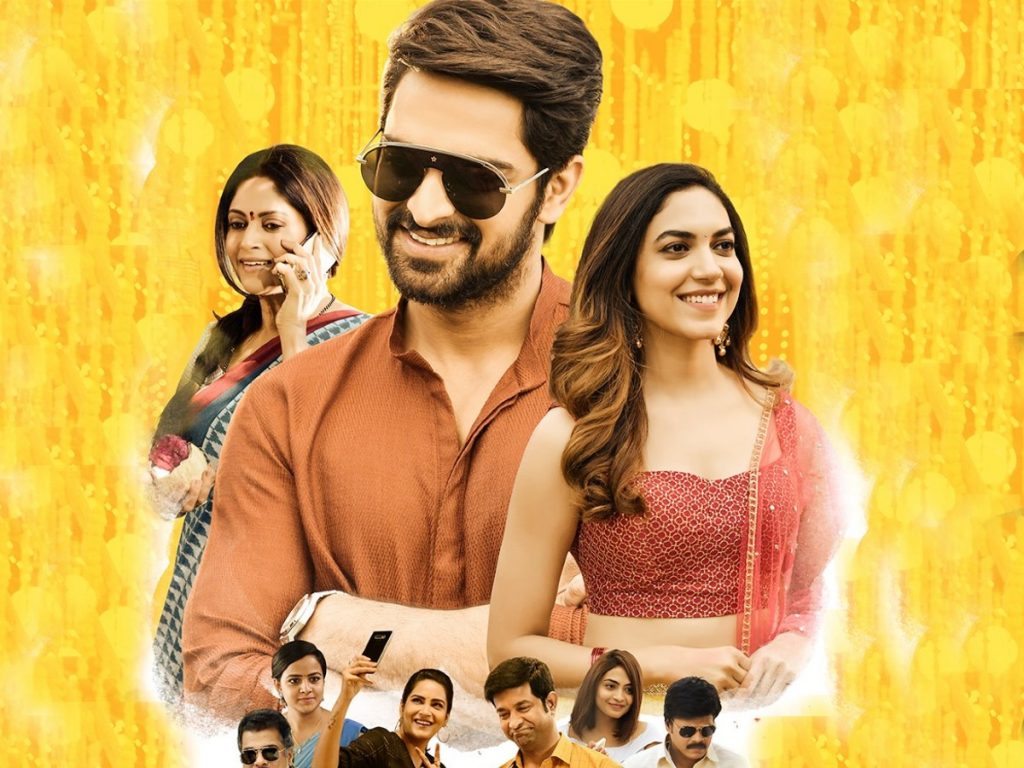 What's it about?
This is the story of Akash (Naga Shaurya), an NRI, and Bhoomi (Ritu Varma), a Hyderabad girl, who seem as different as the sky and earth as their names suggest. Sky and earth will never meet. But nothing is impossible in love.
Akash came to Hyderabad with a purpose- win her love. He
takes up a small project in Bhoomi's company, to be near with her. He is an architect, and she is running a company that produces eco-friendly products. Moreover, they have a past. She loved him during their college days but could not tell him. He was not aware of her love towards him then. Now, he is ready to love her.
When she finally begins to fall in love with him again, Akash does a thing that creates a wedge between them.
Analysis
Can a woman director bring novelty to a genre that has become so formulaic? Debutante Lakshmi Sowjanya's intention in making 'Varudu Kaavalenu' might not be telling a new story or narrating the regular story uniquely. What she does, or rather tries, is adding a woman's touch to a familiar story. She doesn't present the movie with a female gaze entirely, but the little things have made a difference. We can notice tender moments of love, a girl's feelings.
'Varudu Kaavelenu' begins much like any other regular rom-com – an NRI groom and a Desi girl and their love track. It takes a while the story picks up the momentum. After running in a commercial format for more than an hour, the love story comes to the main point. The second half of the movie holds our attention with a mix of love elements, emotional sequences, and comedy.
The reason why did the couple part ways during their college days is handled well. The highlight of the film, of course, is Murali Sharma explaining why he is not a regular father who would hurriedly marry off his daughter to lessen the burden. Nadhiya's final twist and other scenes have presented well in the second half.
The dialogues have elevated simple scenes. The track of Murali Sharma explaining that he is not a regular father who would marry off his daughter without knowing whether she is ready for marriage has worked so well. So simple, but effective!
On the downside, the film runs at a slow pace. Also, the story is dragged on to fit into two-plus hours of runtime. The basic story also reminds us of Jagapathi Babu and Priyamani's 'Pravarakyudu'. Some forced situations also come in place. Interestingly, there is also a fun scene about a character (Sapathagiri) who doesn't like 'lag', while the film drags on.
As a charming eligible bachelor, Naga Shaurya fits well. He looks handsome. Ritu Varma's character is written well, and the actress pulls it off with elan in this author-backed character. Her costumes are well-designed. Nadhiya has played a typical mother's role. Saptagiri evokes some genuine laughs.
Film critic Ganesh Ravuri makes his debut as a dialogue writer in this film. Ganesh's dialogue writing is sharp and fresh. His writing dominates the film. Vamshi Pachipulusu's cinematography and two songs have also helped the film.
New director Lakshmi Sowjanya impresses in a couple of sequences.
Bottom-line: 'Varudu Kaavelenu' is a familiar love story, but it makes a decent watch thanks to sensible handling, and good dialogue writing. The slow pace and lack of strong conflict can be seen as a drawback.
Rating: 2.75/5
By Jalapathy Gudelli
Film: Varudu Kaavelenu
Cast: Naga Shaurya, Ritu Varma, Murali Sharma, Nadiya, Vennela Kishore, and others
Dialogue: Ganesh Kumar Ravuri
Music: Vishal Chandrasekhar, Thaman
Director of Photography: Vamsi Patchipulusu
Editor: Naveen Nooli
Producer: Naga Vamsi
Story, Directed by: Lakshmi Sowjanya
Release Date: October 29, 2021