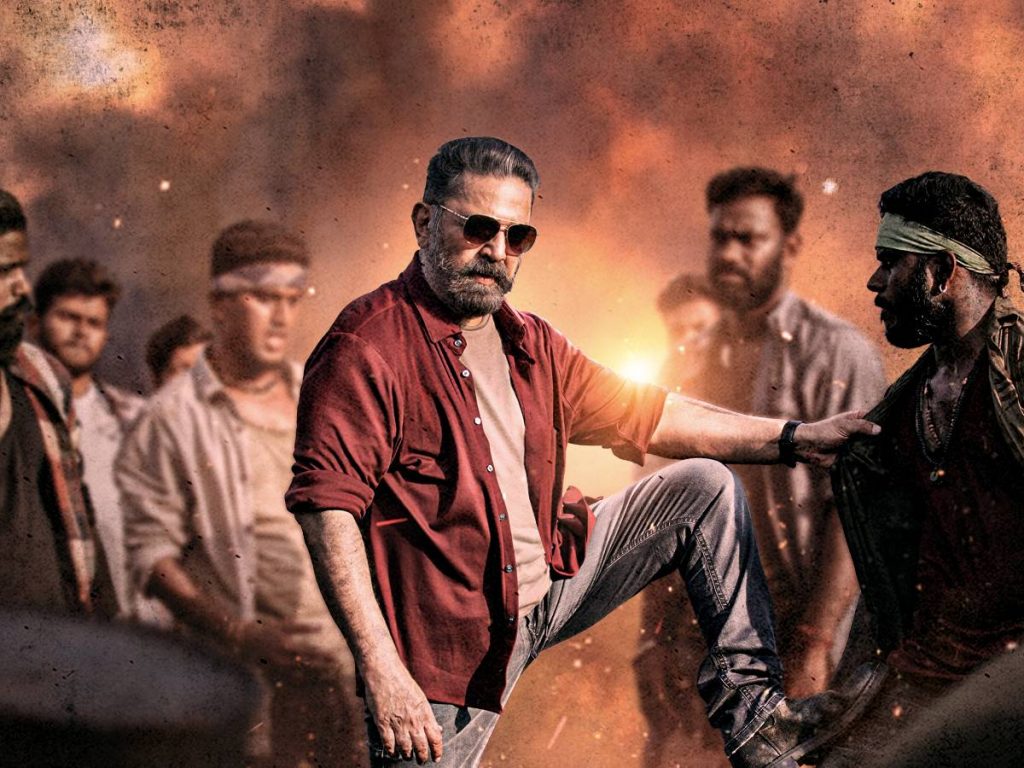 What's it about?
A masked gang creates havoc in the city of Chennai with a series of murders. A smart cop, Amar(Fahadh Faasil) is brought into the scene to nab these criminals. Amar is also trying to find out the link between a lost container filled with drugs and its owner Santhanam (Vijay Sethupathi). Behind all this is a man named Karnan(Kamal Haasan) but he is dead. The leads are confusing but Amar finds that all these aspects lead to Vikram. Who is this Vikram and what is his agenda? This forms the crux of 'Vikram'.
Analysis
Lokesh Kanagaraj has started to create his own set of crime universes and 'Vikram' falls in the same category. He designs various characters in a way that their stories can be carried even after the current film ends. 'Vikram' has powerful characters played by Kamal Haasan, Fahadh Faasil, and Vijay Sethupathi. Each of them excels in their roles and gets enough screen presence.
Lokesh is known for his detailing of the characters in his films, but here he takes way too much time to establish them in the first half. Kamal Haasan takes a back seat in the first half and this makes the audience lose interest. But Fahadh Faasil keeps the thread going and during the interval bang, clarity emerges and the story of 'Vikram' is unleashed.
During the first half, there are nods to Kamal's oeuvre, from 'Nayakan' to 'Anbe Sivam', and spotting them offers some minor thrills, especially if you are a Kamal fan. The second half is where Lokesh unleashes a lion called Kamal Haasan who takes over and the rest take the back seat. It is a feast to see the legend in a stylized action avatar after a long time.
The icing on the cake is Suriya's entry into the climax. His character is left open for the next part and Suriya shows intensity with a couple of his trademark dialogues.
Kamal Haasan has nothing much to do performance-wise as he is subdued in the first half. He is active at this age and makes the action look effective. Fahadh Faasil plays an undercover officer who is ruthless but with a frame that might not intimidate many. Vijay Sethupathi gets a heroic entry and his style and negative impact on the story are good.
The unsung hero Vikram is the BGM by Anirudh which is gripping. The climax part is handled well and though there is an over dosage of action, the presence of big stars makes us forget all the errors.
Bottom Line
Vikram is a stylized action flick that brings back Kamal Haasan in an action avatar after a long time. The film starts at a slow pace and Kamal is not seen in the first half. Once he comes back, he means business and the other two stars only enhance the proceedings with their screen presence.
Rating: 2.75/5
Cast: Kamal Haasan, Vijay Sethupathi, Fahadh Faasil
Music Director: Anirudh Ravichander
Cinematography : Girish Gangadharan
Editor : Philomin Raj
Producers: Kamal Haasan, R.Mahendran
Director: Lokesh Kanagaraj
Release Date : June 03, 2022