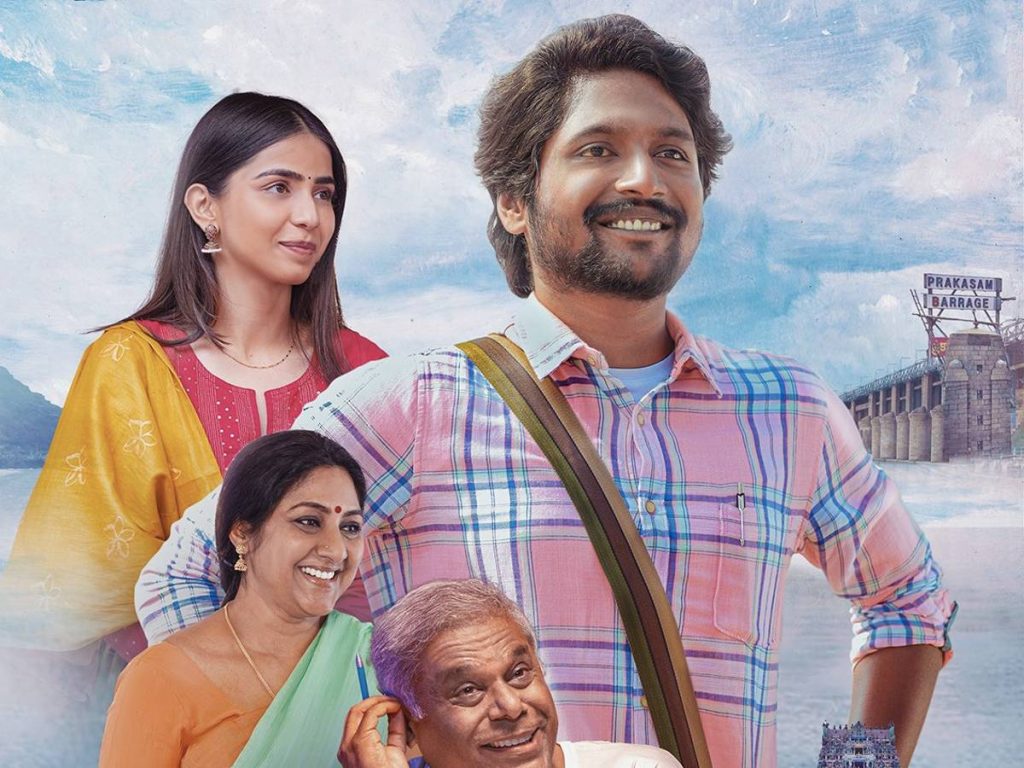 What's it about?
Padmabhushan (Suhas), a budding author living in Vijayawada, currently toils away as a librarian so that he may be surrounded by books. He even borrows money to publish a novel, "Toli Adugu," without telling his parents (Rohini and Ashish Vidyarthi).
Troubles for this aspiring author begin when his uncle (Goparaju Ramana) announces that he plans to marry off his daughter Saarika (Tina Shilparaj) to Padmabhushan. Saarika and her dad think he's a famous author because they've read all of his books.
Padmabhushan becomes curious about the identity and motivations of the anonymous writer after learning that a number of works have been published under his name and that a blog is also being maintained in his name. There's a shocking turn in store for him.
Analysis
As the name suggests, "Writer Padmabhushan" is focused on authors and the craft of writing. "Writer Padmabhushan" could be mistaken for a romantic drama or a comedy at first glance, but it's actually a sentiment drama. There are many lighthearted moments throughout the film, but the ending is where it really shines. A powerful message is also communicated.
The film's real strength lies in its message and its final thirty minutes. The rest is fairly standard fare or for that matter many sequences are subpar. Why does no one ever inquire as to the hopes and aspirations of a married woman? The film's central message is this.
Suhas, in the role of an aspiring author, carries the story and brings the humour. In the beginning, his performance is the only thing that works because the rest of it just feels so dated. Many Telugu filmmakers have a penchant for making a writer seem like a minor celebrity who enjoys widespread adulation; this is, of course, absurd, given the near-zero prevalence of reading in modern-day Telugu society.
The days when authors like Yandamuri Veerandranath were household names are long gone. A Telugu author today can't even hope to sell 100 copies of their book. So, the modern setting of "Writer Padmabhushan" seems jarringly out of touch with the world in which we now live.
Even if we excuse this angle, the proceedings in the first half are hardly appreciable.
Thankfully, the film's new director, Shanmukha Prasanth, shows off his strengths in the final act, making for an interesting viewing experience.
Aforementioned, Suhas completely becomes his character. He does a fantastic job as the aspiring writer. Rohini as hero's mother is superb. As a frugal Madhusudhan, Ashishi Vidyarthi works fine. Tina Shilparaj doesn't get a lot of props. Sri Gouri Priya as the second heroine is okay. Ramana Goparaju is fine.
The film's technical aspects and production value are adequate.
Bottom-line: 'Writer Padmabhushan' is a simple film. The final act makes up for all of the flaws. Can be watched for its final sweet and strong message.
Rating: 2.75/5
By Jalapathy Gudelli
Film: Writer Padmabhushan
Cast: Suhas, Tina Shilparaj, Rohini, Ashish Vidyarthi, Sri Gouri Priya
Music: Shekhar Chandra
Cinematographer: Venkat R Shakamuri
Editing: Kodati Pavan Kalyan, Siddharth Thatholu
Producers: Anurag Reddy, Sharath Chandra, Chandru Manoharan
Written & Direction: Shanmukha Prasanth
Release Date: Feb 03, 2023