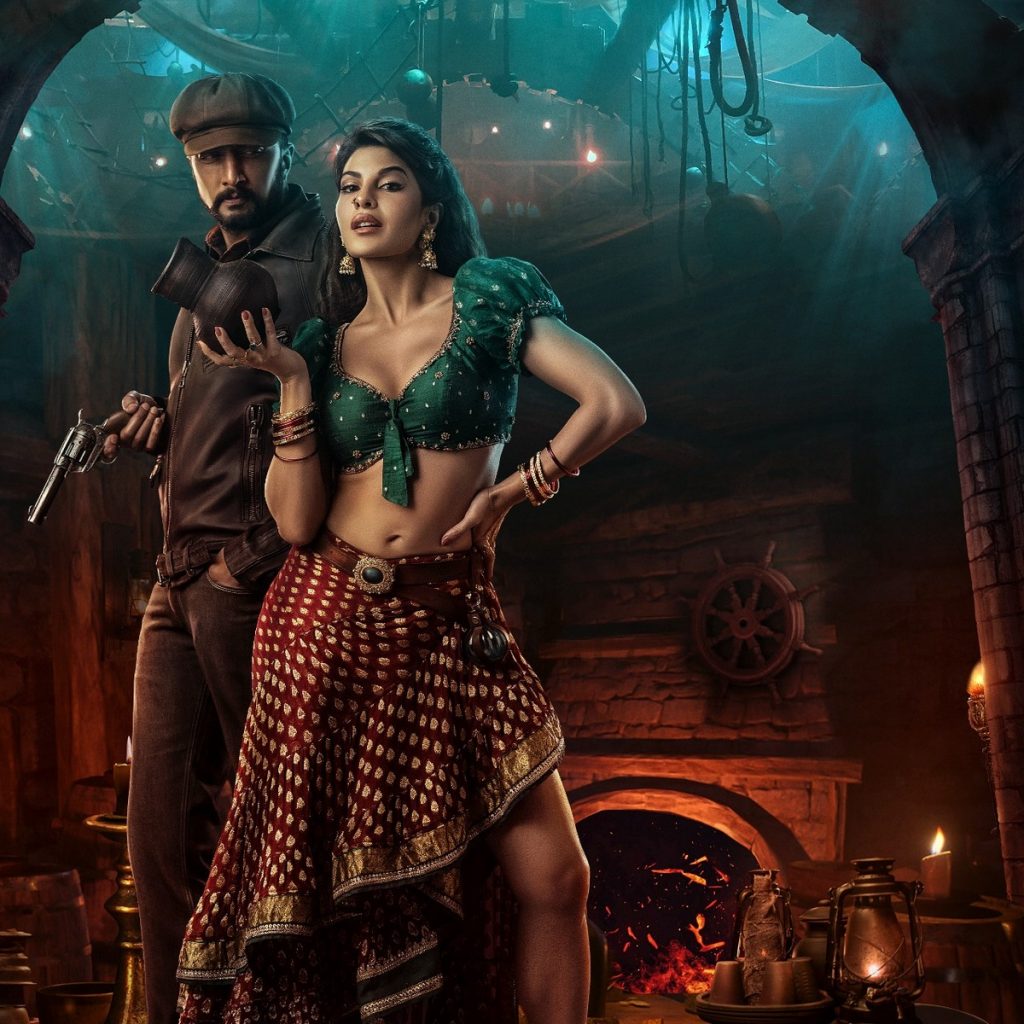 'Vikrant Rona' is a Telugu dubbed version of the same name starring Sudeep, who is familiar to the Telugu audiences with his roles in 'Eega', 'Baahubali', and 'Saira'. The pan-Indian film hit the theaters today.
Set in a fictional period and place, the film is clearly inspired by 'Sherlock Homes' at its core but it also tries to be an adventure thriller and a revenge drama. Supernatural elements also appear. The mismatch of genres is the film's problem. Beginning on an interesting note, the film spells out its ambition to take us to a different world or forest. The first hour is intriguing as we see children found hanging from a tree, somebody with a painted face dancing by a fire in the forest, a haunted house, the sudden appearance of a young man who went away from the village 28 years ago, and the protagonist coming to the place as a cop with only his daughter.
The atmosphere and the setting are much like "Athiran". We get to see Sudeep's investigation process and the hint of him carrying a secret at the beginning. So, the initial sequences are engaging. But in an attempt to create a bigger canvas for the "story", director Anup Bhandari has added elements that have completely robbed its unique setting.
The final twist is also not convincing. At one time, it presents from the point of view of the downtrodden and in the end turns them into villains. This confusing and contriving narrative kills the early promise.
I had a similar feeling when I watched another Kannada dubbed film, Srimannarayana, a period thriller, which also left me in confusing despite the lavish making style.
Besides that, except Sudeep, the rest of the actors don't impress at all. Sudeep possesses a lot of style and carries it with much ease. But his Telugu dialogue delivery is bad. Nirup Bhandari as Sanju is a misfit. The less said about the girl who played his love interest the better. The comedy part done by a guy who plays a Muslim driver is another test of patience.
Technically, the film is brilliant, especially the production design by Shivakumar is marvelous. He has created the forest filled with mist and rains and old buildings. The visual effects are terrific. Cinematography is another appreciable feature.
Bottom-line: 'Vikrant Rona' is much ado about a routine investigative story. The film has style and ambition but it is cluttered with many genres and becomes a bore after a point.
Rating: 2.25/5
Film: Vikrant Rona
Cast: Sudeep, Anup Bhandari, Neetha Ashok, Jacqueline Fernandez, and others
Music: Ajaneesh Loknath
Cinematography: William David
Producers: Bhaumik Gondaliya, Shalini Jack Manju
Written and directed by: Anup Bhandari
Release Date: July 28, 2022