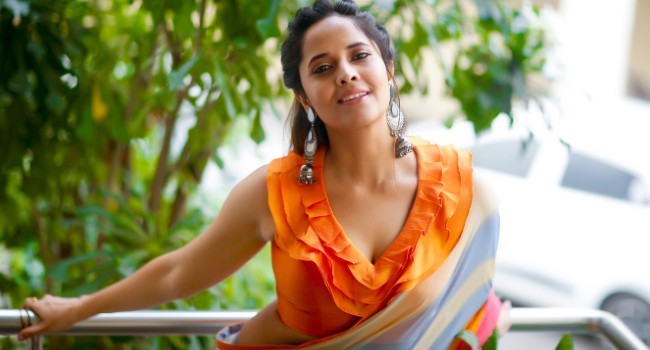 She's beautiful, she's successful, she also hits the headlines now and then with her bold statements. Anasuya Bharadwaj is one of the most popular faces on TV as well as the silver screen. She effortlessly switches in her roles. A mother of two, Anasuya is regarded as one of the sexiest women out there. 
The beautiful actress is enjoying her time during the lockdown. Read on…
How have you been keeping yourself occupied during the quarantine period?
I have been spending a lot of time in the kitchen and taking the day soaking in every minute, every hour of the day. And I'm learning and unlearning a lot of things.
Being a mother of two, do you consider it as a blessing for you to stay at home as you can't find such a relaxing time when you shoot for shows and films?
Definitely, yes. I don't shoot on Saturdays and Sundays unless it's an emergency case. I keep the weekends to myself so I can spend time with my family and the kids and my husband. But yeah, maybe you can say I have bonded much more during the quarantine period.
I am somebody who normally sees the brighter side of things, even in the worst of situations. Having said that, I am making the most of this time staying home…. really trying to get to know my children more, talking, bonding with them.
Do you know cooking? If so what was the new recipe you'd tried during this lockdown?
I love cooking and baking, it's very therapeutic for me, a stress buster. I am surviving and enjoying this quarantine phase because I'm doing four shifts in the kitchen – breakfast, lunch, snacks, and dinner. I've tried a new recipe for French toast with the cinnamon sauce very recently. I love cooking, and I'm good at it. You should see my Instagram, you will know.
What's the first thing you'll do after the lockdown is over other than going to a saloon?
Apart from that, I would want to get back to work as soon as possible. I'm really missing work.
Is there an outfit you want to put on once you step out?
Yeah. I don't know, man. Maybe everything. I just want to dress up. It's been really long! I just want everything should get back to normal.

QUICK BYTES
Best Friend
My husband
Favorite Holiday spot
I like to go to the mountains and beaches
Your favorite color?
I am a colorful person, it changes as per the mood.
List the places you'll visit once the lockdown is over? Or Restaurants you plan to visit?
Apart from going to the salon, the first thing I want to visit is Tirupathi. That's the one place that I've been longing to do all the while. The month of May is a period of birthdays in our family, my elder son's birthday, and mine come in May. This June 4th, we celebrate our tenth marriage anniversary and we had planned a Europe trip for 20 days, but it may not be possible now. We may spend at our home.
Restaurants? Not much. I am not a person who usually enjoys food outside except for meetings. Otherwise, I always prefer homemade food.
'Rangasthalam' was a game-changer in your career. You won so many accolades. Did you expect such appreciation?
Honestly, I had never thought about appreciation. I was very anxious and nervous that I'm playing an older role. But once I saw myself in the dubbing theatre, it gave me a lot of confidence. So, I didn't think of appreciation at all. There was no way that I would expect anything. I was like …oh, my God, will I be accepted at all?
Why did you not sign more films after 'Rangasthalam'?
I did sign some films but not full-length roles. But I have signed a couple of interesting films that are on the sets. I am playing an important character in Krishnavamsi's 'Ranga Marthanda'. There are a couple of other projects but I should not talk about them.
But something like in the scale of 'Rangasthalam', I don't know why nothing came my way yet. And I don't believe in signing films for free. I'd rather be remembered as Rangamma Attha forever than doing anything for the sake of it.
The best reaction you got so far as an actress?
Honestly, I like each and every compliment I receive from a layman to a big star. Everything matters to me equally. So picking one is a very difficult task.
How many times do you check yourself in the mirror in a day?
Will you believe if I say, sometimes not even once. Honestly, I don't watch myself in the mirror. Even when I'm in a shoot, I don't watch myself in the mirror much.
What quality do you like the most in your husband?
He's very ideal for a life partner. I like everything about him. I'm kind of obsessed (laughs). He makes my life better, he leaves me to choose my own choices. He lets me be my self. And he's always there when I need him. I'm very fond of him.

Did you face an embarrassing situation ever on any film sets?
None that I remember of.
Would you be comfortable wearing a bikini in a film?
Maybe when I get the right kind of body. I still don't think I'm fit enough to sport a bikini. Maybe, yes, when I'm ready.
Your first celebrity crush?
Action star Arjun ('Gentleman') was the first celebrity crush.
The craziest thing you've done in life?
I and myself is the craziest thing of my life (laughs).
A longtime wish you want to be fulfilled?
I wanted a daughter. I don't know it will be fulfilled.
Do you enjoy your sexy star tag?
Do I have a tag like that? Oh, I don't know.
Are you a feminist?
I don't say yes. I don't say no. Maybe yes but I am more of an activist.
A piece of valuable advice you received from any star?
The one I remember the most is Nag sir's on the sets of 'Soggade Chinni Nayana'. On the first day of my shoot, Nag sir could not come to the sets. At 4.30 pm, he called me up and the gentleman that he is, he apologized for not able to use my day and not able to shoot. Then I said, 'thank god, the shoot didn't happen and in a way, I am happy because I don't like the way I look today.'
Then he said that never compromise on how you look because you are the best judge of how best you can look. Even though you are the greatest actor, the first thing they will observe when they switch on the TV or they come to a theater or watch a poster is how good an actor is looking. I think he is 100 percent right. That's one thing I always remember.
Describe your personality in one word or sentence?
My Klan tattoo. I am a person of integrity. I am very strong.
What have you learned from Krishna Vamsi?
I am a huge fan of his work. Murari is one of my all-time favorite movies. How down to earth this can be? He has a very transparent personality. I have learned from him to be grounded.
What do you prefer – family time or busy shooting?
Can I say both?
Your best moment and worst experience while you are locked down at home…
Worst experience? I just don't like the way how the kids are locked down. It is their age of jumping around, learning things every time, every minute, every hour of the day is important. They are supposed to learn. And it aches my heart to see them just locked up. I'm finding it very difficult to push them away from the television or the Play Station or mobiles. I won't say this as the worst experience but a difficult one. But I am doing my best. The brighter side is every day I get a compliment for my cooking. My husband is shocked that where have I been hiding this master chef?

THIS or THAT – Choose One
Chocolate or Pizza
Chocolate on any day
Special songs or kiss scenes
Special songs
Jeans or Sari
Both

You said that we should take this 'lockdown' period as our retirement phase. What else will you do after retiring, have you thought of it?
I have always been very clear about that. I wanted to do farming and lead a proper, perfect homemaker-like life. And another thought – I do want to work like Amitabh Bachchan sir. Even in his late 70s, he's making such an impact with his performances on screen.
Controversies = Anasuya. Why is that so?
Honestly, you should ask the people who make my statement or my whatever I say into a controversy. It's not I who makes with these controversies, but the others. So I've learned to live with them, not make them affect me. I just think that these people are just surviving on me, so. It makes me feel good.
It has become common for celebrities to face trolling. Why do argue with the trollers and you also block followers?
I don't know how it works for others but for me…. that's my Twitter account and my world, basically. So, I like to keep positive people around me who make me feel good. And I think I have every right to it. So this is a solution I've put up. And I see that one thing I wanted to change about myself all these years that I am very reactive and impulsive to these trolls. Of late, I have stopped reacting much.
And also I don't regret those moments also. I cannot pretend except for when I'm paid in front of the camera. Otherwise, I cannot.
Do you have any secret fantasy? Do you want to share it?
No. I don't think I have a secret fantasy.

Are you a foodie? What's your favorite food?
Yes, big-time foodie. I eat according to my moods. My favorite is food, and there is nothing like a favorite food. I love whatever my mom cooks. Also, I like to explore a lot of street food.
Tell us about your fitness mantra?
I don't believe in cosmetics. I believe in the happiness that will make anybody look beautiful and pretty. And I do my everyday yoga. When I say yoga, not asanas but Pranayamas. I do a 30-minute walk. I just adjust my diet and regime how I feel on the day. I cheat a lot. I just go with the flow, usually, I keep myself happy to be fit.
You are growing younger day by day…
How sweet of you to say. See, such compliments keep me younger too. Also, my genes. I prefer surrounded by happy people, happy thoughts. Be right, at the same time.
One thing no one knows about you?
Whoever troll me because they don't know me, those who know me they don't (troll me).
FIRST THINGS
The first gift received from?
My Dad
First Crush?
My English teacher in 6th grade
First paycheque?
From a bank, I worked as a tele-caller there.
First foreign country you've visited
Dubai